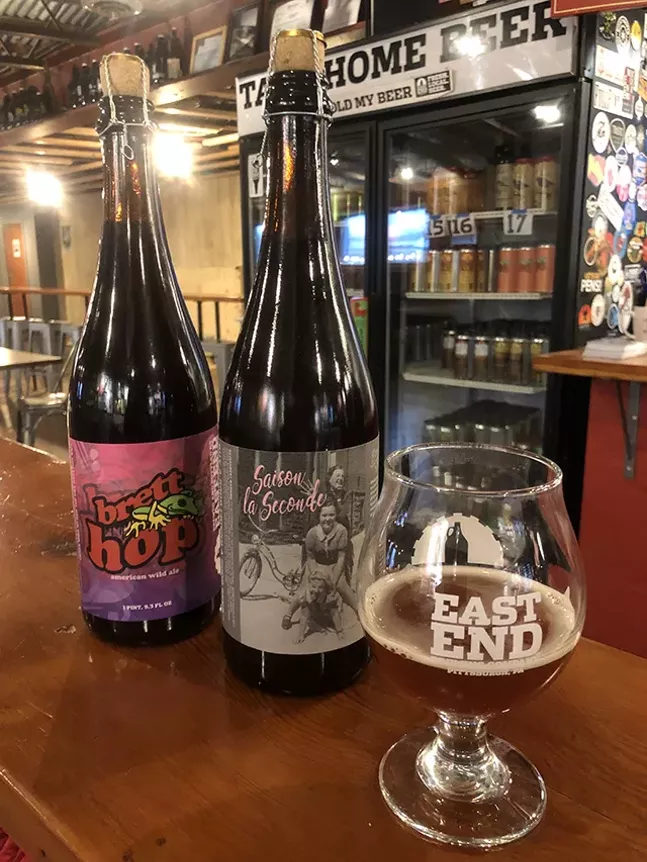 East End Brewing lovers may remember its "funky beers" known as Brett Hop and Saison La Seconde, offered as a limited release in champagne-style bottles last year. Well, they're back, but in a slightly different way than before, all thanks to a little microscope culture.
Brettanomyces-lactobacillus, the active culture found in both Brett Hop and Saison La Seconde, causes the adult beverages to age like wine. While most beers are meant to be consumed fresh, these "funky beer" styles can age. As long as the beer stays in the bottle, unopened, the living culture will continue an active fermentation process and the beer can evolve for years.
When the Saison La Seconde was released last year, East End held back a bottled batch to see how the flavor would develop. Almost a year after it was bottled, those who previously enjoyed Saison La Seconde will find the aged version to be clearer, and perhaps even smoother. It smelled like apple juice with trace notes of candy and had a simple flavor profile.
What's interesting is that the beers will continue to change as the bottle is consumed. As I sat with the owner of East End Brewing, Scott Smith, sampling the Saison, he explained that the cultures tend to stay at the bottom of the container. While the first pour was crystal clear and light, as we neared the end of the bottle, the second pour was hazier, tasted heavier with more flavor, and lingered on the tongue longer.
While a bottled batch of Brett Hop wasn't held back as the Saison was, thinking about the fermentation process can bring an entirely new appreciation to the beer. It starts with the same exact ingredients as East End's number one seller, Big Hop.
Big Hop is the first beer East End made. To this day, out of the about 35 different beers it produces every year, 40 percent is still Big Hop. Brett Hop uses the same recipe as Big Hop, except brettanomyces are added (The 'Brett' in Brett Hop is short for brettanomyces). That one live culture creates an entirely different taste profile. Compared the Big Hop, Brett is fruity — yet there is no fruit added — tart, and more refreshing.
But don't take my word for it. Everyone picks up different notes and flavors when drinking craft beer. It's a great topic of conversation, especially when you and a friend or two can split a bottle of beer. These bottles are like wine, not just because it gets better with age, but because of the way they are thought of, handled, and consumed. Drink them now, later, cold, warm, with a friend or alone, and see how the flavors evolve.