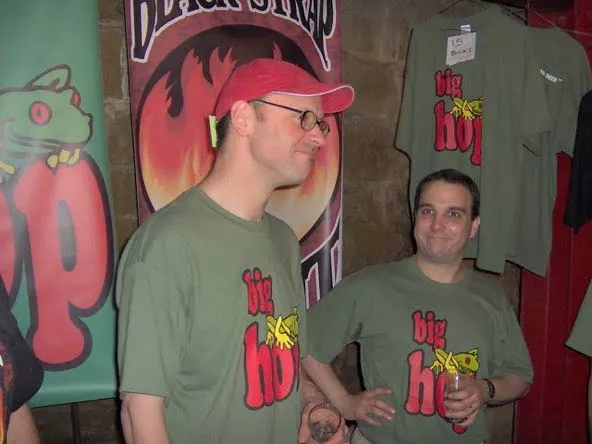 East End Brewing Company has come a long way since tapping its first keg of Big Hop at Kelly's Bar & Lounge in 2004.
In 15 years, the brewers graduated from a 10-barrel brewing system to a 20-barrel system, simultaneously trading in their home of eight years — a 4,000 square foot, unmarked production brewery — for a 17,000 square foot brewpub. The brewery has transitioned from production and growler fills-only to a full-blown taproom with 15 taps, a fridge full of cans, and, as of early this year, a restaurant.
But through all of these changes, one thing has stayed the same: East End has stayed local.
"It's in our name," says founder and owner Scott Smith. "Every couple years we talk about sending beer to Philly but ultimately think better of it. It's better to keep it local with people we can connect with."
The brewery's distribution footprint hasn't changed since its first year of operation. To this day, Big Hop — an unintentional flagship beer that's still made with its original recipe — accounts for 40 percent of their sales.
East End started out as a one-man show; Smith "never expected the public to come in at all." The original Susquehanna St. production site was barely big enough to hold more than a few people at a time, but that didn't stop Pittsburghers from coming for tastings and growler fills.
"That's where we built our sense of community, in our workplace," says Smith. "You'd walk in and I'd be making a batch of beer, come off a platform, fill a growler, and then go right back to finishing a batch."
The brewery has taken this "clubhouse" feel with it as it's moved locations and expanded. Smith has seen lives unfold around him in the taproom. "Customers have come in here single, then married, pregnant, and then with their kids," the owner laughs. Their community widens every day when — as their tagline says — you buy a GOOD FRIEND a GOOD BEER.
As the brewery heads into their next 15 years — which Smith jokes "has to be at least 110 in brewery years" — Smith's plan is simple: keep evolving. "If our beer is not better this year than it was last year, we're missing it. The quality and experience have to be moving forward."