<!————StartFragment————>
The debate of who serves the best tacos in Pittsburgh is a recurring one, and Duolingo has decided to become the latest challenger with their new taqueria.
Duo's Taqueria opened on June 23 in East Liberty, providing a wide selection of Mexico City-style tacos and other snacks.
If you thought the popular language-learning app couldn't cook, you're wrong and they will surprise you with their tasty tacos. I decided to order two tacos de lengua and a horchata de coco, and both were served quickly and fresh.
Considering I'm originally from West Virginia and you can't find a lot of taco joints that serve beef tongue tacos in my home state, I was pretty happy Duo's had the option. I grew up with my mother cooking classic beef tongue tacos and I can say Duo's tacos reminded me of my younger days. Although not as perfect as my mother's, the tacos, which came with cilantro, onions, and salsa, were still great.
<!———EndFragment———>
The horchata de coco was also a sweet and great refreshing drink and was perfect for a hot summer day.
Duo's provides a long list of other meat fillings, as well as vegetarian options. Duo's has frijoles charros, guacamole and totopos, spicy pork rinds, and flan for those who like sweet desserts.
The Duo's beverages list was filled with Latino classics but one that stood out was the avocado and lemon drink. Although I did not try it, it for sure is something I've never had and will try during my next visit.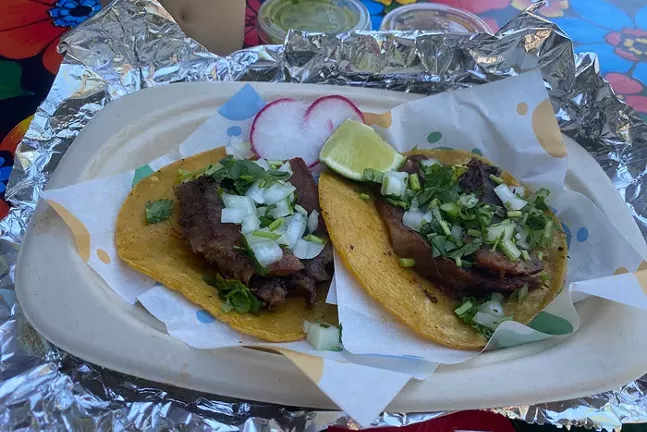 Duo's Taqueria has the opportunity for a 10% discount but only if you answer their Spanish Duolingo questions correctly. When you order your food, if interested in the discount, the cashier will show a Spanish Duolingo question to your left on a screen, and if you answer it correctly, you get the discount.
When I went, they asked me to pick the correct translation for some words in English to Spanish. If you're interested, it's a quick and easy way to get a discount on some tacos.
---
<!———StartFragment———>
Duo's Taqueria
. <!———StartFragment———>
5906 Penn Ave., East Liberty. duostaqueria.com
---
To read this piece in Spanish, see page 2 (Si lo quieres leerlo en Español, mira pagina 2)
Duo's Taquería un lugar para practicar tu Español y disfrutar unos tacos
El debate sobre quién tiene los mejores tacos en Pittsburgh es uno que periódicamente aparece, pero Duolingo ha decidido ser parte de la competencia y empezar su propia taqueria.
Duo 's Taqueria abrió su propia taqueria en East Liberty, y tienen una gran selección de tacos en estilo Mexicano y otros antojitos.
Si tu pensabas que la aplicación para aprender otros lenguajes no podía cocinar, estás equivocado y ellos te van a sorprender con sus antojitos ricos.
Decidí ordenar dos tacos de lengua y una horchata de coco y sirvieron la comida fresca y rápido.
Considerando que soy de West Virginia y no puedes ayar taquerías que sirven tacos de lengua en mi estado, yo estaba feliz que Duo 's tenía la opción.
Yo crecí con mi mama cocinando tacos de lengua todo el tiempo y yo puedo decir que Duo 's tacos me recordaban de mis días cuando era más joven. Aunque no son perfectos como los tacos de mi mama, los tacos todavía son increíbles. Y no te preocupes, sus tacos vienen con cilantro, cebolla y salsa.
La horchata de coco era dulce y fresca, perfecta para un día caliente en el verano.
Tacos y horchata de coco no era la única comida que Duo's tenía de ofrecer. Ellos tenían una lista larga de otras opciones vegetarianas y de carne.
Duo's tiene frijoles charros, guacamole y totopos, chicharrones sazonados, y flan para los que les gusta un postre dulce.
Duo's lista de refrescos está llena de bebidas latinas pero una que me pareció rara era la bebida de aguacate y limón. No la pruebe, pero cuando vuelva a la taquería, seguramente voy a probar la bebida.
Duo 's taqueria te da la oportunidad para un descuento de 10% pero solo si respondes correctamente en una de sus preguntas.
Cuando estás ordenando tu comida, te preguntaran si quieres aprovechar el descuento, y si quieres, ellos te van a enseñar una pregunta a tu izquierda. Si respondes correctamente te darán el descuento.
Cuando fui, me preguntaron cómo traducir unas palabras de Inglés a Español. Si estás interesado, es una manera fácil para aprovechar un descuento.
Pero si estás buscando una buena taquería en la ciudad de Pittsburgh, Duolingo ahora tiene un perfecto lugar para unos tacos ricos.

---
<!———StartFragment———>
Duo's Taqueria
. <!———StartFragment———>
5906 Penn Ave., East Liberty. duostaqueria.com
---
Si lo quieres leerlo en Inglés, mira pagina 1 / (To read this piece in English, see page 1)