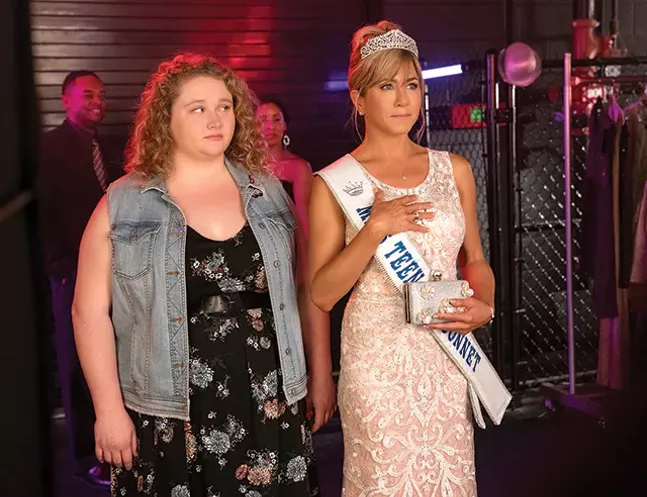 Dolly Parton is the patron saint of garish self-acceptance. Everyone who worships her shares a love for a defiant genre of optimism covered in rhinestones. Dumplin', a teen dramedy directed by Anne Fletcher (and based on a young adult novel of the same name by Julie Murphy), is a heartwarming, corny, and musical story about a Texas teenager struggling to accept her weight under the scrutiny of her beauty queen mother.
Willowdean Dickson (Danielle Macdonald) feels lost after the death of her aunt, who taught self-love through the quotes and discography of Dolly Parton. Will weighs enough that the cruelest kids at school shout "whale!" out of their car windows as they drive by, but she either ignores the bullies or kicks them in the groin. Her mother, Rosie Dickson (Jennifer Aniston), is a former beauty queen and pageant-organizer who dotes on the contestants but calls her daughter "Dumplin'" with barbed affection.
To rebel, Will signs herself up for an upcoming pageant, with the support of her best friend Ellen (Odeya Rush). But tensions rise when Ellen — skinny, offensively pretty — has a knack for the pageant world that rubs Will the wrong way. She turns to the expertise of a group of Dolly Parton drag performers who know more about performing than any beauty queen. Will is also anxious about her love interest Bo (Luke Benward), a pretty boy who Will doesn't believe when he says he likes her.
The movie grapples with what it means for a woman to be fat in a world that deems it both a sin and a personal failure. When another girl, also called "whale" by her classmates, enters the pageant, Will starts to see her rebellious act less as a way of sticking it to her mom and more as a way of upending strict beauty standards.
In one scene, Ellen gets frustrated at Will's claims that she's not "fit for the revolution" because her looks meet the standard. Will's kind of right though –what does Ellen have to rebel against? She looks like Mila Kunis. Can't she cheer from the sidelines? The movie half-raises a lot of questions, only answering some of them.
Dumplin' is subversive in more subtle ways, too. There are hardly any men at all, save for the love interest and a pageant MC. Aside from the acting, it's also directed, written, produced, edited, and scored by women.
Dolly Parton doesn't physically appear in the movie and wasn't involved in its creation. Still, she's omnipresent. The soundtrack is almost exclusively Dolly, a combination of original, reworked, and brand-new songs (Goddess bless a "Jolene" club remix). There's an entire room in the Dickson house dedicated to a Dolly shrine (I once did the same with a defunct fireplace). The drag queens find a thrill and solace in dressing as Dolly, as many do in real life. Everyone in the movie has dozens of Dolly quotes on hand at all times (same).
Macdonald has the spunk to play Will, but at 27, she doesn't embody the teen spirit as easily as the younger actors. But she and Rush play their friendship idyllically: running into each other's arms, holding hands, singing in the streets. Whether or not Aniston can pass for an uptight Southern Belle is up for debate.
Dumplin' is certainly corny and has the expensive-TV-movie quality common in Netflix originals. But the corniness doesn't hinder the movie's goals, nor is it done on accident. As Dolly says, "Find out who you are and do it on purpose."

Dumplin'
Directed by Anne Fletcher
Starring Danielle Macdonald and Jennifer Aniston
Streaming on Netflix Fri., Dec. 7