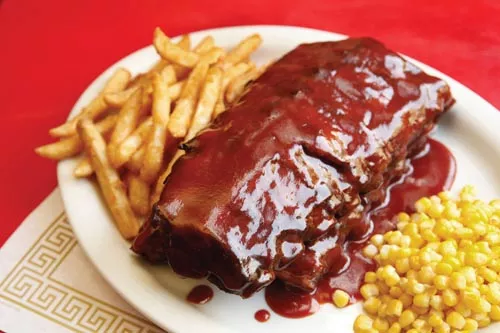 5981 Baptist Road, Bethel Park.
412-835-0697
Hours: Sun. -Thu. 11 a.m.-10 p.m., Fri.-Sat. 11 a.m.-11 p.m.
Prices: Appetizers, soups, sandwiches and salads $4-10; entrees $10-17
Liquor: Full bar
There's a reason -- actually, there are probably several reasons -- that trains are the objects of such romance in our culture. There's a poetry in train travel that is different from the disorienting translocation of flying or the power trip of driving a car. But with most train trips today taken by freight, it's a lost poetry, almost, the rhythmic chugga-chugga of the engine and the clackety-clack of the tracks almost arcane as a seafarin' chanty.
Part of the allure of train travel was that it was sociable, and in Bethel Park, there's a restaurant that plays to that theme: Duke's Station, nestled in a former railroad overpass which once carried the tracks of the old Montour Railroad over the Pa. & W.Va. Line. Part of the overpass still exists in the form of a 30-foot-tall, graffiti-covered concrete wall which now forms an improbably scenic backdrop to a back patio that feels, in all other respects, like a pleasant suburban backyard.
Duke's also incorporates two rail cars into its rambling design: a streamlined old Amtrak car that serves as a dining room in the front of the restaurant, as well as the backdrop to a smaller, sunken patio out front; and a caboose that's integrated into the bar of the back room.
Smoking on the back patio aside, it all made for a great playground for our kids, who were also in their comfort zone with the fairly typical, burgers-and-fries bar menu. Duke's calling card is actually its ribs, of the fall-off-the-bone, babyback variety. Two sauces are offered: a sweet, Kansas City style that was pretty good, and a honey-bourbon that was so tooth-achingly sweet, it was easier to imagine it topping ice cream than an innocent piece of meat.
But we're getting ahead of ourselves. Before the ribs arrived, we enjoyed a good old-fashioned, mostly fried appetizer platter, with onion rings, potato skins, wings and mozzarella sticks. The wings were crisp beneath a well-balanced garlic-parmesan sauce, and the potato skins offered a similarly satisfying balance of starchy spud, salty bacon and just enough molten cheese. The onion rings were crisp on the outside, but the onion inside was soft, almost mealy.
Another appetizer, a jalapeño-cheese pretzel, was all starch and had very little creamy cheese filling, leaving the cup of nacho "cheese" dip on the side to provide accompaniment to the pretzel's doughy bulk.
Jason chose another sampler for his entrée: a triple meat platter featuring ribs, chicken and more wings. These wings were dry-rubbed, with a nice amount of chili flavor, but also too much salt. The chicken was, surprisingly, just a naked, grilled breast. Some nice charring lent it a little flavor, but not much. This we found odd: that a place known for its ribs would pass up an opportunity to barbecue (or sauce up) its chicken.
Especially since Angelique's Buffalo chicken sandwich was the success of the night. Here was a chicken breast, lightly and crisply battered, accented but not drowned in vinegary, peppery, buttery Buffalo sauce. The sauce's tang and spice was modulated by an adequate, not oozy, layer of melted provolone and a modest dollop of cool ranch dressing. Lettuce, tomato and a lightly toasted bun were the final, essential touches to this carefully constructed, wholly satisfying sandwich.
A chili burger featured another good bun, called, a bit grandiosely perhaps, ciabatta. But the rest of it was underwhelming. Cheddar and chili can make good burger toppings, but here the chili was too bland to add much to a large and under-seasoned patty.
Like the trains of yore, Duke's appeal is its atmosphere: causal and comfortable, yet utterly idiosyncratic. There's not a whiff of generic "family restaurant" about it, though it's got the feel of a friendly, neighborhood place, down to the stash of sidewalk chalk for adding one's own mark to the old overpass wall in back. We just wish that the food could live up to the ambience. But then, was dining-car food ever equal to the ride?