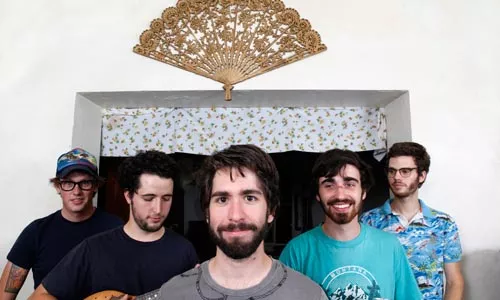 You might think that a band that runs a concert space out of its house in Pittsburgh, and which will release its new album on a Pittsburgh-based record label, would have strong ties to the region. Not always: "Some of us have lived here for a few years, but we just recently got the whole band to relocate to Pittsburgh," says Ben Collier, singer and guitarist for the sort-of-new Pittsburgh band Ursa Major. "And it's about time."
Since forming in 2008, Ursa Major has evolved from a loose, two-man folk act touring the Northeast with the help of $3 Megabus fares into a tight-knit five-piece band. This fall, the band will tour the country in support of its latest record, Great Big Light, out this month on Ulja Factory Records.
The project began when Collier, a drummer from the Philadelphia area with a background in hardcore, began collaborating on folk- and bluegrass-influenced songs with his high school classmate, multi-instrumentalist Jim Price, while they were attending the University of Pittsburgh and IUP, respectively. After touring New England as a two-piece, they added Steve Whisler, a friend of Collier's from Pitt, on mandolin and guitar, and began bringing their brand of "drunken bluegrass" to the Midwest.
"We were touring as much as we could because we thought that's what a band should do," Collier says. "It was a great way to make connections and new friends. There are people that we met touring two years ago that we are still playing shows with. We even met our drummer while on tour."
At that time, Kyle Lambert was running a venue out of his house in Philadelphia and playing as a solo folk-punk act. In 2009, Ursa Major invited him to join as drummer for a summer tour -- even though he still lived in Philadelphia. "I would basically come up one week a month, and just play constantly with the guys," Lambert says. "It worked surprisingly well."
Before the group had a chance to establish a regional reputation, it released its first album, Songs for Haney, and began touring as a four-piece. Left behind due to the space constraints of using Whisler's car was new bass player Tim Haney. "The car was so packed, you could barely move, and you definitely couldn't see anybody else," Price says.
Last fall, the band moved into a seven-bedroom house on Morewood Avenue, which the members named the Doo-Wop Mansion. Inspired by their experiences in Philadelphia, they decided to make Doo-Wop an alternative venue for touring bands stopping in Pittsburgh, as well as Ursa Major's practice space.
"Philly has tons of house shows every day of the week," Haney says, "which really seems to strengthen the bond between bands in that city." Collier adds, "We feel Pittsburgh has the potential to support a similar scene, whether it's a network of poetry readings or DIY spaces." Despite growing interest, the band remains modest about the success of the Doo-Wop: "It's no 222 Ormsby, but it's a really fun place to play," Haney says.
Doo-Wop, in fact, was where Ursa Major was playing when the group was spotted by Darrell Workman of Ulja Factory Records, a local label known mostly for experimental releases. "We are definitely the straightest band on the label," Whisler admits, "but Darrell has a lot of faith in us, and has given us the chance to get Great Big Light pressed and released. I don't know how we could have done it otherwise."
Great Big Light is a difficult record to pigeonhole. If you mix Robbie Robertson's concept of Americana with the pop sensibility of the Magnetic Fields, you might be close. The album moves effortlessly from soulful country sway ("Pack It Up") to baroque pop progressions ("Deep End"), with some surprisingly well-executed moments of '50s-style harmony and hypnotic krautrock scattered throughout.
This Fri., Aug. 27, Ursa Major kicks off its two-week tour with a CD-release show at Brillobox. After touring, the band plans to release Great Big Light on vinyl and begin recording its follow-up album.
Collier admits, "Most bands start regionally, and then tour -- we did the opposite. But I'm excited the whole band is finally living here, and we have one place to call our home."
Ursa Major CD release with Nik Westman & the Central Plains, Secret Tombs and Junk Food. 10 p.m. Fri., Aug. 27. Brillobox, 4104 Penn Ave., Bloomfield. $8 (includes CD). 412-621-4900 or www.brillobox.net