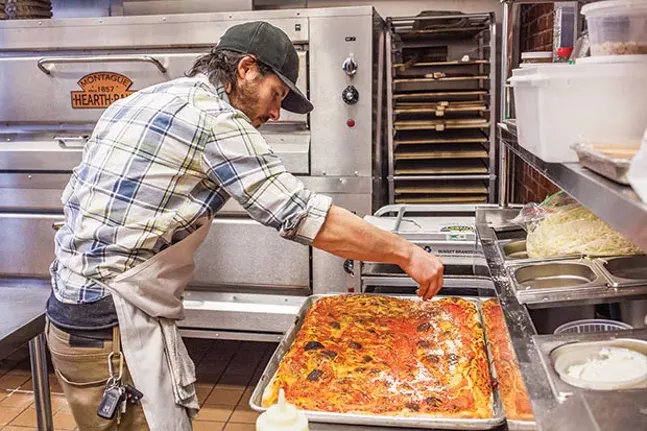 Driftwood Oven is ending its years of mobile-oven wandering and settling into a new life surrounded by four permanent walls. After a search for a space, owners Neil Blazin and Justin Vetter chose the former Matteo's spot on Butler Street in Lawrenceville. Setting up shop in a former restaurant meant an easier start, but the pair knew they'd need to make a few improvements before they were ready to sling pizza.
So, Vetter and Blazin decided to turn to the community for help with a Kickstarter campaign. That crowdfunding proved wildly successful, catapulting them past their original financial goals. In just a month, they raised $44,737, after meeting their first goal of $28,500 in only two days.
Vetter and Blazin met in 2012, when they were working at Legume. In 2015, they struck out on their own to start Driftwood Oven, a mobile, wood-fired pizza oven that gained a loyal following over the last two years. Both men attribute a large part of their current success to the community that has developed around Driftwood Oven. "I think we have a very loyal group of followers that we've nurtured over the past two-and-a-half years," says Vetter.
Prior to closing up the mobile oven in December to prepare the new space, the two men had only taken three weeks off since beginning the venture. That consistency and "neither snow nor rain" mentality meant that customers could include Driftwood in their weekly schedules.
"I think there is a large group of regulars who have a built-in food budget, and Driftwood is a part of that. We specifically asked them to use what they would have used in the months of December and January, and make an investment now for the future," says Vetter, explaining how he turned mobile-oven customers into crowdfunders. "I think people were excited to be a part of helping us open."
Eating & Working & Eating & Working: Driftwood Oven at 5:47PM from David Bernabo on Vimeo.
Blazin and Vetter, who both hail from the Pittsburgh area, are dedicated to keeping that customer connection intact in the new space. One aspect of the mobile business they both value is interacting with customers and learning about their lives. The two developed Kickstarter rewards — mostly pizza, bread subscriptions and baking workshops with Blazin — with the goal of staying in touch with their longstanding patrons. One friend requested a class on sourdough-bread baking as a custom reward, and the response from the other pledgers was substantial. Blazin, who is mostly self-taught, is a proponent of keeping his knowledge open source, and he's looking forward to teaching.
"I wanted to teach myself how to bake bread, and the typical pathways to that for me weren't going to work," says Blazin. He was especially interested in using organic grains and some local grains. (All of Driftwood's flours are from Frankferd Farms, in Saxonburg, Pa.) Another area of interest was learning about fermentation processes.
He turned to bakers on Instagram to answer some of his questions. "You can learn a lot through images," he says. "There's a lot of stuff on Instagram, especially with baking. It's pretty fascinating. People share and share and share. People think baking is so hard, but it's because people hold onto these nuggets of secrets. But this is old-school stuff. Like 15,000 years old. Just share how to bake bread." Both Vetter and Blazin hope their coaching will empower people to bake bread at home.
But now the focus is getting the Butler Street shop up and running. The successful Kickstarter has enabled Vetter and Blazin to go beyond their initial plans. A gleaming, brick-lined deck oven now graces the kitchen; a walk-in cooler is soon to come; and an industrial mixer has been furnished to save Blazin the tendonitis that can come from repetitive motion.
When the first stretch goal of $37,500 was met after seven days, the two decided to put in a draft system. It was important to both men to support the local breweries that welcomed them as a mobile operation and helped them get their start. "We'd planned to just open with canned beer," says Vetter. Artist Tate Hudson and designer Hillary Blazin Rondero (Blazin's sister) collaborated on design elements for the space. Meanwhile, they're still working on the basement to install the walk-in, and hope to open later this year.
New restaurants in Pittsburgh are opening every week and the ever-present conversation of the restaurant "bubble" bursting makes opening a place seem even more risky, but Blazin and Vetter are confident their community will be there for them. After all, they had 479 Kickstarter backers, who gave an average of $93. That's a serious love of pizza.