"At Sly Fox, it's all about the beer," reads the eastern Pennsylvania brewing company's
website
. I found this perplexing at first, as I grew up enjoying far more than beer at the original Sly Fox in Phoenixville, my hometown. But it made more sense after visiting the newly opened Sly Fox Taphouse at the Point.
The taphouse debuted in early October at the bottom of the Downtown River Vue apartment building, and I knew as soon as I walked onto the patio that this was not the same kind of eatery I grew up with. For starters, table service is limited to food delivery and drink refills. You seat yourself and to order, walk up to the bar, pay in advance, and are given a plastic number for your table along with any drinks you requested.
In Phoenixville, Sly Fox began as a small, pub-like eatery that always smelled slightly of beer and fried food. It was cozy, filled with regulars basking in its dim-bar lighting. I would snuggle up with a book, chicken fingers, and a soda while my sister colored and my dad sipped on beer and chatted with our neighbors — we lived in walking distance, a street over from Sly Fox.
Sometime in the late aughts — Phoenixville's Sly Fox turns 24 this year — the brewery grew too big for its dive-bar like location and relocated directly across the street into a shopping plaza. Sly Fox was maturing. With its new spot came an enhanced beer and food menu, outdoor seating, and modern finishes. But while it had expanded, Sly Fox still had a homey, comforting feel. A place you could go no matter the occasion. It is where I had my high school graduation dinner, surrounded by my fellow fleeting seniors. (And the food, now a step-up from bar snacks, got even better.)
Back in the new Downtown Pittsburgh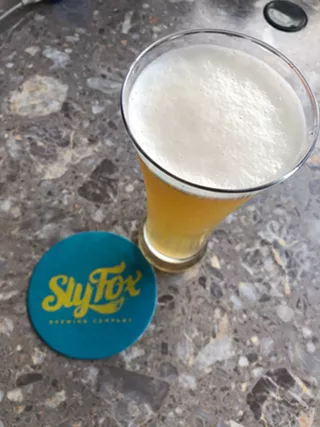 spot, there's a huge digital menu on one wall, with plastic menus scattered throughout on tables and at the bar. The food menu features bar foods like pizza, salads, sandwiches, and pierogis alongside appetizers like nachos and pretzel bites. The venue's own beer is the main attraction, with Sly Fox offering an assortment of drafts and cans from its brewery based in Pottstown, Pa. Wines and spirits made in Pennsylvania are also available.
My friends and I ordered margarita pizza, pepperoni pizza, garlic parmesan pierogis, pretzel bites, and Alex's Lemon Wheat Ale (7 IBUs, 5.1% ABV). The wheat ale is a seasonal summer beer released in partnership with Alex's Lemonade Stand for Childhood Cancer. When bought in a case, a portion of the proceeds is donated to the foundation. It's one of my favorites, next to the Vulpulin IPA (60 IBUs, 6.0% ABV), and was the only part of Pittsburgh's Sly Fox that felt like home.
The food came out astoundingly fast and was mediocre at best. The pizza was a little too doughy, lacking the crunch I expected from a thin, brick oven pizza, and the pierogis a little too hard. The atmosphere as a whole felt too polished. The original Sly Fox is called Sly Fox Brewhouse & Eatery, whereas the one at the Point is simply titled, Sly Fox Taphouse. Beer is indeed the focus at the Pittsburgh location, and I almost wished they didn't offer food at all because it does a disservice to the Sly Fox I grew up loving before I could even try their beer.
Go to the Sly Fox at the Point for the craft beer that's been around since 1995. Don't expect much from the food.