One Day in Town
The Golden Triangle has come a long way in recent years — from a rundown place that visitors wanted to avoid to a must-stop locale full of cultural and culinary delights. Downtown's flat layout makes it very walker-friendly, and the Penn Avenue bike lane that runs into the heart of the Cultural District, as well as the nearby riverfront trails, are starting to make the neighborhood a breeze for cyclists. Downtown has more to offer than we could ever include on these pages, but here are a few suggestions.
The refurbished Market Square is the perfect stop for relaxing in the sunshine, doing a little shopping or grabbing a great meal. There is programming — including farmers' markets and live music — throughout the year, but the draw here are the restaurants. Several are listed on the following pages, but the Grand Dame is The Original Oyster House (20 Market Square, 412-566-7925). Opened in 1871, this old-school joint specializes in seafood (obviously); the fried fish is an institution here, and you also can't beat the clam strips and the fried-oyster sandwich.
For food that's a little more upscale, The Commoner (458 Strawberry Way, 412-230-4800) is located in the new Hotel Monaco. It offers elevated comfort food, from burgers and steaks to more adventurous items like steak tartare and bone marrow. The bar is also pretty spectacular and features a cocktail made with pork-belly-infused bourbon.
Downtown is full of great galleries and art venues but the Toonseum (945 Liberty Ave., 412-232-0199) stands out as the city's museum/gallery built on a little whimsy and a very serious appreciation of comic and cartoon art. There are exhibits, special events and a small shop selling comics and graphic novels.
When we finished our City Guide in late June, we had no inkling that a department store that has been in continuous operation for 119 years would announce its closing just two days before the guide came out. But that's what happened on July 13 when Macy's (400 Fifth Ave., 412-232-2000), announced it would begin liquidating its venerable downtown store in advance of a September closing. So now the site really is a must-see before it closes. It's still a beautiful old building, and its beloved clock on the corner of Fifth and Smithfield make this an absolute must for those still looking for a bit of traditional Downtown before it makes way for the future of downtown — high-end apartments.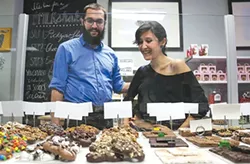 Food
Blue Line Grille. This hockey-themed joint has better-than-average pub grub, and is located conveniently across from the arena. 1014 Fifth Ave., 412-281-2583
Bluebird Kitchen. Open for breakfast and lunch only, the menu at this spot focuses on seasonal salads, sandwiches and soups made with fresh, locally sourced ingredients. 221 Forbes Ave., 412-642-4414
Grit & Grace. Small plates allow you to experiment as much as this eclectic restaurant's decorator and kitchen, which brings unexpected ingredients to dim sum and other dishes. 535 Liberty Ave., 412-281-4748
Meat and Potatoes. It's tough to pick just one dish at this upscale take on restaurant staples; the menu features such fare as pork-belly tacos and Wagyu flat-iron steak. 649 Penn Ave., 412-325-7007
NOLA on the Square. This lively "jazz brasserie" brings Cajun- and Creole-inspired cuisine to Pittsburgh, from jambalaya to catfish, plus live music. 24 Market Square, 412-471-9100
Penn Avenue Fish Company. The fish entrees and sushi served in this intimate setting are so fresh you'd swear they were pulled out of the water that morning. 308 Forbes Ave., 412-562-1710
Proper Brick Oven and Tap Room. A casual venue that fills the niche between deli and fine dining with pasta dishes and wood-fire pizza. 139 Seventh St., 412-281-5700
Seviche. A Latin American-style tapas joint/bar that blends Peruvian and Asian flavors in inventive dishes. 930 Penn Ave., 412-697-3120
Six Penn. Fancied-up comfort food (meatloaf, mac-and-cheese), plus sandwiches and desserts, satisfies all comers. Ideally located for fare before or after Downtown shows. 146 Sixth Ave., 412-566-7366
Szmidt's Old World Deli. Load up on pierogies and other hearty deli fare like pastrami, turkey and corned-beef sandwiches. 957 Liberty Ave., 412-281-1128
Bars and Clubs
Butcher and the Rye. Top-shelf liquor and a top-flight staff are the highlights. Two bars grace the room. The one downstairs is for socializing and being seen. Try upstairs for a more intimate drink. 212 Sixth St., 412-391-2752
Il Tetto. This roof-top bar is the perfect place for warm-weather drinking. Enjoy a view of the city and dudes who are all wearing the same suit, while you sip from a thoughtful beer list. Cocktails are good and mostly classic. 942 Penn Ave., 412-281-2810
Images. A buck gets you in the door at this popular LGBT bar known for some of Downtown's best happy-hour specials, DJs and karaoke. 965 Liberty Ave., 412-391-9990
Olive or Twist. A massive list of pseudo-tinis for the just-got-a-big-kid-job crowd. Go to see and be seen. 140 Sixth Ave., 412-255-0524
Sharp Edge. This is one of the more laid-back Downtown bars. A huge import- and craft-beer list offers customers freedom of choice. Each beer is poured into its own unique style of glassware. 922 Penn Ave., 412-338-2437
Sonoma Grille. A bistro with a Mediterranean feel and a good wine list. A nice place for a date. 947 Penn Ave., 412-697-1336
The Speakeasy. This is a pricey and sophisticated bar in the lower level of the Omni William Penn. It once was an actual speakeasy and has been restored to its former glory. 530 William Penn Place, 412-281-7100
Täkō. The vibe of this new joint is dancehall-meets-pirate-ship. Agave-derived drinks shine. The food and drink menus are meant to complement one another, so have a taco, too. 214 Sixth St., 412-471-8256
Arts and Culture
Arcade Comedy Theater. The storefront space, a hub for the city's comedy renaissance, specializes in improv and skit work, but hosts a full slate of funny, including touring standup comics and even a Dungeons & Dragons-themed improv night. 811 Liberty Ave., www.arcadecomedytheater.com
Bricolage Productions. Small theater troupe has an outsized impact with its immersive productions and vintage-broadcast-style Midnight Radio series. 937 Liberty Ave., www.bricolagepgh.org
Harris Theater. Downtown's only movie house, run by Pittsburgh Filmmakers, screens indie, foreign-language and arthouse fare. 809 Liberty Ave., 412-682-4111
Pittsburgh Cultural Trust. From touring Broadway shows to cutting-edge contemporary dance, this nonprofit (and big property-holder) is the conduit for the lion's share of Downtown arts programming, much of it at the Byham Theater. 412-456-6666
Pittsburgh Playwrights Theatre Co. Resourceful little troupe stages work by local playwrights current and bygone, including top-notch productions of August Wilson plays. 937 Liberty Ave., www.pghplaywrights.org
Pittsburgh Public Theater. Classic dramas, comedies and musicals, and the occasional world premiere, are the calling card of the city's largest independent theater company. 621 Penn Ave., 412-316-1600
Pittsburgh Symphony Orchestra. The PSO tours internationally and plays the classics (and some contemporary work) in resplendent Heinz Hall. 600 Penn Ave., 412-392-4900
SPACE. Themed group shows — whether about gun culture or the concept of repetition — are the specialty of this gallery typically showcasing local talent. 812 Liberty Ave., 412-325-7723
Wood Street Galleries. Installation art with a high-tech bent — think robots, projected video, sound sculptures — is the stock-in-trade of this cutting-edge two-floor venue. 601 Wood St., 412-471-5605
Music
Andys Wine Bar. More than just a hotel bar, Andys is a home for local jazz. The focus is on vocalists, but in Pittsburgh, every good vocalist is backed by a great instrumental combo. 510 Market St., 412-773-8884
The Backstage Bar at Theater Square. A favorite place to meet for happy hour or a post-theater drink, this is a hot spot for jazz artists and a variety of other entertainment. 655 Penn Ave., www.trustarts.org
Consol Energy Center. The city's main venue for the really big touring shows, from Bruce Springsteen to Garth Brooks. 1001 Fifth Ave., 412-642-1800
Heinz Hall. This is the home of the Pittsburgh Symphony Orchestra but also hosts big names like Morrissey, Jill Scott and Johnny Mathis. 600 Penn Ave., 412-392-4900
Little E's. Pittsburgh's jazz legacy lives on here, where modern jazz greats play on a regular basis. 949 Liberty Ave., www.littleesjazz.com
Shopping
Amazing Books and Records. A sprawling collection of used books; the perfect lunchtime getaway for Downtown bibliophiles. 929 Liberty Ave., 412-471-1899
Heinz Healey's Gentlemen's Apparel. One of a handful of men's clothing stores Downtown, this old-school, customer-first shop offers upscale menswear. How old-school? Even Tony Bennett bought a tie here once. 160 Fifth Ave., 412-281-5115
S.W. Randall Toyes and Giftes. The seasonal window displays alone are worth a visit. There are three full floors of toys, including a doll floor and a large train room. 630 Smithfield St., 412-562-9252
Sinful Sweets Chocolate Company. This decadent sweet shop offers chocolate in many forms, from truffles and cake pops to chocolate-covered bacon. 901 Penn Ave., 412-235-7865
Sports World Specialties. This is the City of Champions, so why not go home with a bit of sports memorabilia? 645 Smithfield St., 412-232-3343