This year marks the 15th anniversary of the Downtown Gallery Crawl, and on Jan. 25, the Cultural District celebrates the occasion with new exhibits, performers, and other offerings from here and abroad.
"The Gallery Crawls have always represented a sharing of community through artistic cultural exchange and immersive events," states Terri Bell, vice president of Strategic Partnerships and Community Engagement at the Pittsburgh Cultural Trust, in a press release.
As part of the festivities, Turkish-born artist Refik Anadol opens his traveling audio/visual installation, Infinity Room, at Wood Street Galleries.
Using contemporary algorithms, light and sound, mirrors, and other methods, the immersive experience transforms a conventional flat cinema projection screen into a three-dimensional, seemingly infinite space. Vice described it as "a room that looks like you've just stepped into some kind of otherworldly portal or cosmic gateway, as the swirls, curls, and linear forms cause the walls to melt away."
"I see Infinity Room as a means of escape to a new dimension, an opportunity to be temporarily released from our habitual perceptions and culturally biased assumptions, to enable us, however momentarily, to freshly perceive ourselves and the world around us," says Anadol.
Originally premiered in 2015, Infinity Room previously showed at SXSW in Austin, Texas, the Scottsdale Museum of Contemporary Arts, and the Exploratorium in San Francisco. In 2017, it was awarded Excellent Communications Design for Audiovisual Experience by The German Design Award.
Infinity Room. Jan. 25-April 27. 601 Wood St. Downtown. Free. woodstreetgalleries.org
---
Take a Look

937 Gallery contemplates the foreseeable and not-so-foreseeable future with its latest sci-fi-inspired group show. The Pittsburgh-based artists in Ten Futures "daydream, fear for, and build their own imagined worlds" through a variety of media, including drawings, photographs, video, sculptures, garments, short stories, and even a video game. Continues through Feb. 24. 937 Liberty Ave., Downtown. Free. trustarts.org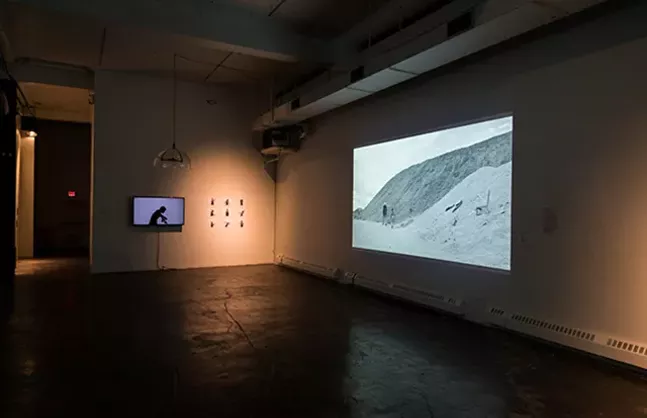 Film and contemporary dance meet at SPACE Gallery for the appropriately titled DanceFilm. Guest curated by Carolina Loyola-Garcia, the exhibition serves as a survey of contemporary dance and addresses themes such as "visibility within borders, social justice, the aging body, love, the body in space, and the creative impulse, among others." Continues through March 3. 812 Liberty Ave., Downtown. Free. trustarts.org

Artist and cultural producer Casey Droege honors the legacy of veteran women artists with Support Group. The 707 Penn Gallery exhibition uses an installation composed of sculptures, drawings, and prints to examine the struggle of building and sustaining and career in the arts. Continues through March 3. 707 Penn Ave., Downtown. Free. trustarts.org

August Wilson Center presents Familiar Boundaries. Infinite Possibilities., a group exhibition of contemporary works that "draw from themes that question society's obsession with tradition, policing, consumption, and indulgence." The featured regional, national, and international artists strive to create spaces of joy, safety, healing, and care for humanity and the environment. Continues through March 24. 980 Liberty Ave., Downtown. Free. aacc-awc.org

Radiant Hall Studio Artists in Lawrenceville presents a Pittsburgh-flavored group show at Trust Arts Education Center. The special exhibition showcases work by 70 local artists who utilize affordable studio space provided by Radiant Hall in Homewood, Lawrenceville, and the North Side. 805-807 Liberty Ave., Downtown. Free. radianthall.com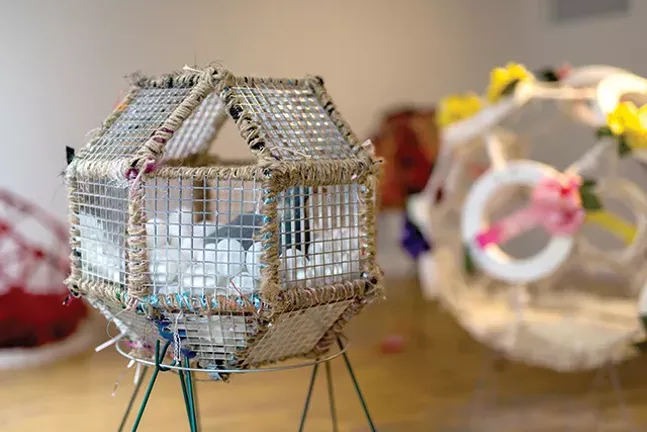 Trust Arts Education Center will also present a schedule of programming for all ages. From 6-8 p.m., see talented Allegheny County students perform excerpts from their upcoming musical productions during the High School Musical Showcase. Then, marvel at various works from Pittsburgh CAPA visual arts students, including a selection of black light pieces, a glowing, tag-able graffiti wall, and a star orb chandelier. 805-807 Liberty Ave., Downtown. Free. trustarts.org

The fun doesn't stop when SPACE Gallery hosts a Silent Disco dance party for Crawl After Dark. Featuring DJ Big Phill, DJ Femi, and DJ Holly Hood, the event enables guests to choose dance partners and music with the help of lighted headsets. Look for the blue, red, or green lights that correspond with each DJ to spot your fellow party goers. 10-12 p.m. 812 Liberty Ave., Downtown. Free. trustarts.org