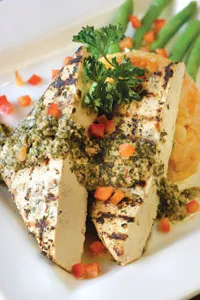 Location:
2339 E. Carson St., South Side. 412-390-1111
Hours:
Mon.-Wed. 11 a.m.-10 p.m.; Thu.-Sat. 11 a.m.-midnight.; Sun. 10 a.m..-10 p.m.
Prices:
Appetizers and salads $7-9; entrées $14-27
Fare:
Sophisticated Southern
Atmosphere:
Service-station chic
Liquor:
Full bar
Smoking:
None permitted
We live in a city where an old mattress factory has been transformed into a world-class museum and churches are reborn as brewpubs and nightclubs. Old gas stations, though, languish on valuable urban real estate. Underground gas tanks and oil-soaked paving are the environmental equivalent of a fly in one's soup, and the buildings themselves are often utilitarian, not to say charmless. Reusing such sites usually involves spending big bucks to create a blank slate. But every once in a while, someone with vision reinvents a former gas station as something truly special.
The owners of The Beehive, Tiki Lounge and Lava Lounge have brought that kind of creativity to the former T&T Auto, located along the seam between the eclectic old East Carson Street and shiny new SouthSideWorks. The structure is intact, down to the exposed -- albeit painted -- cinderblock walls. Four huge garage doors offer a view to the bustling street beyond and promise outdoor dining in season.
As if eating in a former auto-body shop weren't novel enough, we found true ingenuity in the fantasia of junkyard finds and auto-related ephemera that fill the place, evoking the car culture of the '30s, '40s and '50s, and the surprising and artful ways they are integrated into the decor. The lobby ceiling is covered with hubcaps of long-ago road yachts, while springs and work lights have been combined into clever sconces. Pendant lamps over tables are shaded with old oil cans; the bathroom mirrors are framed in tires. An entire pickup truck rides a steel frame above the bar.
This dose of roadside nostalgia was pleasant enough to swallow, but the menu treaded more sensitive ground. As the name suggests, the Double Wide Grill offers a heapin' helpin' of white-trash clichés, from "Our Story," written by the fictional "Tessie Mae Hullficker," to dishes called House Trailer Salad and the Section 8 TV Dinner. While a little down-home fun is good for a laugh, this veered dangerously close to mockery. Yet the food was hardly consistent with the stereotypes on parade. These jokes were frequently paired with city-slicker treats like tofu skewers and brie-stuffed portabella, and the menu notes dishes that are wheat-free, vegetarian and/or vegan.
Setting cultural studies aside, the offerings looked uniformly enticing. We put in our order for crab, black-bean and corn fritters practically before we had our coats off. The fritters were spectacular orbs of savory-sweet, creamy filling within a dark, crisp crust. Twin dipping sauces gave us a choice between spicy grilled-poblano tequila and cooling chipotle ranch. Next time, we might have to make a whole meal of these.
We wished the jalapeño-lime shrimp had been so impressive. The flavor of the grill permeated the big, meaty skewered shrimp, but they were slightly tough, and the delectably tangy but mild marinade was really noticeable only on about half the plate.
Angelique's tofu steak also had prominent grill marks and a good, firm texture, but it was underseasoned. Chimichurri sauce on top lent a lovely green, garlicky flavor, but there was not nearly enough. There were some unexpected substitutions: Slender sticks of asparagus for corn-on-the-cob -- fortunately Angelique is a fan -- and saffron-pineapple rice replaced sweet-potato risotto. Eager to try the sweet-potato and rice dish, Angelique subsequently had to request the risotto. It had good sweet-potato flavor, but the texture was sticky rather than creamy.
It's one thing to meld the citified with the country-fried, but the question remained: How does the Double Wide handle roadside classics? The painfully named "Git Er Dun" BBQ platter offered three ways to find out. The half-rack of baby backs was so tender that, as the meat fell off the bones, the bones themselves fell apart. Still, the pork retained its chew and flavor, and the traditional, vinegary sauce was just what the barbecue-lover ordered. Pulled pork was more robust, with hints of char at the tips. The relatively modest portion of beef brisket stood out for being the least remarkable meat on the plate. The beefiness got a bit lost in the sauce, and the tender slices disintegrated so utterly as to disappear as well.
For dessert, chocolate crème brulée had a dense, custardy texture and a rich yet light chocolate flavor. Along with the delicious fritter appetizer, this sweet bracketed a meal that was satisfying overall, but uneven.
Perhaps some of Double Wide's shortcomings will get worked out as the kitchen gains experience. But the laughing-at, not laughing-with, tone of its menu left a bad taste in our mouths. Even if Pittsburgh is nestled within Appalachia, we shouldn't serve up hackneyed stereotypes of our neighbors.
JR:

AB: