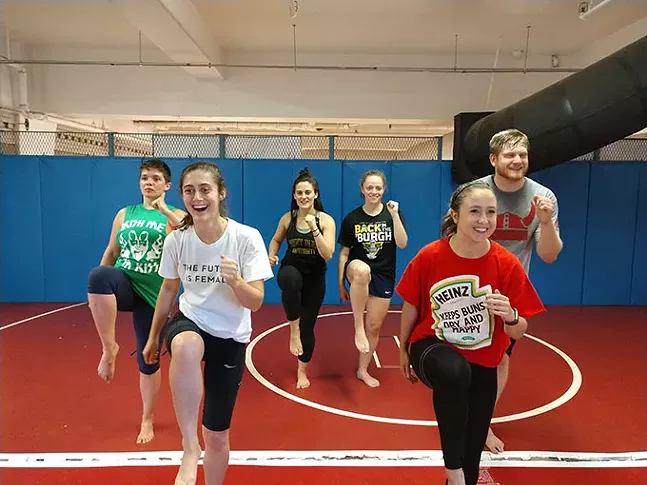 Glitter Box Theater continues its mission of presenting underground, DIY plays with its new project Double Feature.
Taking place Aug. 16 and Aug. 17, Double Feature will present two distinctly different shows from participants in the venue's Ten Minute Play Festival, a thrice-yearly event open to anyone interested in writing, directing, or performing live theater.
"In some way, they've all participated in our Ten Minute Play Festival," says Glitter Box co-founder and owner Teresa Martuccio.
Unlike the festival, however, the works in Double Feature run between 30-45 minutes.
From regular Ten Minute Play contributors Peter Kosloski and Mark Sepe comes Goodnight, Barry! The work centers on Barry Flowers, a fictional late-night talk show host known for his "signature comedy stylings and penchant for booking the most cutting edge guests of our day." Considering Flowers' title as the "third most popular late-night talk show in the Greater Las Vegas metropolitan area," it's fair to assume that his appeal might be a bit exaggerated.
Previously, Kosloski and Sepe wrote several works for the Ten Minute Play Festival, including Exquisite Dandies, The Cat's Pajamas, and a play about windchimes.
Double Feature's second entry, Say That to my Face, and other dances, will take things in a different direction with a new performance described as a "collection of high-cardio choreography and improvised theatre games."
The 30-minute work comes courtesy of performer Taylor Couch and José Pérez IV, who specializes in a martial arts-driven art form known as "fight theatre." Previously, the creative duo, along with co-director Sarah Friedlander, brought Dance Show: A Dance Show to Glitter Box in March. Pérez also performed the original audience-assisted monologue You and I for Glitter Box's May Ten Minute Play Festival.
Pérez says he and his team continue to produce shows at Glitter Box because it is a "truly artist-centered performance space" that comes without the "pressures or restrictions that might come along with some more formal institutions."
"The staff are so clearly committed to supporting local creators and to provide us with what we need to consistently experiment, test, and shine," says Pérez.
Mostly, Pérez and his team want the audience to experience something that's high on fun and low on pretention.
"As with the other dance and fight theater shows we've created over the last year, we're aiming to create performance material that is accessible for audiences, a joy to perform, and very sweaty," says Pérez. "In general, we aspire to build performances that have the memorability and good vibes of a good old fashioned dance music video, the kind that you try out the moves when you get home."