Dormont isn't your father's suburb; it's more like your grandfather's. Situated just across the city line, it's a streetcar suburb that swapped its trolleys for the light-rail vehicles of Pittsburgh's "T." Many of its streets are still paved with brick, and local apartment buildings tend to have names like "Thea."
Nothing is named "Thea" anymore.
The borough's name stems from the French Mont d'Or or "Mountain of Gold." And that may be the only pretentious thing about the place.
Established in 1909, Dormont grew explosively during the next two decades, after the newly opened Liberty Tubes connected Downtown to the South Hills. Still, the borough remains so compact that even urbanites may get claustrophobic. Dormont houses nearly 8,700 people in three-quarters of a square mile -- making it more densely populated than Pittsburgh, and even Philadelphia.
Of course, Dormont lacks big-city culture and diversity; it's 96 percent white. But it has a tightly woven fabric few other 'burbs can claim. Even the hills here are crammed together, as residential streets plunge down and up again within a few blocks.
Many visitors to Dormont never see that, however, or even realize they're in Dormont at all. The main thoroughfare, West Liberty Avenue, is dominated by car dealerships and aggravating traffic signals. You almost can't blame commuters for blasting through. But there are a few gems along on the roadside, wedged between the parking lots.
Incredibly Strange Video (3049 W. Liberty Ave., 412-531-6430) is a mecca for fans of sci-fi, anime, and other cult genres. ISV recently gave up on the rental market, but it still traffics in new and used films ranging from Biker Zombies of Detroit to Hellcats in High Heels.
If you grew up in the South Hills and stayed out late even once as a teen, you've been to Tom's Diner (2937 West Liberty Ave., 412-531-2350). And however long ago your adolescence took place, not much has changed since then. Students and locals still mix at Tom's, 24/7, over gyro omelets and more conventional diner fare.
A newer addition to the area is Mexi-Casa (3001 West Liberty Ave., 412-571-9001), which offers inexpensive Mexican fare, an ample hot-sauce bar, and a terrific beer list. A handful of cheap bars are hunkered down nearby; we're partial to the Suburban Room (3113 W. Liberty Ave., 412-561-3088), which used to be like drinking in a shut-in's basement barroom, but which has become a boisterous hangout under new management.
But the heart of Dormont is its three-block-long Potomac Avenue business district. Here you'll find the landmark Dormont Presbyterian Church (2865 Espy Ave., 412-531-1555), which just celebrated its 100-year anniversary. Nearby is the newly expanded Dor-Stop (1430 Potomac Ave., 412-561-9320) the perfect family breakfast joint. Across the street, improbably enough, is the South Hills' pre-eminent pagan bookstore, Moonstones (1517 Potomac Ave., 412-343-6666 -- the phone number can't be an accident). Meanwhile, comfortable and urbane Fredo's Deli (1451 Potomac Ave., 412-344-1060), serves up terrific sandwiches like the "Godfather" in a nicely restored interior.
Also nearby is the newly reopened Hollywood Theater (1449 Potomac Ave., 412-343-1756). A neighborhood movie house, the Hollywood was shuttered for years; seeing it reopen is like spotting an ivory-billed woodpecker decades after it was thought to be extinct. The original balcony has been preserved, while seats have been widened to accommodate 21st-century posteriors. The Hollywood shows second-run films at discount prices, and it's staffed by clients of the Bradley Center, a South Hills program for troubled kids.
Just across Dormont's border with Mount Lebanon, meanwhile, is the newly relocated and expanded A.B. Charles & Son Hobby Shop (1635 McFarland Road, 412-561-3068). This South Hills institution, like so much else about Dormont, suggests an idealized vision of the 1950s, when people actually had hobbies like building model trains and balsa-wood aircraft. Up the hill is Jose & Tony's (1573 McFarland Road, 412-561-2025), another modest Mexican joint whose long neighborhood history largely offsets its lack of authenticity.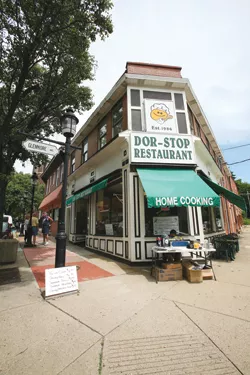 But the borough's pride is the Dormont Pool on Banksville Road. At 1.4 million gallons -- supposedly the largest municipal pool in the state -- this oasis in an asphalt desert is envied by every South Hills commuter driving past. And Dormont knows it. The pool is in serious need of upgrades, and finances are tight, but the doughty residents are making heroic efforts to save it.
Despite the pool, and a couple of smallish parks, if you want to get back to nature, your best bet is to head to the city. Pittsburgh, after all, has individual parks larger than Dormont's entire land mass.
Still, sometimes you wonder why Dormont hasn't been colonized by cash-strapped hipsters. Access to transit is better than in many city neighborhoods, and much of the housing stock is charming, reasonably priced and well maintained. Dormont's 1-percent wage tax is one-third the rate city dwellers pay; partly as a result, nearly 40 percent of residents are renters.
As importantly, Dormont is just old enough to seem new again ... just genuine enough to attract the hipster's ironic, devouring gaze.
Although maybe the best thing about Dormont is that this hasn't happened. That it stays true to itself while all around it is in flux. As they say atop the Mountain of Gold, plus ca change ...