Although he's only a rookie, Le'Veon Bell is already a dyed-in-the-wool Pittsburgh Steeler.
Want proof? Ask the second-round draft pick out of Michigan State what the rebuilding process this year has been like for the Steelers, a team that finished 8-8 last year, missed the playoffs and saw high-profile free-agent departures unlike any other team in the NFL.
"This is not a rebuilding team," says Bell during training camp earlier this month. "These guys are hungry. We're all hungry.
"If you play this game, you have one goal and that's to get to the Super Bowl."
Spoken like a guy who's been around for 11 seasons already.
"We don't rebuild; we reload," says Steelers 11th-year cornerback Ike Taylor. "Maybe other teams finish 8-8 and look to rebuild the next year. But when you're as successful as the Steelers have been over the years, you never rebuild."
And so it goes with the Pittsburgh Steelers. Regardless of the challenges the team faces, the players, coaches and fans always expect next year to be the year. And why shouldn't they? The last time the Steelers failed to make the playoffs was 2009, when the team went 9-7. The next season the Black and Gold went to the Super Bowl, although they lost to the Green Bay Packers.
"There are high expectations when you're a Pittsburgh Steeler," says defensive end Brett Keisel. "That comes with the territory. Last year was frustrating. ... We want to get back to winning our division and to be a playoff team, and there has been a sense of urgency to get back there."
But if the Steelers expect to get back to the top of the AFC North, not to mention the NFL, it's going to take a lot of big plays from a lot of young players. The Steelers' off-season defections were many, and included some of the team's marquee names. Among the most notable: Linebacker James Harrison went to division rival Cincinnati; offensive lineman Max Starks went to San Diego, while his linemate Willie Colon went to the Jets; wide receiver Mike Wallace went off to Miami; running back Rashard Mendenhall joined his former offensive coordinator Bruce Arians in Arizona; and defensive tackle Casey Hampton departed, although he's still an unsigned free agent.
Add the fact that tight end Heath Miller will miss several games while rehabbing a serious knee injury suffered last year, and it's clear the Steelers need a lot of young guys to step up.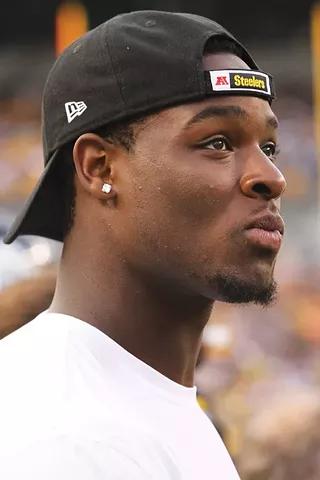 As in years past, the team decided not to fill its roster needs by signing free agents, relying instead on rookies. Going into the team's first preseason game against the New York Giants, for example, the Steelers carried 21 rookies on the roster. The Giants had just 12.
"The rookies have been impressive," says Keisel. "We said [prior to training camp] that we have to have our young guys come in, step up and play football the way we play football. So far, those guys look good. But when the games matter and everything is on the line, we'll see what these guys are capable of."
On the offensive side of the ball, the Steelers' youth is especially obvious in the backfield. While running backs Isaac Redman, Jonathan Dwyer and former Pitt Panther LaRod Stephens-Howling bring some experience to the running game, it's Bell who has received the most attention.
With Mendenhall's departure, the Steelers didn't surprise anyone by taking the 6-foot-1-inch, 230-pound Bell in the second round of the draft. Bell has impressed his teammates thus far, though he's been slowed a bit by knee injuries. He missed the team's first preseason game and re-aggravated the knee in the days leading up to the second.
The legacy of great Pittsburgh running backs in Pittsburgh is not lost on Bell.
"Any pressure I feel is pressure that I put on myself," Bell says. "I don't feel pressure at all from the top. They drafted me to come here and make plays, and that's what I'm going to try and do. Right now, I'm just adjusting to the speed of the game and trying to continually get better."
In addition to Bell, theSteelers expect to get a change of pace in the backfield from Stephens-Howling, a free agent who spent his first four season with the Arizona Cardinals. A much smaller back than Bell at 5'7" and 185 pounds, Stephens-Howling rushed seven times for 40 yards in the first preseason game, impressing offensive lineman Ramon Foster.
"He's a fast guy," Foster says. "He knows how to run the outside zone, and we blocked it the way it should be blocked. He made us look good, and made a name for himself."
Looking good is something that the offensive line will need to continue doing, both for the sake of the running game and for quarterback Ben Roethlisberger, who likes to play outside the pocket and create plays on the fly.
The line has been much maligned for the past few seasons, though there was some good news last year. Roethlisberger took 30 sacks last year — the fewest he's taken since 2005. The line hopes to improve on those numbers this year.
"Our goal is to sustain the run and protect Ben," says Foster. "If we have a good running game, then Ben's going to do what Ben does, and that's make big plays."
And while the line is young, it features no rookies. Foster is in his fifth year, center Maurkice Pouncey is in his fourth; the line also features third-year man Marcus Gilbert and sophomores David DeCastro and Mike Adams. All three of those players missed significant time last year due to injury, and Adams was injured in the offseason, when he was stabbed during an attempted carjacking on the South Side.
Roethlisberger says he's happy with the way the line has been performing. "I'm excited for that group," he says. "They are really gelling and meshing together, and I can't wait to see how it goes with them."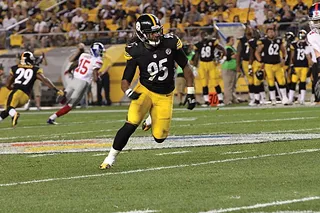 At least two other players have an opportunity to stand out on the Steelers offense: rookie wide receiver Markus Wheaton and second-year pass-catching tight end David Paulson, both out of Oregon.
Wheaton has impressed teammates on both sides of the ball. "I see a lot of promise in him," says Roethlisberger.
"I'm really liking what I see out of Markus Wheaton," agrees Taylor. "He just keeps improving."
As for Paulson? "I tell you what: David Paulson has quietly been having a hell of a camp," Taylor says.
For his part, Paulson says he's been concentrating on improving each day, especially with Miller's uncertain return date.
"I'm getting a lot of reps and just trying to take advantage of the time," Paulson says. "I don't know what's going to happen with Heath. But if I get an opportunity to play more, I have to take advantage of that and help this team win."
On defense, no loss in recent years for the Steelers has loomed so large as the departure of James Harrison to the Bengals. The impact of Harrison's loss may not be fully apparent until the Steelers travel to Cincinnati for a Monday-night match-up on Sept. 16.
Currently, fourth-year linebacker Jason Worilds is getting the first-team reps at Harrison's position. But it won't be long before the Steelers' first-round draft pick, Jarvis Jones, is expected to pick up where Harrison left off. Taylor, for one, says Jones is "mature for a rookie" and already has a pretty good grasp on the Steelers playbook.
"He's doing some nice things," says head coach Mike Tomlin. "He's productive and aware. He's instinctual. I'm not displeased with his progress whatsoever."
Tomlin also says he's seen some good things from rookie safety Shamarko Thomas, who Tomlin says is improving daily and is becoming "more verbal in communication, and that is a big part of that position. It is kind of the hub of communication. It is package football and he is embracing that."
But more than finding new personnel, the Steelers defense — which ranked first in the league last year both in pass defense and defense overall — has to find a way to force turnovers. Since 2011, the Steelers have had negative double-digit turnover differentials, after posting a franchise-best plus-17 in 2010. While turnovers are the one key area the defense must improve, it's easier said than done.
"We have to create more turnovers," says linebacker Lawrence Timmons. "And I think if we have to hustle to the ball and play our brand of defense, those things will come. If we can do that and provide our offense with a short field, then we'll be able to be a catalyst for them."
Taylor says the turnovers will come as long as the team plays solid, aggressive Steelers defense.
"Things happen. It's like a snowball effect. Last year we were playing hard, but they weren't coming," says Taylor. "If we can stay healthy this year and get back to creating turnovers, we're going to be hell for a lot of people."