When my fiancée and I hold our wedding festivities later this year, we'll be signing a marriage certificate and a lot of checks. Like every other couple planning a wedding, we're lining up a venue, a florist, a DJ, caterers and so on.  
And Pennsylvania vendors won't be getting a dime of our business. 
There are plenty of places in Pittsburgh where we could hold our nuptials: Over the years, I've socked away ideas from other weddings we've attended in and around the city. But state law not only prohibits us from marrying here legally, it refuses to recognize our marriage when we return.
So this fall, we'll be traveling to upstate New York, where same-sex marriages have been legal since this past July. And we won't be going alone: More than 100 guests are generously traveling to share the day with us. All will need hotel accommodations.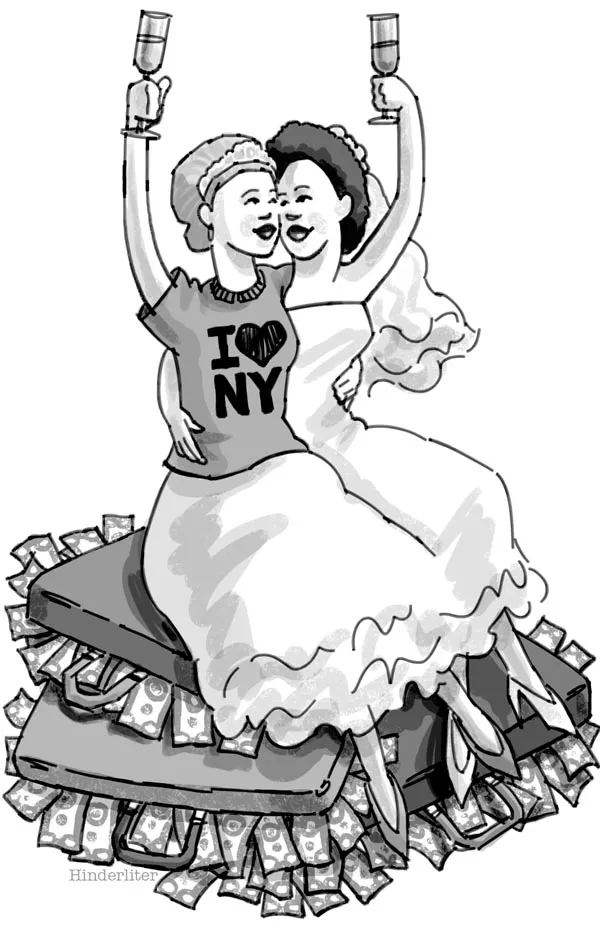 Hotel rooms, service fees, gratuities, not to mention New York's 7.5 percent sales tax ... Pennsylvania taxpayers and businesses are missing out on all of it.  
Our intentions for going to New York aren't all political; my fiancée is from upstate New York. But long ago, we agreed that when and if the time came for us to be married, we'd go through legal channels and do it all at once, in one place. Now that New York offers that opportunity, at least one of us can get married in her home state.
And we're not going to be the last same-sex couple that will be making the drive north.
The U.S. Census estimates there are 33,602 same-sex couples living in Pennsylvania. And Ted Martin, with Equality PA, says, "We believe that number is low": It reflects only people that the Census could speculate were same-sex couples and those who reported themselves that way.
While there's no polling data yet on the number of Pennsylvanians interested in marriage, Martin points out that estimates predict New York will "gain anything from $225 million to $400 million in new revenues and spending over the next three years thanks to equal marriage rights."
So far, Martin says, there's limited evidence to suggest couples are rushing to other states to get married. That's one reason Equality PA is encouraging Pennsylvanians who travel to New York for their wedding to save all their receipts — and then send copies to lawmakers "with an explanation that this was the money they wouldn't be spending" here at home.
There's been a lot of debate over gay marriage — the notion that we'll raise messed-up kids or cause another Penn State sex-abuse scandal, as at least one conservative pundit has alleged. But I can't figure out why my home state wouldn't at least want to accept the check that my fiancée and I, like many other same-sex couples who want to get married here, are willing to write. 
The financial benefits of welcoming same-sex marriage are already being felt in Iowa, whose Supreme Court extended marriage rights to same-sex couples in 2009.
In December, the UCLA-based Williams Institute released a study on the economic boost. Among the highlights from the study, which was requested on behalf of Iowa's openly gay state Sen. Matt McCoy:
• Total spending on wedding arrangements and tourism by same-sex couples and guests added $12 million to $13 million to Iowa's economy, with an estimated $850,000 to $930,000 in additional tax revenue.
• 866 in-state, same-sex couples married in Iowa following the decision to offer the right, and nearly 1,300 out-of-state couples traveled there for a marriage license.
• Out-of-state couples spend an estimated $2.2 million on wedding arrangements alone.
In a statement on the website of One Iowa, where McCoy once served as a board member, the senator says the report "is hard proof that marriage equality has had a positive impact on our state and that the hard-line and hurtful stance against equality by opponents holds no water."
If anything, the economic boosts in the report are considered low, says M.V. Lee Badgett, co-author of the study and director of the Center for Public Policy and Administration at the University of Massachusetts Amherst. State marriage data included an additional 1,015 couples that didn't state their gender. If they were same-sex couples, the study estimates that could have added an additional $7.4 million to the local economy.
What's more, the right to marry attracted more couples from out of state. "We don't think of Iowa as a tourism mecca, but we're seeing couples across the entire Midwest saying, 'That's where I want to go,'" Badgett says. 
The benefits are real, even though same-sex couples tend to be thriftier about their wedding budgets. The purported average cost of a straight wedding is $26,501, according to an annual study done by Brides.com; the Williams Institute study calculates that the average Iowa wedding cost around $18,130. Same-sex weddings, by contrast, cost roughly one-quarter of that amount, the study says — just $4,500. 
That may be because intolerance is costing vendors, even in Iowa. "Due to societal discrimination," the Williams researchers write, "same-sex couples may receive less financial support from their parents and other family members to cover wedding costs, resulting in overall reduced spending."
Still, the wedding industry sees a market, and is doing some courting of its own.
The Knot, a popular website for couples in the throes of wedding planning, has a page for "gay weddings," with forums and pages of "real weddings" that feature same-sex couples. Other sites, like Offbeat Bride, showcase same-sex weddings and experiences, like photographers who want to diversify their portfolio by including such events. So You're Engayged, meanwhile, offers a vetted list of vendors who are determined to be LGBTQ-friendly.
Our own experience with vendors has been mostly positive. Our wedding planner has been enthusiastic, noting that our venue hosted plenty of same-sex weddings even before the law was passed in New York. And when our planning documents were labeled "bride and groom," she apologized and quickly changed them to read "bride and bride."
Pennsylvania's lawmakers are a long way from being able to do that kind of editing.
Even putting aside the marriage question, Pennsylvania lags behind other states on basic civil rights. Lawmakers can't even agree on a bill that would bar discrimination — in the workplace or elsewhere — based on sexual orientation, gender identity or expression.  
But you'd think state officials would at least understand the value of cold, hard cash. As the state recently marked the halfway point of the fiscal year, budget Secretary Charles Zogby announced that projected state revenues were falling short of initial estimates by about $500 million. The state is also facing uncertainty over federal funding and rising health-care costs totaling $400 million, not to mention growing pension costs. 
"Given the state of the economy," Zogby said in a press release, "the governor and lawmakers will need to make many more difficult decisions about commonwealth spending in the months ahead."
I'm sure that language had government employees, schools and nonprofits that provide crucial human services cringing — along with the people who rely on those services.  
There are plenty of other controversial areas the state isn't afraid to cash in on, like casinos and Marcellus Shale drilling. And government officials are actually already skimming off the top of my relationship: On the federal level, my fiancée and I will have to file separate income-tax returns rather than filing jointly; and in Pennsylvania, if one of us dies, the other will have to pay a 15 percent tax on any property left behind — a penalty married couples don't have to worry about. 
And at least one sector of Pennsylvania's economy will benefit from the disparate treatment given to same-sex couples: lawyers. State law provides no legal framework for divvying up our household should we someday divorce. That means we'll have to hire an attorney to draw up paperwork needed to protect ourselves, and future children, as best we can. 
Still, we're lucky to be able to have a wedding at all — to live so close to, and have roots in, a more enlightened state. Our wedding won't be elaborate, but I've started keeping track of what we've paid for already, like the down payment on our venue, or the rehearsal-dinner space. I think about the Pennsylvania vendors who are missing out on that money, just because they live in a state that sees our relationship as somehow more toxic than, say, injecting chemicals into the soil for the sake of drilling natural gas.
By not seeing our relationships as valuable, Commonwealth of Pennsylvania, you're cheating yourselves of revenue ... even while you struggle to pay for roads, bridges and social services.
We live in a state so desperate for revenue that it's expanded gambling, and is seeking to make booze more readily available. Yet, it is too morally conservative to recognize binding relationships between same-sex couples. How much longer are Pennsylvanians willing to pay the price for that kind of hypocrisy?