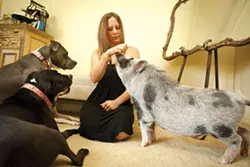 In a story about unique pets, the tale of Frankencat would typically be odd enough to stand on its own.
The one-eyed feline — which was found as a stray with an eyeball hanging out — once wrapped his tail around the leg of a completely blind pit bull, who was in his final days, and assisted him around the house. But while Frankencat might show a softer side to the geriatric rescue-dog crowd, he sometimes has to get a bit rougher with Doc, the newest member of the small zoo that Pete Finnagan and Heather Long tend.
"Our cat handles Doc really well," says Long. "Whenever [Doc] bites his tail, he just slaps him."
Doc is an oinking, sniffing, Cheerio-eating pot-bellied pig that is just slightly smaller than Long and Finnegan's three rescue pit bulls named NeNe, Candy and Diamond.
"We started fostering him this past winter," says Long, who officially adopted the pig from the Animal Rescue League in March. "Before we adopted him, I kind of wanted to see what life with a pig would be like because I've heard so many stories. Sure enough, a lot of them are true.
"But, if you're able to adapt your life to make it work with them, then they're really fun animals."
Produced by Ashley Murray & Aaron Warnick
And adapt they have. Doc has his own room, complete with a full-sized closet where he sleeps — because "he likes small spaces" — and a balcony where he suns himself. His closet bedroom is full of blankets and random things that he carries there; the day that City Paper met him, he had carried a plastic spork into his sleeping quarters.
Long says Doc's previous owner dropped him off at the rescue after realizing the work he entailed.
"It turns out that pigs are a lot more work than they look to be on TV," Long says.
Another way that Long and Finnegan have adapted is that they play the role of relationship police between their mild-mannered pit bulls and the ever-curious pig.
"He does like to sometimes bite their feet and tails. It seems to be kind of a game for him," says Long, who is on alert for her pit bulls, making sure they don't get stressed. But for the most part, she says, everyone has adapted really well.
Long and Finnegan are not alone in adopting battered, unwanted, strange and exotic animals. Last year, the Animal Rescue League adopted out 7,000 animals, and categories on its website range from the usual dogs and cats to the not-so-usual companions of barnyard animals, hermit crabs and peacocks.
Another local rescue for an often scoffed-at animal has grown to a rather large network. Founded in 2004 by Lindsay Pulman, her husband and a few friends, the Pittsburgh Rat Lovers Club averages about 150 rat adoptions per year.
"They're very nice, very safe pets. Most people think that they're dirty, but rats are very fastidious about [cleaning] themselves," says Pulman, a retired vet-tech supervisor who now owns 43 rats. "I'm a foster failure. When they come in, they don't ever leave."
Pulman and her club have become part of a nationwide rat-rescuing network. Because rats can breed every 21 days, "rat hoarder" situations sometimes arise. Her organization once became part of a "rattie train," she says, that helped transport more than 400 rats from an upstate New York home to places that could foster them.
Ali Sutch is one of Pulman's rat converts. She adopted three from the club — Sinbad, Malcom and Dewey. Like Long and Finnegan, she is building her own small zoo; along with her rats, she has a cat named Claire — which she keeps separate from the rats — and a leopard gecko named Shelby. Like the pig, the rats have their own room, which houses a 5-foot-tall, two-story cage with several hammocks and nooks.
She has little harnesses and leashes for when she takes them to the park, and without fail, she says, someone always makes a comment: "Eww, gross! Is that a rat?" "What is that, a hamster?"
But she loves them.
"They're great because I'm a college student, and I don't have the time or money right now to have dogs," Sutch says. "They're affectionate and love attention, and you can train them like a dog. They're just like little manageable dogs."