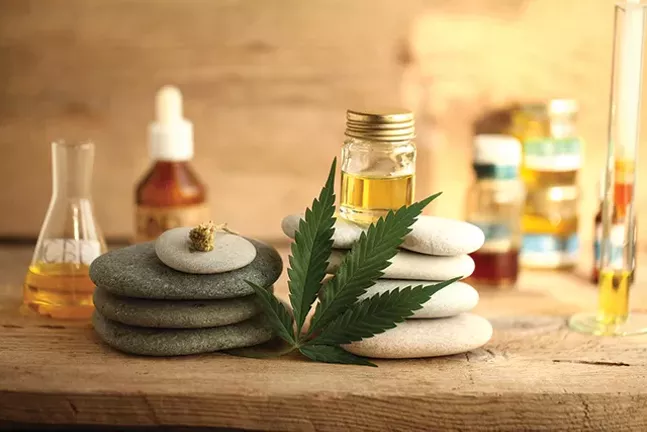 One of the biggest health mysteries of 2018 is the sudden ubiquity of CBD. CBD, or cannabidiol, is derived from marijuana but contains none of the psychoactive effects of THC, yet the marketing of CBD products makes it seem otherwise. Products infused with CBD—including face creams, chocolate, ice cream, juice, tea, bath bombs, gummy bears, and seltzer—are often marketed with pictures of a marijuana leaf, which, while factually correct, is a little misleading. The substance won't get you high, yet it's not available to minors. Its popularity seems mostly derived from the fact that it's loosely related to weed.
To get a better sense of what the substance does, I tried it myself every day for a week.
In June, the FDA approved the first drug containing "a purified drug substance derived from marijuana" to treat severe forms of epilepsy. There has been other research on the therapeutic and medicinal uses of CBD, but it hasn't advanced enough to be confirmed. The FDA has also released warnings against products either making unfounded medical claims or misidentifying the concentration of CBD.
This is all to say that, aside from treating rare and intense seizure disorders, the effectiveness of CBD is doubtful at best, snake oil at worst. Some claim the product is life-changing for managing anxiety, depression, chronic pain, and other ailments, but without definitive research, it's all hearsay.
I chose to try CBD oil, presumably the most direct way of consumption. When I walked into the vape store, an angry couple was complaining to the store clerk that it was unfair they couldn't return their Juul. I spotted the oil behind the counter and said, "Can I have the $30 one, unflavored?" Because they went up to $100 and came in a variety of fruity nonsense.
I asked the man working at the vape store if he'd ever tried the oil and he said, "No, I don't smoke or anything."
The first time I tried CBD, I put a few drops under my tongue and swallowed. It had a taste I couldn't place, but it definitely wasn't flavorless. I didn't feel much.
The bottle has literally no instructions, saying only "keep away from children and pets" and "contains PG and or VG," whatever those are. Since CBD products are not FDA-approved, there is no dosage recommendation, but the internet recommended putting drops under the tongue and letting them sit for 30-60 seconds before swallowing. Just squeeze drops until you feel something, or feel nothing. Both are the goal, I guess.
The next night I was anxious before bed, so I put some under my tongue and let it sit. I felt my heart rate go down, but it could've been a coincidence, or a placebo, or the ASMR I was watching.
The next day I took some at work and let it sit under my tongue for even longer, waiting for the minute on the clock to change before swallowing. I felt vaguely calmer, but the feeling was too subtle to quantify. I was finally able to place the taste as a rancid version of my grandma's perfume, which I haven't smelled in eight years.
I put more drops under my tongue when a friend said something that made me suddenly anxious.
I took some more when I was frustrated by the process of covering my windows with plastic because my apartment doesn't have heat (don't worry about it).

I wrote in my notes "I think it works if you really want it to." CP editor Lisa ordered CBD gummies online for $40 and desperately wanted them to work, but they didn't. I tried one gummy and briefly felt semi-relaxed.
It would be so easy if this product would just cure everyday pain, if everyone could just walk into a store and buy a cream or candy or oil that would make life easier. But it feels futile, spending money on such a potential scam-y substance in hopes of maybe possibly feeling slight relief. It doesn't work, but it doesn't not work. Maybe for some, that's enough.