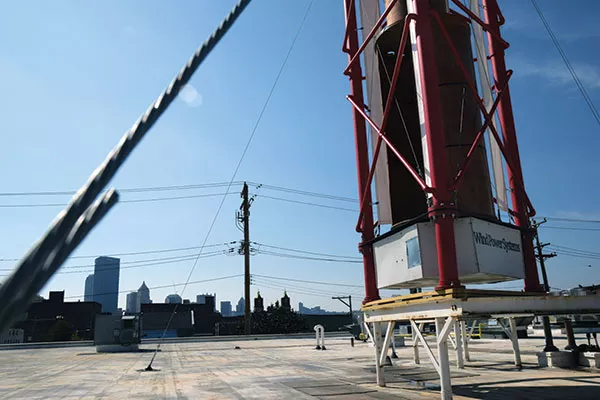 In explaining how we should solve environmental problems, writers, scholars and activists face many challenges. One of the toughest is that it's much easier for, say, fossil-fuel companies to scare people about a hypothetical "green" future ("You'll freeze in the dark!") than it is to persuade people to help create an environmentally sustainable society.
As Patricia DeMarco, an environmental scholar at Carnegie Mellon and Chatham universities, puts it: "When people are looking toward the future, they have trouble envisioning what success looks like."
Kirsi Jansa wants to help. Jansa, a Pittsburgh-based journalist and filmmaker, is best known for Gas Rush Stories, a series of short documentaries about Western Pennsylvania's shale-gas boom. Between 2010 and 2013, she completed 14 original episodes, shown in public screenings and online, and noted on the New York Times' environmental blog.
Jansa wanted to document how the Marcellus Shale experience affected a range of people, from farmers whose land was being drilled on to a drilling-wastewater recycling company. But eventually, faced with extreme polarization around drilling, she decided we needed to talk less about environmental problems and more about solutions.
Her new video series is Sustainability Pioneers. With funding from the Heinz Endowments and the Pittsburgh Foundation's Fisher Fund, she's profiling people — mostly locals — who are already cutting their resource consumption and transitioning to renewable energy. Yes, episode one documents the toll our region's air quality (dirtied largely by coal-fired power plants) takes on one 10-year-old boy. But it also cites CMU engineering and public-policy professor Ines Azevedo, who says that the economic benefits of moving to renewables — in environment, climate and health — would far outweigh the cost of the transition.
The second 10-minute episode gets hands-on. Jansa profiles Windstax, a company that makes vertical wind turbines that founder Ron Gdovic says produce electricity in urban settings where bladed turbines wouldn't work. (Gdovic is shown installing one on the roof of the Pittsburgh Public Market, in the Strip.) Washington County homeowner George Tracy has a 40-foot Windstax turbine on his rural lot, and uses geothermal energy to heat and cool his home. Jansa also interviews folks from Scalo Solar, a local firm that integrates solar panels into roofing.
Sustainability Pioneers is produced in collaboration with DeMarco and CMU's Institute for Green Science. Jansa plans at least 10 episodes, to be shown online and in person, at schools, churches and nonprofit groups. Future installments will go as far afield as Saerbeck, a small German town that uses wind, solar and biogas to produce more energy than it consumes. But Jansa mostly stays local: One planned episode focuses on Monaca, a Beaver County borough that's won awards for its sustainability projects. For instance, Monaca has outfitted its street lights with longer-lasting, energy-saving LED bulbs, and installed a new meter-reading and leak-detection system that saves the town's water authority at least 100,000 gallons a day.
Borough manager Mario Leone Jr. attended last week's premiere public screening, at Carnegie Mellon. He says such infrastructure projects are smart financially as well as environmentally: They pay back in a matter of years, even months. Switching traffic signals to LEDs, he says, "We saved $5,000 a year just in maintenance."
Make no mistake: Jansa and her colleagues understand the gravity of the climate crisis. At the Oct. 7 premiere, Institute for Green Science head Terry Collins said that the environmental sustainability of humans on earth is "the most serious question that has ever faced us."
But, Collins added, we know how to do better: "It's not a technical problem. It's a people problem."
Collins calls it a crisis of leadership. Jansa says, "I think it starts with the people. ... People have to demand the change."
In any case, "Selling the problem can lead to paralysis," Stan Kabala, of Duquesne University's Center for Environmental Research and Education, says in episode two. "Selling the solution can lead to inspiration and hope."