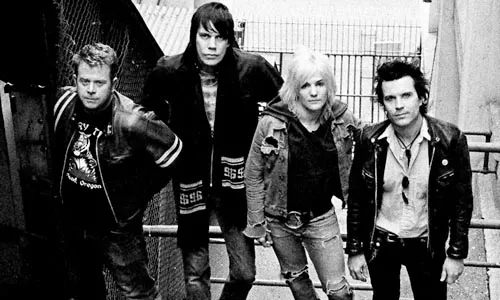 Crimson Sweet describes itself as a "DIY arena-rock band," a charming oxymoron -- kind of like all these "pop" bands that could only be less, um, popular if they'd never been born. But if you're willing to accept the premise of arena rock without the arena (and I'm not certain I am), down an overpriced lite beer and throw up your devil horns for Crimson Sweet.
The New York-based band, fronted by the raspy-voiced Polly Watson, will soon release the "Wired for the Last Move" single, the latest in what the Village Voice has hailed as "the unchallenged best ongoing batting streak of worthy seven-inch 45s of any indie band in town." On the new single, Crimson Sweet has slightly upped the power-pop melodicism from its 2005 album, Eat the Night, while keeping the sound vintage-trashy. The result sounds less like a NYC band than Motor City acts like The Nice Device, The Avatars or others on the No Fun label.
It also sounds like Cheap Trick playing in your basement ... if Robin Zander were, you know, a girl. Watson definitely brings some Zander playfulness to lines like "you and me in the dry grass / with my hand under your shirt," on the born-to-be-wild b-side, "Basement Star." Along the way, you'll catch traces of Hüsker Dü, Replacements, New York Dolls -- but hey, might as well hear for yourself: Crimson Sweet's upcoming show at the Smiling Moose is free. Though you'd think an arena-rock band would at least tack on a handling and convenience charge.
Crimson Sweet with The Flash Darlings and The CosmoSonics. 10 p.m. Wed., June 6. The Smiling Moose, 1306 E. Carson St., South Side. Free. 412-431-4668 or www.smiling-moose.com