Come for the Deutschtown Music Festival, stay for the neighborhood. Here are four businesses worthy of checking out after the music ends.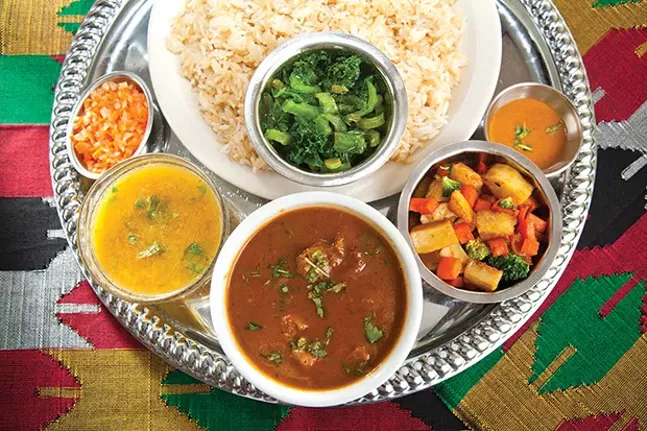 Taste This:
Subba Asian Restaurant
700 Cedar Ave. 412-586-5764
This Nepalese/Asian restaurant is a hit with locals, though it's easy to miss if you're passing by. The restaurant's windows are visible above Subway on East Ohio Street, but the entrance is a nondescript door around the corner on Cedar Avenue. Neighbors in the War Streets frequently rave on Facebook about the momos (dumplings). The restaurant also offers Chinese and Indian entrees, including a variety of curries. The interior is lackluster, but the food is great and you can't beat the price.


Smell This:
Farmer's Daughter
431 E. Ohio St. thefarmersdaughterflowers.com
There is buying flowers for your love, and then there is buying into flowers as your love. It's all about the latter at Farmer's Daughter Flowers, an odoriferous, floral escape from the trappings of dull, daily doings. Nearly every offering is grown locally, and each bouquet comes with a surprise: lavender for luck, rosemary for affection, you get the idea. Visit the shop — not just for a day of delight, but also for workshops that will unlock the inner floral arranger in you.
Hear This:
Banjo Club
400 Cedar Ave. thepittsburghbanjoclub.com

A Hump Day in Pittsburgh is best completed at Elks Lodge No. 339, where Wednesday evenings are known as Banjo Night. Technically a weekly rehearsal for members of Pittsburgh Banjo Club, this gathering has become equal parts cool crowd and old school, luring an audience with cheap drinks casual conversations and ace plucking by banjo masters. Dig into our City Guide for more details on Banjo Night and other activities that belong on any Pittsburgher's bucket list.


Touch This:
Artists Image Resource
518 Foreland St. artistsimageresource.org
Tucked away on Foreland Street, a few blocks from the main drag, is a neighborhood gem that encourages getting your hands dirty while creating one-of-a-kind artwork. Artists Image Resource (AIR) is an artist-run, nonprofit workspace for professionals and young folks looking to master a new craft. Learn how to screen-print during open-studio hours four nights a week or stop in at an occasional gallery show. It's a popular spot for poster artists and activists. Have a catchy slogan for the upcoming election? Bring it here and start a revolution, one screen-printed T-shirt at a time.