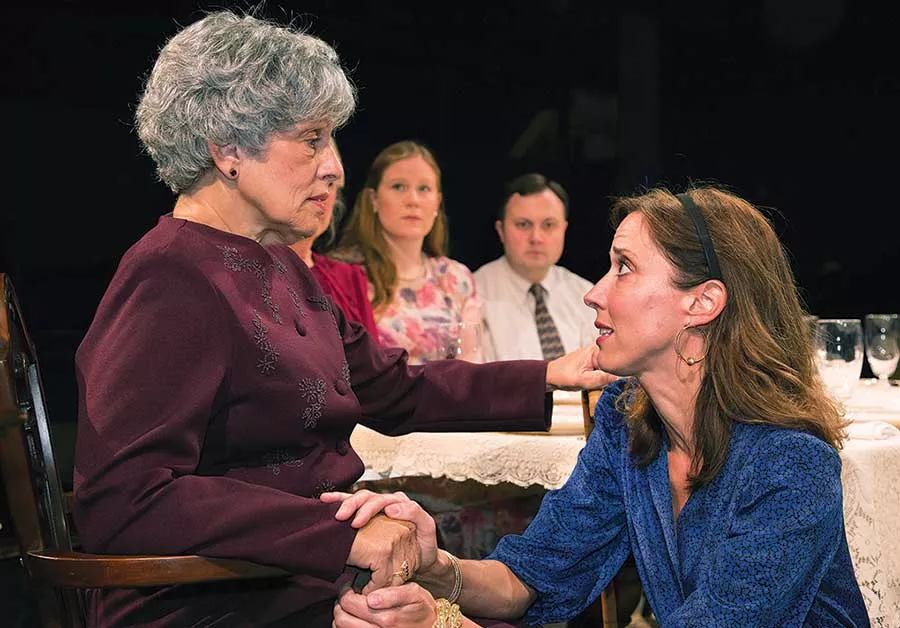 Set in the 1980s, Dividing the Estate might sound like a recipe for a boring reading-of-the-will circa the Reagan years. But other than a few stray leg-warmers and talk of those arcane devices known as computers, this uncompromising comedy is as modern as they come.
This offbeat tale is far from playwright Horton Foote's best work; that distinction arguably belongs to Foote's Academy Award-winning screenplay for To Kill a Mockingbird. Still, this 1989 play about a dysfunctional family vying for a piece of a Texas property has its own set of charms. While the buoyant humor maintains a rapid-fire pace, there is more than gluttony and privilege hidden beneath the seething dialogue.
Director Sunny Disney Fitchett makes the most of the diverse cast, allowing each member of the ensemble to shine — from Eric Leslie's beleaguered grandson named Son to Ashlea Reed's ambitious domestic servant, Cathleen. But this is a story that draws its strength from the power of a matriarch. As Stella Gordon, the feisty mother of three grown children and a cache of grandchildren, Janet Robb dominates her every scene, making mincemeat of her character's greedy, entitled offspring.
Yet for all of Stella's indomitability, she fears for the future of the land that she and her father toiled so long to establish. After witnessing the deterioration of her beloved servant Doug (the pitch-perfect Jomo Ray), Stella realizes that her way of life is drifting away from her and that she must soon cede power to her progeny: the austere Lucille (Carol Ann Schussler), the hard-drinking Lewis (Art DeConciliis) and the spoiled Mary Jo (Mary Liz Meyer). This sense of pathos focuses an otherwise raucous story and transforms Dividing the Estate from a simple comedy into an insightful yarn about the nature of family and togetherness.
Although Dividing the Estate premiered 25 years ago, the play didn't reach Broadway until 2008. The gap might seem conspicuous, but considering the theme of characters living beyond their means before losing it all, this is a story that might well resonate with a 21st-century audience. Because after all, an estate might not remain intact, but family is forever.