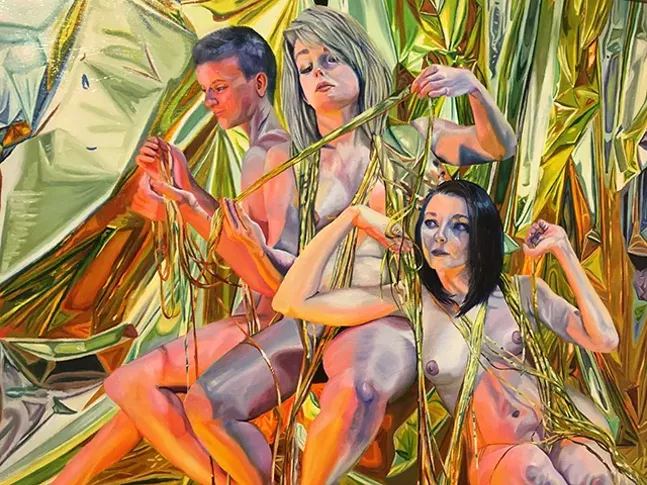 A distinct sense of whimsy characterizes Distilled, the latest exhibition at the Pittsburgh Center for Arts and Media (formerly Pittsburgh Center for the Arts). Woven throughout 82 works by 42 members, teaching artists, and staff
are
touches meant to delight and surprise. Visitors are greeted by the candy-colored,
ribbon-y
text of
This Magic Moment
, a mural by Danny Devine spanning a back wall of the downstairs gallery area. Crocheted footprints (
Self Portrait
by Mary Towner) pull the room together as they spread out across the floor in the upstairs gallery, waiting to be tromped upon by those too busy eyeing the wall hangings to notice the artwork beneath their feet.
In a show where one would expect to find mostly amateur still life paintings, nature photography, and collage work (and those are here, believe me) it's refreshing to see plenty of offbeat pieces with a sense of humor or, at least, a lack of pretension. There are brightly framed cameo portraits by Jessica Alpern Brown, a ceramic jug that takes a cue from folk art by staring back at the viewer with a comically exaggerated face (
My Head Is Swimming
by Melissa Sullivan), and jewelry decked with a silver manta ray and bejeweled turtle (Pat Falbo and Debra Bober, respectively).
Artist Kara Zuzu makes a mark with a variety of nature-inspired ceramic and clay pieces, including the mounted animal heads of
Ambition (Goat)
and
Guide (Hare)
and the posed faux-taxidermy of
Keeper of the Secrets (Raven)
and
Change (Chameleon)
, all of which call attention to the often bizarre, morbid trophy art of hunting culture.
Taking the dark playfulness a step further is
Climate Change Crankie
by Katy DeMent, an interactive installation with an entertaining approach to addressing environmental destruction. In a dark room, a decorated panoramic scroll unfurls along three different walls. Sticks poke out from backlit panels, allowing visitors to manipulate simple shadowy puppets of tractors, cars, cats, and beavers with gardening tools. While I appreciate the clever concept, I wished it had been better executed, as the sometimes unwieldy puppets diminished the intended effect.
Taking up another room is
TL; DR
, a mural installation by Seth LeDonne. The work invites visitors into a simulated
webscape
with four walls covered in crudely painted gridlines and paintings that serve as ominous pop-up ads with messages like "Your Data Will Be Lost When The World Ends" and "How To Keep Paying Your Web Hosting Platform After You Die." While
TL; DR
attempts to put into perspective the ephemeral, dehumanizing nature of internet life, it lacks the immersive impact and sophistication necessary to warrant taking up an entire room.
Not to be ignored are the paintings of Heather Heitzenrater and Evy Rodgers. From Heitzenrater,
Nasty Woman
and
Poised Instinct
convey palpable, complex ideas of female vulnerability, as nude women become lost in environments dominated by reflective cellophane balloons. The acrylic works from Rodgers experiment with textures and color, recalling geological and urban spaces with veiny, tectonic seams, splashes of gold and turquoise, and geometric figures.
Also featured are works by Amy Burke, Amy
Butlefir
, Andrew Baumeister, Audra Clayton, Carolyn Carson, Cathy Trzeciak, Christianna Kreiss, Christopher Stetser, Danny Devine, Emily Eckel, Ginny Caliguiri, Jack Trzeciak, Juliet Zavon, Justin Louis Murrell, Leslie Mitchell, Linda Price-Sneddon, Lisa Bergant Koi, Lisa Haabestad, Lorraine Free, Margot Dermody, Olena Abakumova, Patricia Kennedy-Zafred, Rachel Oliver, Robert Kirschner, Robert Raczka, Stefano Ceccarelli, SuSu Kanemoto, Suzanne Werder, Tess Allard, Thomas Norulak, Tressa Jones, and Yue-Fang Chang.