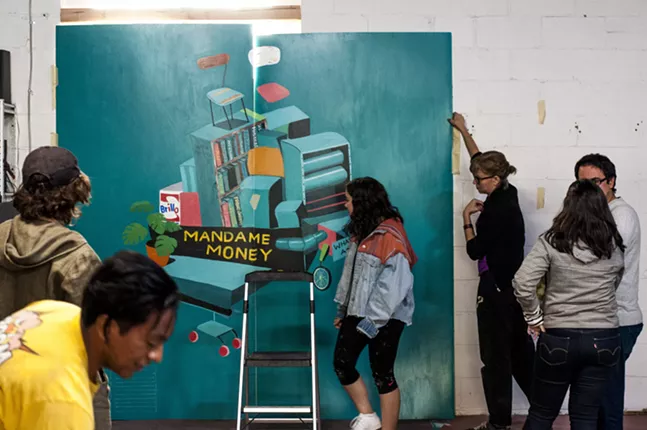 There is plenty of notable street art around Pittsburgh, but few works have a political or social message. A new collaborative mural project will change that.
Disrespecting the Border
, a mural project funded by the University of Pittsburgh as part of the school's Year of Creativity initiative, will show at the Unblurred: First Fridays Bloomfield-Garfield event on Nov. 1, with hopes for a more permanent — and public — home in the future.
The work is a collaboration between artist Leah Patgorski of the Other Border Wall Project, Camilo Ruiz, a Ph.D. candidate in anthropology at Pitt, and Gil Rocha, an artist from border-town Laredo, Texas, who led the workshop for designing and creating the mural. Casa San Jose also lent its support to the project.
The group, along with around 20 volunteers, got together earlier this month to complete the project from start to finish over a five day period. The finished product is a bright and colorful piece that reflects on migration, depicting everyday objects like a bookshelf, plants, and chairs, being pulled along by a skateboard, and a snail on wheels.
"We've been trying to make notorious the presence of the Latinx population here in Pittsburgh because we are growing fast in the city but we are kind of invisible," said Ruiz. "We said, 'Why can't we make a mural in Pittsburgh that talks about the Latinx presence, but also kind of talks about the actual political situation towards immigration in the country.'"
Ruiz says he hopes to find a permanent home for the mural, somewhere "very visible" in Pittsburgh.
"I think Pittsburgh needs to acknowledge that we're here, we're working, and also I think Pittsburgh feels it's far away from the Mexico border, but that's not true," he says. "All the immigrants that are coming here to work are bringing the border wall experience with them."