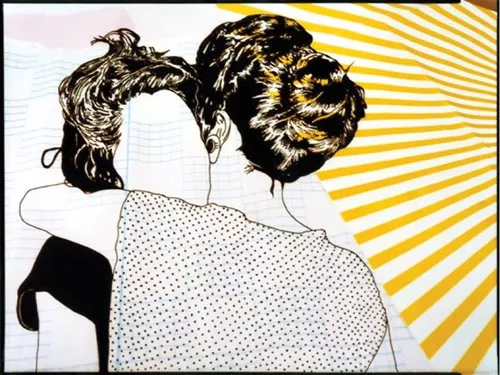 There is no doubt that most Americans are ill-informed about Islam. While many non-Muslim Americans were motivated to learn about the world's second-largest religion after 9/11, today it seems imperative given the ongoing Arab Spring.
Anything that enlightens is welcome. And that makes Dis[Locating] Culture: Contemporary Islamic Art in America, co-curated by Michael Berger and Reem Alalusi, worth seeing. However, as with most exhibitions with comprehensive ambitions, the work on display is quite diverse in style and the show lacks aesthetic coherence. Moreover, although the show "aims to problematize stereotypes and challenge notions of cultural and religious homogeneity," six of the nine artists included are of Iranian heritage or origin. The other three represent the U.S., Bangladesh and Saudi Arabia, which can't possibly cover the vast diversity of contemporary Islamic art.
The show does include some interesting work. Do not miss, for instance, Shoja Azari's video projection titled "Coffeehouse Painting." This piece digitally animates a reproduction of a 19th-century work by Mohammad Modabber called "The Day of the Last Judgment." The original painting is in a traditional Iranian narrative style that depicts scenes of religious sagas and national epics. Such coffeehouse paintings were used as backdrops for storytellers who re-enacted the events illustrated. Azari updates and animates this particular painting by adding digital and audio vignettes of civil and military conflicts (Iraq, Palestine, the Iranian revolution) sourced from YouTube and various news outlets. This effect seamlessly conflates the past and the present.
Farah Ossouli's pieces also reference traditional Iranian painting. Taking her themes from Persian stories and Arab literature, she depicts scenes of love and heroism using a miniature painting style. She too blends traditional with modern. Surrounding her narrative and figurative panels are abstract planes of color that add depth and emotion. By avoiding text she presents a purely visual composition.
Sandow Birk, meanwhile, does quite the opposite. There is very little empty space in the works that make up his American Qur'an Series, four of which are displayed here. (A much larger selection was recently exhibited at The Andy Warhol Museum.) As a non-Muslim American, Birk incorporates components like wind turbines, monster trucks and office cubicles into his illuminated manuscripts to suggest how the text relates to American life.
"Oil Barrel #7," by Shiva Ahmadi, is a sculptural piece that combines a traditional miniature painting style with a contemporary product, thereby commenting on both culture and politics. Her painting "Red Moon and Al Khidr" is a symbolic interpretation of an Islamic mystic and his teachings. Using watercolor, she achieves a loose and flowing style that conveys both the regenerative and destructive forces associated with this figure. While still figurative and narrative, this piece plays with abstraction.
Abstract design is common in Islamic art because the depiction of the human form can be interpreted as idolatrous, particularly if it is used for worship. Many artists in the exhibition combine the abstract and the figurative as commentary on this aspect of Islamic art, as well as on culture and politics. Asad Faulwell's "Danielle Minne #2" at first looks purely abstract, with circular and geometric patterns filling the canvas. But on closer inspection, apparent floral designs are actually women's faces. Faulwell incorporates these not only as a statement about iconography itself but also to explore gender and anti-colonial struggle. The faces represent female freedom fighters in the French-Algerian war.
It would have been interesting to see this piece next to Negar Ahkami's "Lioness and Sun," in which things are also not what they appear. Along the base of this painting are scattered shells on a beach that slowly reveal themselves to be the severed heads of mullahs. Ahkami's pieces are decorative and kitschy and incorporate diverse art-historical styles. Like Faulwell, she explores the image of women and confronts stereotypes with humor and an ostentatious technique.
Also exploring iconography and representation is Jowhara AlSaud's "New Year," which blends abstraction and figuration using a flat, minimal, pop-art style. Amir Fallah's "Crystal Mountain" is another pop-influenced piece, but of a more psychedelic and whimsical variety. In this work he questions both Eastern and Western mysticism by combining Islamic cultural references with drug paraphernalia.
The only purely abstract artist represented is Anoka Faruqee, whose skill as a painter is unfortunately lost within the context of this exhibition. While her source is Islamic patterning -- apparently the reason for her inclusion -- that is not really the most important or compelling aspect of her work. Faruquee is really exploring the skill of painting by hand while toying with the appearance of it being digitally reproduced. But how does painting about painting "challenge notions of cultural and religious homogeneity"?
Nonetheless, the effort to bring together work that otherwise might not be seen locally is much appreciated.
DIS[LOCATING] CULTURE: CONTEMPORARY ISLAMIC ART IN AMERICA continues through July 30. Michael Berger Gallery, 30 S. Sixth St., South Side. 412-441-4282 or www.MichaelBergerGallery.com