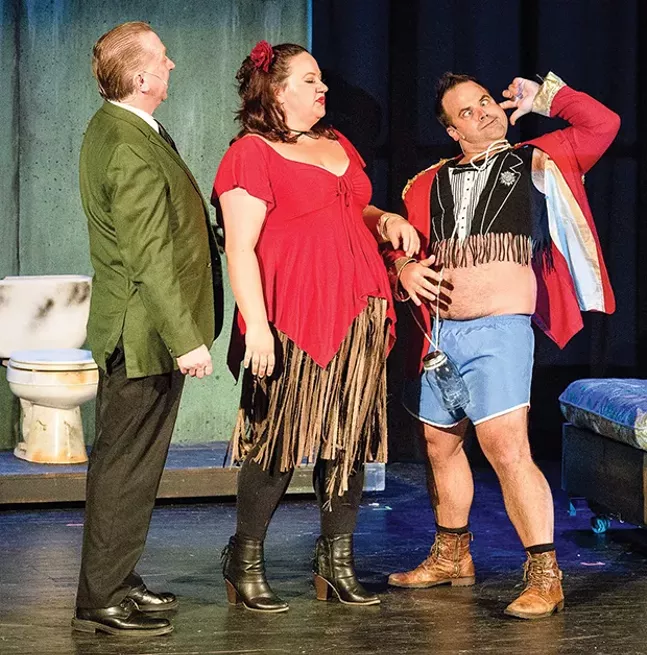 Let's take a moment to welcome back the "book musical." For those of you lucky enough to have avoided wasting your life in theater, a show's "book" is everything in the script that isn't music and lyrics. And a book musical features a story and dialogue at least as strong as the songs.
Book musicals fell out of fashion in the 1980s. As with so many other theatrical ills, this can be linked to Andrew Lloyd Webber. But when Mel Brooks opened The Producers in 2001, people were, like, "Wow, shows can be entertaining even when people stop singing" and book musicals were back.
Which brings us to 2004's Dirty Rotten Scoundrels with a score by David Yazbek and book by Jeffrey Lane from the 1988 film starring Michael Caine and Steve Martin. (The latter was, in turn, based on the 1964 David Niven/Marlon Brando movie Bedtime Story.) As much as I enjoy Yazbek's tunes, Dirty Rotten Scoundrels is even better when Lane gets to ply his trade.
On the French Riviera, an excessively suave con man, Lawrence Jameson, is busily swindling wealthy women out of their money when Freddy Benson, an outrageously crass, small-time grifter, busts onto his turf. The two eventually bet to see who can bilk (and bed) Christine Colgate, the "Soap Queen" of Cincinnati.
To say more would ruin some of the story's fun. But it's not just surprises keeping Dirty aloft. Lane's book is a genuinely funny comedy with big laughs throughout. What I especially enjoyed is the script's breaking of the fourth wall, calling attention to itself and reminding us that theater is, after all, the world's most elaborate con.
Director TJ Pieffer and choreographer Kaitlin Schreiner stage a thoroughly respectable production for Stage 62. With comedy (no less a musical), nothing is more important than pace. Each works overtime keeping this show gliding forward in entertaining style.
Matthew J. Rush brings plenty of panache to the roué Lawrence, putting the word "art" into con artist. Damon Spencer's Freddy is exactly as shameless as he needs to be, starting at over-the-top and going on triumphantly from there. Stephanie Ottey makes the twists and turns of Christine immediately believable and fun.
Leon S. Zionts and Cynthia Dougherty are charming as nascent lovebirds, Candice Fisher is a hoot in a small, but hilarious, featured role. Kudos to this hard-working and talented ensemble.
__
Dirty Rotten Scoundrels continues through July 29. Andrew Carnegie Free Library Music Hall. Carnegie. 412-429-6262 or stage62.com