The Abbey on Butler Street
4635 Butler St., Lawrenceville.
412-682-0200 / theabbeyonbutler.com
A new restaurant featuring a coffee house, full-service bar, dining room and an outdoor patio. Try the smoked linguini pomodoro and the smoky provolone bacon burger.
Adolfo's Restaurant
4770 Liberty Ave., Bloomfield.
412-681-0505 / adolfosrestaurants.com
Italian and Venezuelan cuisine can be found at this Bloomfield spot. Enjoy the veal parmigiana or the shrimp scampi. Adolfo's also offers BYOB service.
The Allegheny Wine Mixer
5326 Butler St., Lawrenceville.
412-252-2337 / alleghenywinemixer.com
This upper Lawrenceville lounge offers wine, cocktails, craft beers, cheese and cured meats. Grab your friends and head over to The Allegheny Wine Mixer for your next night out.
Andrews Steak & Seafood
777 Casino Drive, North Side.
412-231-7777 / riverscasino.com
Contemporary steakhouse supplying casino-goers and visitors with a wide selection of chicken, steaks and seafood dishes.
Bakersfield
940 Penn Ave., Downtown.
412-586-5024 / bakersfieldtacos.com
This new trendy restaurant serves authentic Mexican street fare. Start your meal off with chips and guacamole, and enjoy the pork-belly pastor or bistec tacos as a dinner entrée.
Bar Marco
2216 Penn Ave.,
Strip Ddistrict.
412-471-1900 / barmarcopgh.com
Stop by Bar Marco to enjoy menu features like stuffed quail, spinach rigatoni or bucantini and lobster. Accompany your meal with one of its handcrafted cocktails.
Bellfarm Kitchen and Bar
1111 Airport Blvd., Moon Twp.
724-899-6050 / pittsburghairport.regency.hyatt.com
This restaurant near Pittsburgh airport satisfies travelers and locals with a locally sourced menu in an upscale dining environment. Try the organic Clare Island salmon or the Hawaiian rib-eye steak.
Carmella's Plates & Pints
1908 E. Carson St., South Side.
412-918-1215 / facebook.com/carmellasplatesandpints
This restaurant and lounge serves up stylish menu items such as duck confit tacos and braised lamb shank. Revel in the historic charm of the building by sitting near the fireplace.
Casbah
229 S. Highland Ave., Shadyside.
412-661-5656 / casbahpgh.com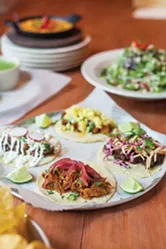 A neighborhood restaurant and wine bar offering a broad menu from pasta to halibut. Pair your entree with one of the innovative cocktails.
Chaz & Odette
5102 Baum Blvd., Shadyside.
412-683-8300 / chazandodette.com
Try this restaurant to experience seasonal menus with local ingredients showcasing cuisines from all around the world. Try the Thai Yam Curry Mussels, fig and gorgonzola flatbread or beef and goat tagine.
Coriander India Grill and Bar
2201 Murray Ave., Squirrel Hill.
412-904-3654 / corianderpa.com
Coriander offers specialty Indian cuisine using extensive spices, herbs, and other vegetables. Enjoy curries, roasts, Indian Chinese, Indian beverages, desserts and more.
The Crafty Jackalope
608 Washington Ave., Bridgeville.
412-220-9785 / craftyjackalope.com
Stop by the Crafty Jackalope for irresistible cuisine with a large selection of craft beer in a casual setting. Try the ahi tuna entrée or the flat-iron surf-and-turf as an entrée.
Dinette
5996 Centre Ave.,
East Liberty.
412-362-0202 / dinette-pgh.com
This pizzeria and wine bar serves up a daily changing menu of ingredient-driven plates to share and thin-crust pizzas.
Eleven
1150 Smallman St.,
Strip District.
412-201-5656 / elevenck.com
Glitzy restaurant with refined American dishes like the spicy tuna tartare and the prime-beef ribeye. If you're feeling adventurous, try one of the chefs tasting menus.
Girasole
733 Copeland St., Shadyside.
412-682-2130 / 733copeland.com
Girasole serves up an innovative modern-Italian menu in a warm and friendly environment. Enjoy menu items like the potato gnocchi with marinara sauce and fresh mozzarella or tortelloni with light cream, peas and prosciutto.
Grand View Buffet
777 Casino Drive, North Side.
412-231-7777 / riverscasino.com
Hungry for something, but not sure what? Come to Grand View Buffet where you have an endless supply of cuisines including Asian, Italian and more.
Hal's Bar and Grill
3225 Babcock Blvd., North Hills.
412-364-3230 / halsbar.com
Stop by this upscale bar and grill and enjoy salads, sandwiches and delicious entrees. Try the New York Strip for dinner. Hal's offers a large selection of beer to choose from.
Harris Grill
5747 Ellsworth Ave., Shadyside.
412-362-5273 / harrisgrill.com
Harris Grill provides a comfortable fun dining experience with great food, beer and stiff drinks. For dinner, try the fish tacos, original HG macaroni-and-cheese or crab cakes McArdle.
Hyde Park Prime Steakhouse
247 N. Shore Drive, North Side.
412-222-4014 / hydeparkrestaurants.com
One of Pittsburgh's most upscale steakhouses. Rub elbows with professionals while enjoying lunch staples such as lobster bisque, jumbo Southwest shrimp and of course, the variety of aged steaks.
Jerome Bettis' Grille 36
393 N. Shore Drive, North Side.
412-224-6287 / jeromebettisgrille36.g3restaurants.com
The Bettis Grille menu offers a wide array of American staples. Kick off your meal with world-champion nachos, and then try the hand-cut ribeye or the apple-gorgonzola salad.

The Livermore
124 S. Highland Ave., East Liberty.
412-361-0600 / thelivermorepgh.com
The Livermore offers fresh fare and fine libations. The bruschetta, beet salad, rigatoni or meatballs are sure to please any palate.
The Mighty Oak Barrel
939 Third St., Oakmont.
412-826-1069 / mightyoakbarrel.com
This newly remodeled restaurant features steak, seafood and pasta dishes. Pair your entree with a glass of wine. Eat, drink and enjoy.
One Thirty One East
131 E. Main St., Carnegie.
412-276-1205 / onethirtyoneeast.com
This vibrant dining establishments menu features Spanish paella, chicken and grits, and veal osso bucco. Accompany your tasty meal with a glass of wine or a handcrafted cocktail.

Pallantia
810 Ivy St., Shadyside.
412-621-2919 / pallantiapgh.com
Pallantia serves authentic traditional Spanish tapas. The menu changes by season to ensure only the best ingredients are used. For dinner try the paella with Valencian rice, saffron, clams, mussels, calamari, shrimp, chorizo, cod and peas.
Pino's Contemporary Italian Restaurant and Wine Bar
6738 Reynolds St., Point Breeze.
412-361-1336 / chefpino.com
Enjoy dinner and drinks at this neighborhood eatery. At Pino's, you will find interpretations of Italian classics as well as Mediterranean cuisine.
Pints on Penn
3523 Penn Ave., Lawrenceville.
412-945-7468 / pintsonpenn.com
A cozy local restaurant serving up American dishes such as kielbasa and kraut sandwiches, meatball sliders and pierogies.
Plaza Azteca
1000 Sutherland Drive,
Robinson Township.
412-787-8888 / plazaazteca.com
Enjoy authentic Mexican dishes at Plaza Azteca, like burritos, enchiladas, quesadillas, tacos and more. Try the fajitas nachos or the spinach and chicken enchiladas.
Poros Aegean Estiatorio
PPG2 Market Square, Downtown.
412-904-2051 / porospgh.com
Poros offers the freshest seafood, the finest lamb and has vegetarian options to choose from. Grab your friends and enjoy dinner on the largest outdoor patio in Pittsburgh.

Ramen Bar
5860 Forbes Ave.,
Squirrel Hill. 412-521-5138
Enjoy specialty noodle soups, rice bowls and more at this Squirrel Hill restaurant. Try the curry seafood ramen soup or the Hawaiian pineapple fried rice.
Rocks Landing Bar & Grill
506 Chartiers Ave., McKees Rocks.
412-875-5809 / mckeesrocks.com/rocks-landing
McKees Rocks' newest restaurant and bar offers New Orleans cuisine including fish and grits, turkey ribs, wings and jambalaya. Live entertainment every Saturday night and Sunday evening.

Scratch Food & Beverage
1720 Lowrie St., Troy Hill.
412-251-0822 / facebook.com/scratchpgh
Scratch Food & Beverage offers a seasonal menu of creative comfort food, craft cocktails, and local beer. Try the pot roast or the chicken and biscuit.

Senti
3473 Butler St., Lawrenceville.
412-586-4347 / sentirestaurant.com
Senti uses the finest ingredients in its Italian dishes. Indulge in all of your favorites, share the small plates and end your night with one of the many wine choices.
Seviche
930 Penn Ave., Downtown.
412-697-3120 / seviche.com
Latin-inspired tapas is served here along with an eclectic cocktail menu. Try the pork empanadas or Cuban fried shrimp.
Shiloh Grill
123 Shiloh St., Mount Washington.
412-431-4000 / theshilohgrill.com
Head over to Shiloh Grill and enjoy menu items like the big cowboy ribeye, chicken quesadilla or the arugula steak salad. Wash it all down with a cold beer or tasty cocktail.
Sienna Mercato
942 Penn Ave., Downtown.
412-281-2810 / siennapgh.com
Sienna Mercato offers three distinct dining options under one roof in the Cultural District. Emporio offers gourmet meatballs while Mezzo features wine, charcuterie and wood-fired pizzas. Il Tetto is a rooftop beer garden offering draft beers, cocktails and light fare.
Soba
5847 Ellsworth Ave., Shadyside.
412-362-5656 / sobapa.com
This trendy Pittsburgh favorite offers small plates and Asian inspired entrees intended for sharing. Bring your friends, have a glass of wine and enjoy a fun night out.
SMOQ PITT
600 Brookline Blvd., Brookline.
412-668-3459 / smoqpitt.com
This farm-to-table restaurant offers BBQ favorites like baby-back ribs, brisket and pulled-pork sandwiches and mac-and-cheese. All meats are smoked over oak, apple, hickory and mesquite wood.

Steel Cactus Mexican Restaurant and Cantina
Multiple Locations.
steelcactuspgh.com
A trendy space offering traditional and modern Mexican dishes from chimichangas to poblano rellano. Wash it all down with a tasty margarita.
The Summit
200 Shiloh St., Mount Washington.
412-918-1647 / thesummitpgh.com
If you're in the mood for good food and drinks head to The Summit. Try the pork-belly ramen, smoked-lamb tacos or the crispy polenta.

Tender Bar + Kitchen
4300 Butler St., Lawrenceville.
412-402-9522 / tenderpgh.com
This fashionable cocktail restaurant and lounge celebrates a return to a past era. Enjoy the cheese-stuffed garlic knots or the Angus ribeye sandwich. Don't forget to try one of the creative house cocktails.
Taj Mahal
7795 McKnight Drive, North Hills.
412-364-1760 / tajmahalinc.com
Believing homemade food is always better, Taj Mahal serves only the most authentic meals. Dishing out plates such as the lamb mango curry or the shrimp madras.
Umi
5849 Ellsworth Ave., Shadyside.
412-362-6198 / bigburrito.com/umi
There's nothing like great sushi, right? Try it all at this Japanese spot. Start your night off with the miso seafood soup followed by maki rolls or sashimi.
Vue 412
1200 Grandview Ave.,
Mount Washington.
412-381-1919 / vue412.com
Choose Vue 412 for your next fine-dining experience. Experience seasonally inspired dishes accompanied by a breathtaking view of the city. Try the osso bucco chardonnay or the tomato and scallop ceviche.
Whitfield at Ace Hotel
120 S Whitfield St., East Liberty.
412-626-3090 / whitfieldpgh.com
Neighborhood tavern that honors the organic culinary traditions of Pittsburgh through dishes like braised rabbit or the Berkshire pork shank.