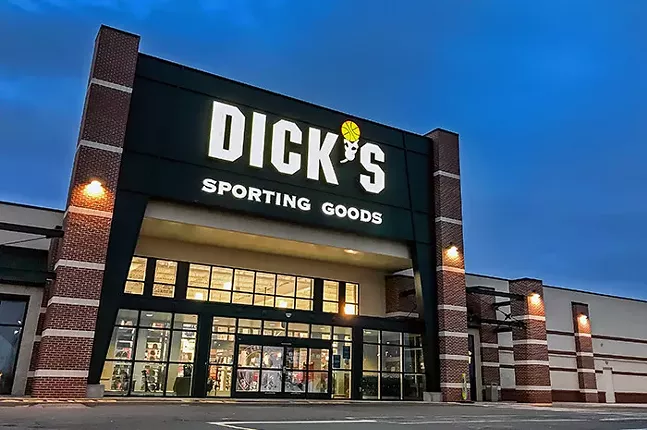 Edward Stack, CEO of the Ohio-based Dick's Sporting Goods, has taken some controversial stances on gun sales over the years. In 2012, after the mass shooting at Sandy Hook Elementary School, Stack ordered his sporting-goods chain to
stop selling AR-15s.
Last year, after the shooting at Parkland, Fla., Stack ordered his stores to stop selling firearms to people under the age of 21.
These decisions were met with backlash from gun-rights advocates and caused a significant financial loss for Dick's. But in a recent interview with
CBS Sunday Morning
that took place in the Pittsburgh area, Stack doesn't seem all that worried about it.
When asked how much he estimated he'd lose following the decision to stop selling to people under 21, Stack said "a quarter billion dollars," or $250 million.
Stack was then asked how much Dick's actually lost and he said "about a quarter of a billion. Pretty close."
He then revealed that on top of the financial losses, Dick's destroyed all of the assault rifles the company had in stock, about $5 million worth.
"I said, 'You know what? If we really think these things should be off the street, we need to destroy them,'" Stack told
CBS Sunday Morning
.
Pittsburgh Mayor Bill Peduto praised Stack for his actions related to gun sales. In June, the CEO was honored by Peduto, who has also taken firm
gun-reform stances
and
signed city gun restrictions
that are awaiting decisions on their legality in court.
"It's my honor to present Ed Stack with this award, and to celebrate the integrity and courage he has shown in taking on what we in Pittsburgh know to be one of the most important fights of our time — protecting our neighborhoods, schools, places of worship and all public places from the gun violence epidemic," said Peduto said in a June press release.
Like many billionaires, Stack has a history of supporting Republican candidates, most of whom
have pro-gun stances
. However, most of that support appears to be before 2016. According to the campaign-finance website Follow The Money, Stack has given recently to candidates like U.S. Rep.
Mike Kelly
(R-Butler) and gave $27,000 in efforts to get former Republican Gov. Tom Corbett re-elected in 2014.
But, in 2016 through 2018, Stack contributed $300,000 to the House Majority PAC, which helps Democrats get elected to the U.S. House. Over the last seven years, Stack has donated about $540,000 to political efforts.