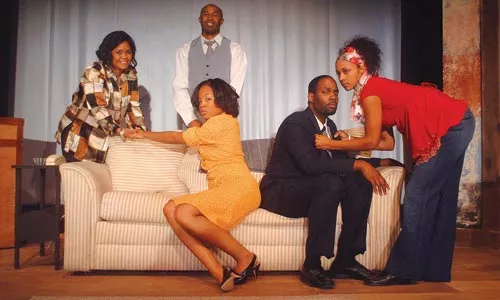 Poor Diane. A lot of life hits her from all sides in Rob Penny's Diane's Heart Dries Out Still More. The 1976 drama is very much of its time, with its title character battered and confused by the period's rapid changes in what was acceptable -- or at least possible -- in racial, gender and sexual relations and expressions. One timely note, though: The economy was pretty rotten then, too.
Diane opens Kuntu Repertory Theatre's 35th season, which is dedicated to the company's long-time resident playwright, who died in 2003. Directed by Kuntu Rep founder and producing artistic director Vernell A. Lillie, the play is an ambitious if sprawling account of the central couple fighting pain on their way through maturation, and toward redemption and a chance at love and happiness.
Lichelle Sade is nicely poised as the title character, whose world and self-image are turned inside-out by a case of workplace sexual harassment right out of Les Liaisons Dangereuses, complicated by the challenges of her marriage and her changing relationship with her devoted parents. No mere victim, Sade's Diane moves from guilt-ridden churchmouse to defiant and sometimes dangerous adulthood toward an acceptance of the disparate pieces of her self.
Opposite her as Austin, Ijasneem is strong and macho -- a petty prick when the script needs him that way, and also the devoted husband who ultimately wins the sympathy of the audience (and a bit more from his wife). Austin isn't a stock character. Yes, he's an angry black man frustrated by his failure to find work. But he's also insecure, despite his college degree, given his early life as a streetwise orphan. Jealous of, yet rejecting, middle-class "respectability," he inflicts a pretty damning infidelity on Diane.
The large company is a mixed bag, with some notable performances by would-be seducers Deborah Banks and Daniel Wright; poetic thugs Shawn Agyeman and Lamont Chatman; and Diane's pious but not pompous parents, Les Howard and Stephanie Akers. A special round of applause goes to set designer Kenneth M. Ellis for his multi-leveled stage combining a fashionable Hill District apartment and a less posh business office.
At heart, the play is resoundingly positive and life-affirming, but as the length of its title suggests, it takes a while to get there.
Diane's Heart Dries Out Still More continues through Sat., Nov. 1. Alumni Hall, 4227 Fifth Ave. (seventh floor), University of Pittsburgh campus, Oakland. 412-624-7298 or www.kuntu.org