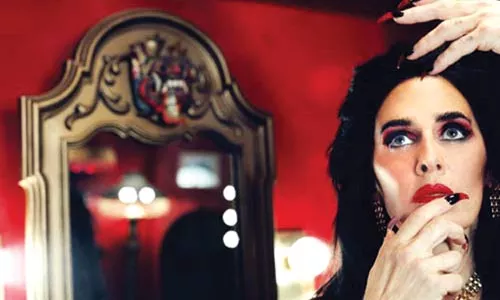 Those who might first dismiss the ebon-clad, pale-faced Diamanda Galás as a mere Gothic horror diva have no clue of this accomplished vocal expressionist's depth and background. Her voice spans several octaves, delving into techniques from throat-singing to keening wails, infusing her performance with such fervor that it's a wonder she doesn't collapse; she's also addressed serious social topics in ways few musicians have dared.
Galás knows the piano keys, having performed at the age of 14 with the San Diego Symphony and improvised avant-jazz with David Murray and Butch Morris. She interprets jazz and blues standards with authentic pathos, perhaps drawing strength from the rembetika (a rough equivalent to the blues) of her Greek origins. Her recorded oeuvre, stretching over 17 albums since the early '80s (mostly on the Mute label) deals with mental illness, serial killers and political torture. Defixiones: Will and Testament, from 2004, focuses on Armenian, Greek and Assyrian victims of mass murder by the Turks.
One of her longest running issues has been the AIDS epidemic and the ill treatment of homosexuals. In the middle of completing her AIDS-related "Masque of the Red Death" trilogy (The Divine Punishment, Saint of the Pit, and You Must Be Certain of the Devil), her own brother, playwright Philip-Dmitri Galás contracted HIV, and she watched him wither.
To this day, Galás is hyper-sensitive toward the treatment of gays and lesbians, especially in the Muslim world. In April, she published an essay called "Godhead and Anal Glue" on her Web site -- if you think Ahmedinejad's Iran is in denial about gays, try post-invasion Iraq, where it's been reported that Islamist thugs track homosexuals in chatrooms and glue their anuses shut until their gastrointestinal tracts explode.
Not the most pleasant subject matter, but then neither is genocide. Galás continues to confront injustice and evil in this world in her latest release, 2008's Guilty Guilty Guilty. The album offers what she calls "cover versions" of jazz, blues and country classics dealing with loneliness and despair. Selections include Ralph Stanley's "O Death," imbued with Middle-Eastern intonations and the paganistic ululations of the Amanes (women in Greek tradition who speak to the dead), as well as the gothic-country standard "Long Black Veil."
Although agnostic, Galás comes from Greek Orthodox lineage, and despite the universality of her straightforward voice-and-piano format, she is specific when it comes to ethnography. ("Don't leave Islam out of the blues," she told Signal to Noise magazine. "It's not West African, it's that Islamic tradition that came down the coast.") The downloadable "Cleopatra Set" singles on her Web site demonstrate her conviction about the Greek origin of the last queen of Ptolemaic Egypt. "[We're] the most prolific creative culture, but unknown in this country except on dinner mats ... [while] tourist organizations have sold our culture as a pastiche of ruins," she told Hellenism.net. "Oh, you people had Socrates and Plato, didn't you?"
Ancient Greeks also happened to foreground homosexuality, which makes current Levantine attitudes toward gays inexplicable for her. "I always enjoy baiting a Greek homophobic journalist with this when they begin to discuss our great innovations, whilst smiling agreeably, and then say roundly, 'And let's not forget our most stunning innovation,' at which point the tape recorder is shut off."
Off the Wall presents Diamanda Galás. 8 p.m. Tue., Oct. 6. New Hazlett Theater, Allegheny Square, North Side. $10-20. 412-237-8300 or www.warhol.org