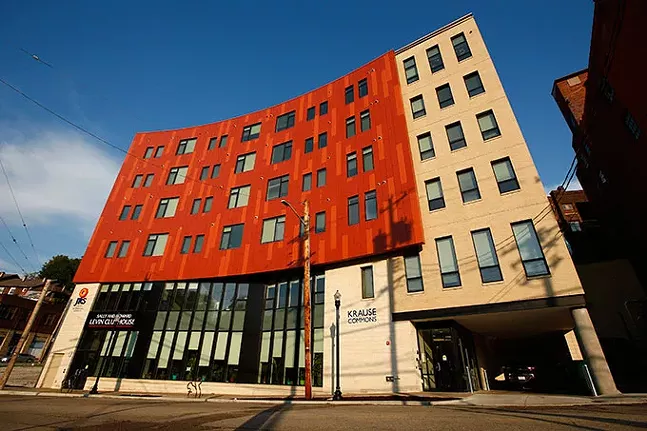 Developers are building so much bad architecture in Pittsburgh and doing it so rapidly that we seem to be numb to it. Everywhere, three-dimensional revenue diagrams are under construction with pointless motifs unrolled in cheap material, stopping only for the end of the property line. Such buildings are not simply ugly; they willfully abdicate the obligation to connect themselves to the city, its neighborhoods, and people. When a good building does come along, suddenly it's remarkable to see the power of architecture to enhance a sense of place and community through competent design.
Krause Commons, at the corner of Forward and Murray Avenues in Squirrel Hill, on the site of the former Poli's Restaurant, is such a building. The more you look at it, the more you sense that it improves its tricky setting.
The six-story building is a project of Action Housing, designed by FortyEighty Architects of Pittsburgh. The 33 units of affordable housing in its upper floors are made possible by state tax credits. Jewish Residential Services (JRS) offices are on the second floor, and the Levin Clubhouse, which provides vocational training for people with mental disabilities, including 17 building residents, under the auspices of JRS, occupies the first floor.
Action Housing bought the site at a sheriff's sale after the closure of the restaurant. Squeezing a building into the site presented certain challenges, with a large back-of-lot smokestack remaining in place on a narrow plot bounded by Maeburn Road winding behind. But Director of Housing and Neighborhood Development for Action Housing Linda Metropulos commented, "We thought it was such a prime location, and we were interested in building housing there."
But both architect and developer emphasized an effective working relationship and a desire to produce a design blending a sense of the neighborhood with as built architecture.
"We wanted to respond to the scale and the materials of the Morrowfield," said FortyEighty principal architect Jeff Davis of the nearby gentle giant of an apartment.
To match such scale, a big building wing was suitable, clad here in terra cotta colored panels of fiber cement board, with a bit of intentional color variation. Lifted two floors off the ground, the terra cotta panels transition to all glass to better reveal interior activity along the street and to match the height of the base on the adjacent building. To match nearby material, Krause Commons has a narrower building wing in buff-colored brick rising above its one-story-high entry and receding slightly from the big red wall.
Somewhere in this experience, you realize that the terra cotta wall curves slightly. Even with a tight budget that might have eliminated it, says Davis, "We really felt that maintaining that curve in response to the context of the street was really valuable."
So many buildings do less than what their architects claim. This one does more.
The compositional rhythm with the existing buildings is just right, even when mixing modern asymmetry with traditional symmetry next door. Though lots of architects talk about matching the heights of adjacent structures, this design reflects a keen sense of how to pull it off. The windows of the façade give a description of the different things taking place inside the building, even as they, crucially, come from a consistent family of shapes that relate to each other.
These issues are not simply about taste. They are about the capacity of new buildings to relate richly to the old, while providing visual clues about what people do in and around them.
In a singular odd contrast, the side of the building currently facing Forward Avenue is not so great (where did the fiber cement panels go?). Except that a new structure will shortly cover it up, as was originally anticipated. No harm, no foul. Another project is on the way by Action Housing with more affordable rental units. Designs come from BCJ Architects, another firm which, judging by track record and preliminary designs, will deliver thoughtful, responsive, and substantive architecture.
The opportunity to praise good buildings should embolden viewers to call out the onslaught of architectural garbage, not simply as mockery, but in a broader dialogue that looks at good buildings in detail, identifies their successes, and then demands that other buildings elevate their standards along similar lines.