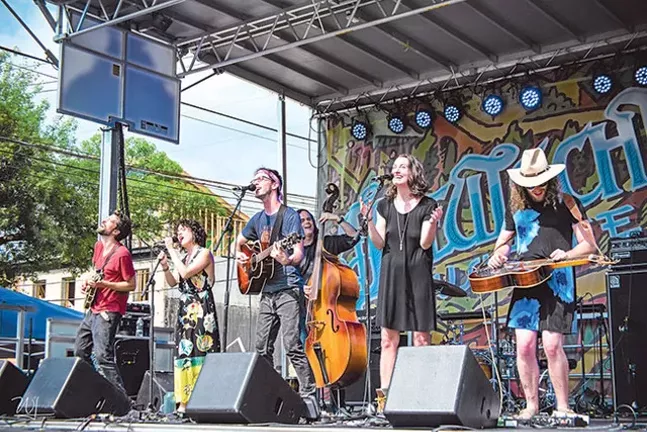 One of the biggest music festivals in Pittsburgh just got bigger. The Deutschtown Music Festival, now in its seventh year, announced on Thursday that it would be expanding its programming in the North Side to three days, from July 12-14. In previous years, the festival has run for two days.
The added programming for the festival, on Sun., July 14, runs from 9 a.m.-12 p.m. and will feature a gospel brunch in Allegheny Commons Park, music from singer-songwriter duo Wild Harbors, jazz singer Joy Ike, and the Allegheny Center Alliance Church choir and band.
A press release notes that the addition of a gospel brunch was inspired by a recent trip to Austin, Texas, where hybrid music-food events are common.
"There will be BBQ, but in true Pittsburgh form there will be some yinzer favorites such as haluski," states the press release.
Over the course of its three-day run, the festival will feature over 300 bands on over 30 stages (indoor and outdoor), with over 30 food trucks and vendors.
"Who would believe it? Seven years ago, Ben [Soltesz] and I wanted to bring live music and some new faces to Deutschtown so, in true North Side fashion, we figured it out, entertained some people, and paid for the whole thing on our credit cards," states festival cofounder Cody Walters in the press release. "The fact that we've become a draw for audiences and bands from across the country is a testament to the overwhelming support of our kick-ass community."
The full lineup and locations for the Deutschtown Music Festival can be found on
deutschtownmusicfestival.com