Video by Ashley Murray
When life-long Homewood resident Victoria Young thinks of former Pittsburgh City Councilor Twanda Carlisle, she fondly remembers the time they spent singing in the church choir together.
"Her and her mom are wonderful people," Young says today. "She's such a wonderful person."
It bothers Young little that her former elected representative was convicted of misappropriating public funds for personal use during her time in office. But Carlisle's checkered history certainly won't stop Young from voting to return her to council in the May 19 primary.
"She was doing wonderful when she was on [council] before," says Young. "She's been someone who listens and cares about what the community wants."
Young's opinion of Carlisle is not as uncommon throughout District 9 as one might think, especially in Homewood and the East Hills where 56-year-old Carlisle has lived most of her life. On this side of town, bonds formed in church and between families over generations are hard to break. But are they enough to earn Carlisle the necessary votes to return to council? And if she does win, will she even be legally eligible to serve?
"I'll vote for her," Young says. "And I'm hoping and praying that when she gets on [council] this time, she doesn't mess it up."
The primary will pit Carlisle against incumbent District 9 Councilor Rev. Ricky Burgess, entrepreneur Andre Young and community-development organizer Judith Ginyard. But for Carlisle, the election will be about more than overcoming her opponents; she'll have to face her own demons and win back the public's trust.
"I want to be the representative that I was before, who made sure the voice of the community was heard," says Carlisle. "It's time for me to be given an opportunity to show the community I've paid for my mistake and I'm better than I was before and I'd never make the same mistake twice."
Carlisle served on council from 2002 to 2007 before resigning while under indictment on charges of theft and criminal conspiracy. In November 2007, she pled no contest to and was convicted of diverting $42,000 in public money for personal use.
In February 2008, she was sentenced to one to two years in a state prison. She was released from prison into a halfway house in December, and was placed on parole the following March. (See video above for details.)
click to enlarge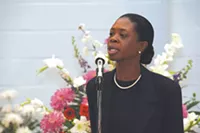 Eight years later, Carlisle, who has been working for the Pittsburgh branch of the NAACP, where her mother is president, says her ordeal was a learning experience and that she wants another shot at public service.
"I was doing very well on Pittsburgh City Council — loved by most, not all — and I fell down," Carlisle says. "And when I fell down, I fell hard because it was a public fall and not only did I fall, but it hurt my family. I'm still trying to get back up, and every day I look in the mirror and say, 'Do better than you did yesterday.'"
Carlisle spoke to City Paper recently about her past service, her legal troubles and her decision to run again for council. But when she talks about that time, she doesn't use those actual phrases. For example, she refers to her conviction as "falling down." She calls her prison sentence "time away."
But that doesn't mean she's running away from that part of her past. In fact, these experiences, she says, have given her the ability to relate to her constituents on a different level. District 9, which encompasses Homewood, Garfield, Larimer, Lincoln Lemington-Belmar, Point Breeze, Friendship, East Hills and parts of East Liberty, has some of the highest rates of poverty and unemployment in the city.
"I've been through the fire and know what it feels like to be burned and be hot. I say with all due respect to the entire community, sometimes you have to feel what people are feeling," Carlisle says. "Right now I can tell you what it feels like to owe everybody.
"Anytime you pick up the telephone, there's a bill collector on the telephone and you've got to try to make payments. You're robbing Peter to pay Paul."
And Carlisle can also relate to constituents who are passed over for employment because of their criminal history. Since she announced her candidacy, her ability as a convicted felon to legally serve on city council has been called into question, though none of her opponents challenged her election petitions.
While nothing in state law bars a felon from running for elected office, they are prohibited from serving. After they are elected, their position can be challenged in the courts. But the official is not automatically blocked from serving, and a challenge cannot be made until the official takes office.