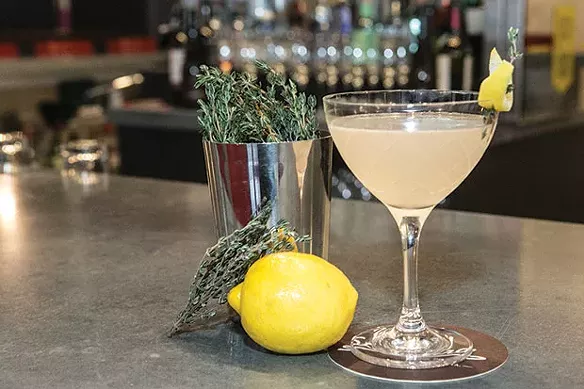 It's been a very busy month for Union Standard. The new restaurant from chef Derek Stevens, formerly executive chef of Eleven, has been a long-anticipated opening both for the public and for Stevens, who's been in Pittsburgh kitchens since the 1990s. The restaurant occupies a corner of Downtown's jaw-droppingly beautiful and freshly renovated Union Trust building. When visiting, make sure to stroll into the main atrium and gaze up at the circles of golden rails spiraling up into glass heights. The two-floor restaurant itself mixes Old

World glamour with modern touches (echoes of Eleven aren't hard to miss), while providing an inviting space for guests.
The large stone bar circles the landing between the first and second floors. About 30 seats beckon to the after-work crowd and remain occupied long into the night by a rotating cast of friends, lovers, businesspeople and bartenders stopping by to greet colleagues. If you prefer oysters with your champagne, you won't have to go far. A raw bar is set into the space and filled with mounds of crushed ice.
Beverage manager Jennifer Parks, formerly of Salt of the Earth and Morcilla, has been excited to see the bar rise from mere idea to reality. "When I got here in January, we were nowhere near ready to open," she says, gesturing to the completed bar. "I've got a great team. We work so well together and each has different abilities. There's a base of great service and knowledge." Parks wants the beverage program to complement Stevens' menus as well as highlight locally sourced offerings. Union Standard stocks only Pennsylvania beers, with a focus on Pittsburgh-based breweries like Full Pint and Draai Laag. The wine menu falls in step with mostly American offerings, while the cocktails feature housemade syrups and Pennsylvania spirits. Six cocktails are dedicated to the classic-cocktail canon, and six are house recipes developed by the bar team.
Especially cooed over by the bartender crowd is Park's inclusion of the Martinez. "It's a forgotten cocktail," says Parks. "It's a perfect blend of a Manhattan and a martini." Parks wants to keep the list fresh, and a month in, she is already itching to switch things up. However, mainstays will remain as hallmarks of the list. Egg-white cocktails will always appear, as well as a seasonally inspired mint julep (Stevens reportedly has a deep affection for the drink). "Besides, we always have crushed ice on hand," says Parks, smiling and gesturing to the raw bar.
In an ode to the building's beauty, some drinks are named for its architectural details. The Crown of Stone, a riff on a whiskey sour, honors the pattern of stone and terra cotta along the building's roof, while the Promenade is named for the walkway aloft between its two steeples that circle the signature atrium.