August Wilson's childhood home had been in disrepair for decades. Luckily, Hill District leaders and Wilson's relatives started an initiative in 2006 to restore the Bedford Avenue home
into a community arts center. On Wednesday, it hit a major fundraising goal of $5 million.
The lead fundraiser: actor
Denzel Washington
.
Washington spoke to the crowd of about 80 and said it was an "amazing day." He directed and starred in the 2016 Pittsburgh-filmed
Fences
, based on a Wilson play.
"It is an honor to help keep him alive in films," said Washington. "Any small way to be a part of this movement."
Paul Ellis, Wilson's nephew, pitched the August Wilson House as a performance space in 2006 meeting with the Pittsburgh Foundation. Ellis was awarded a $35,000 feasibility study from the Pittsburgh Foundation and is happy to see the house come so close to completion. He says it's similar to the fortitude Wilson showed in becoming one of the nation's most recognizable playwrights.
"[It's] hard to underestimate the meager accommodations August Wilson came from," said Ellis, pointing at the soon-to-be-renovated row house. "But he achieved national acclaim for this neighborhood and this city."
Ellis also spoke about the power of Wilson's work and its ability to uplift the African-American experience.
He quoted his uncle when saying "the message of America is 'leave your Africanness at the door.' My message is claim what is yours."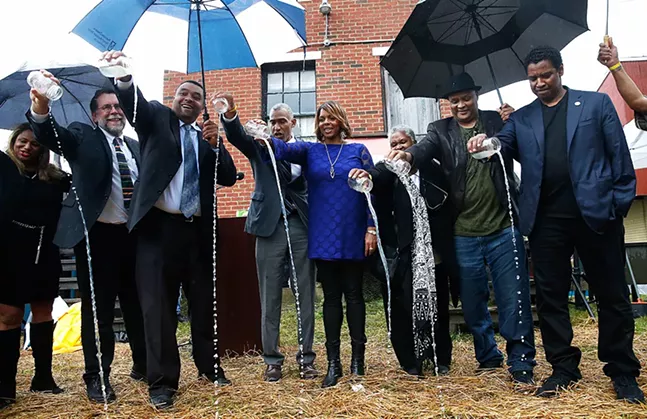 Pittsburgh City Councilor Daniel Lavelle (D-Hill District) also spoke at the event. He said the
Hill District
community saved the August Wilson House when development and demolition came through Lower Hill. He said the August Wilson House is symbolic of a better future for the neighborhood.
"It's on us to claim what is ours and make sure development reflects our character," said Lavelle.
The celebration also included performances of Wilson's work from CAPA student Jamaica Johnson and local actor Wali Jamal.
After speeches, members of the August Wilson House board and Washington blessed the ground with a libation ceremony. Each board member gave a blessing and poured their drink onto the ground. Washington went last.
"It starts with August and it ends with August," said Washington. "I look forward to making sure he is never forgotten."