This morning, nearly 100 union members and community activists staged a protest outside Mayor Luke Ravenstahl's front door -- which a city worker then chained and padlocked.
The protesters, many of whom were members of the United Food and Commercial Workers union and the Service Employees international Union, spent an hour chanting on the fifth floor of the City County Building, where the mayor and council have their offices. They were demanding a chance to speak with the mayor about the city's plans to develop the land near the Steelers and Pirates stadium. Activists complain that while the land is being offered to the developer, Continental Properties, for the bargain price of $8 a square foot, the city is doing little to help the struggling neighborhoods nearby. They've been calling on the city to require living-wage jobs and other forms of investment as part of the deal.
During this morning's protest, demonstrators chanted "Just one ask -- build the middle class," "Whatever it takes" and "The mayor works for us." The hall was sweltering, with some members speculating that the city had turned off the air conditioning. (Personal impression: While I'm no expert on the city's HVAC systems, that hall is often uncomfortable in the summer -- even without 100 passionate union members thronged inside it.)
The protesters were left on the doorstep, however. A half-dozen city police officers showed up, insisting on clearing a path to the door -- even when the door itself was padlocked. (The lock was eventually removed.)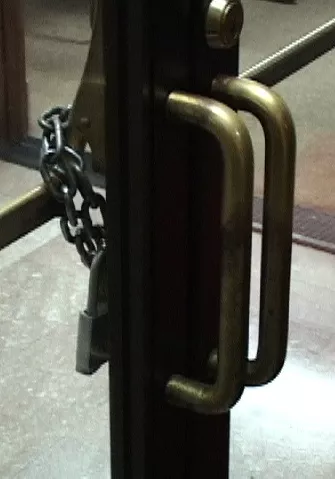 After 45 minutes, SEIU local head Gabe Morgan told union members, "The Pittsburgh Police have asked us if we would be willing to leave. They simply feel like this number of people ... is scaring staff who work here. They felt like they had to chain the doors to protect the mayor. We are not physically threatening the mayor in any way, shape, or form. What we want him to do is change his policies." Morgan then added that while the doors had been chained, the mayor was not in fact in the office.

"They don't know when the mayor is coming," he said. "The mayor's not here, we're just gonna have to come back and ask again."
The protesters -- many of whom shouted "He's here! He's here" -- then dispersed until 2 p.m. this afternoon. "We'll be back!" they chanted, as they filed into the elevators and stairwells.
More details as the story develops.