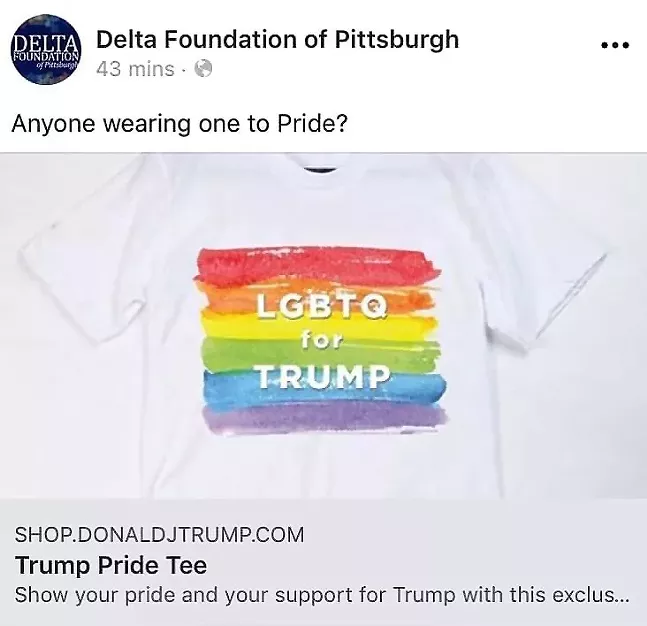 The Delta Foundation of Pittsburgh, the region's largest LGBTQ advocacy organization, came under fire today after posting a link on Facebook showing a T-shirt emblazoned with the words "LGBTQ FOR TRUMP" over a rainbow. Delta asked in the post, "Anyone wearing one to Pride?"
The post linked to the campaign of President Donald Trump's online store.
The post immediately drew criticism on social media. Many commentators viewed it as an endorsement of Trump, particularly with the inclusion of the link for ease of purchase. The post came on the same day the Trump Administration rolled back nondiscrimination health-care protections for transgender patients. The administration has also banned trans people from serving in the military.
Following the outcry, the Delta Foundation then edited its post to include the question, "Anyone think it's odd he asks for our support after his continual attacks and lack of support for equality for our community?"
Regardless, local activist Brittani Murray wasn't pleased and commented critically on the post. Murray's comments were apparently quickly deleted by the Delta Foundation, and she was subsequently blocked from commenting.
"Color me not shocked," says Murray. "As a Pan Black woman in this city, I've seen cowardice a time or two. Folks have been trying to silence me and Black womxn across multiple intersections. My ancestors never quit and neither will I until they stop milking our community for handouts while selling us out to corporations that routinely give money to legislators that oppose our very existence."
"In my FB news feed the Delta Foundation's post came right after a news article stating that Trump's new draft rule was undoing protections in health care for the trans members of our community," says Phill Madore, who also commented on the Delta post. "Our Pride organizers sharing links to the Trump store was just a blow to the gut. The organization that is supposed to be helping us celebrate who we are is also out there sharing merchandise for a man who is trying to erase us."
After hundreds of commenters denounced the link, Delta deleted the post, and issued a post with the image "INTENT vs. IMPACT." The text of that post read: "Our intent was not to support Donald Trump in our previous post. Our impact to some felt like it was an endorsement and for that we are sorry. We only hope that there is this much passion when it comes to voting in the upcoming election. #WeAreOne."
Delta Foundation issued a statement to
Pittsburgh City Paper
saying: "This morning, we made a post about Donald Trump selling LGBT T-shirts on his website. There was text that accompanied the post that made it look like we supported Donald Trump. Nothing could be farther from the truth. He has done nothing but harm and continue to harm our community, especially our transgender community. We've apologized for what happened and removed the post."
Many did not accept the initial Facebook apology. "I feel like their entire staff needs a lesson on decorum and emotional intelligence because apologies aren't meant to be condescending with little to no accountability," Murray wrote on Facebook.
This second post was removed less than an hour later. The Delta Foundation has since posted a graphic reading "We're Sorry" and accompanying text reading, "We are sorry. We posted this morning about the Donald Trump LGBT t-shirt. We do not support what Donald Trump has done to our community."
The Delta Foundation and many local LGBTQ activists have been at odds for years, with tensions reaching boiling points in 2015 when Delta initially booked rapper
Iggy Azalea
, who has made homophobic comments in the past, to perform in Pittsburgh Pride; and in 2017, after Delta accepted
sponsorship from EQT
, an energy company that has donated to
politicians
with anti-LGBTQ views.
Since 2015, an alternative pride event has been held, and this year People's Pride 2k19 will be held June 8-9 at Freedom Corner in the Hill District. This year's Pittsburgh PrideFest, hosted by Delta, takes place Downtown on June 8-9.