A couple of years ago, having worked up a hunger on the trails at McConnell's Mill, we replenished ourselves with a supremely satisfying meal at a strip-mall burger bar called Burgh'ers. You never know what to expect in the far reaches of the metro, but this was an unpretentiously high-quality burger place and craft-brew bar that any neighborhood would be lucky to have. We also noticed a sister restaurant next door, the slightly more upscale, Italian-themed Della Terra.
With a polished-marble bar and tabletops, midnight-blue coffered paneling set off by citrus-green upholstered banquettes and a wood-fired pizza oven in a back corner, Della Terra's dining room feels simultaneously ancient and modern; it's dignified enough for a family celebration and kick-back comfortable enough for a round of appetizers and drinks with friends. The menu is in line with the decor, ranging from simple snacks like fried chick peas or baked olives to formal entrees like roasted duck. In between are salads, pizzas and calzones from that enticing oven, and half-a-dozen pastas. Indications of authenticity are everywhere: The equivalent of pepperoni pizza is made with house-cured soppressata, and the only red sauce is Amatriciana, spicy and studded with succulent bits of house-made guanciale (cured pork jowl) where others might use bacon.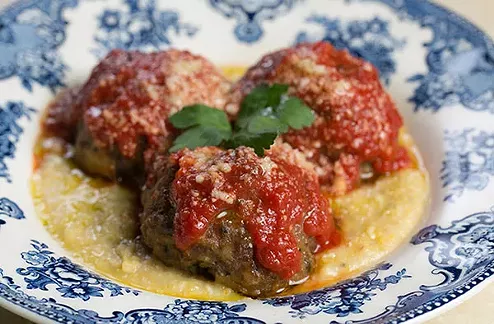 We were intrigued by the fried chick peas, an item you don't see on every Italian menu. Served in a paper cone, they had been flash-fried together with aromatic herbs, including whole sage leaves. The effect was warm, creamy interiors with thin, flavorful skin that crisped when it pulled away. The order was more than generous, a good thing since we kept reaching back for more.
More traditional Italian appetizers include meatballs and beans and greens. The meatballs were served atop polenta described on the menu as "creamy," but which we found more rustic, though in a pleasing way that matched the hearty beef and pork meatballs. Made with a bread-and dairy panade for tenderness, these were richly flavored, with visible bits of bread breaking up the meat.
Beans and greens is a ubiquitous dish that usually satisfies, but rarely stands out. Here the savory, chili-spiked broth had a velvety texture and a deeply layered umami flavor, despite this recipe including no meat. There was plenty of escarole and creamy cannellini, plus the surprising addition of barley, which worked by broadening the dish's earthy flavor notes and bringing smaller but firmer grains to its texture.
Della Terra's pizza dough was good enough to form the basis of a great pizzeria — a perfect blend of crisp and chew. But more importantly, it had a yeasty flavor so well developed that the crust, far from being left on the plate, became a reward for finishing the toppings. Not that the toppings weren't their own reward: The soppressata, sliced paper-thin, was packed with flavor, and thicker, fat-marbled porchetta — slow-roasted strips of pork belly, reminiscent of rosemary-scented, chewy-tender bacon — made a substantial, unusual and delicious meal out of a zesty pesto pie, dolloped with sweet, creamy lumps of ricotta.
Even aside from the guanciale, we were impressed that Della Terra's pasta all'Amatriciana was made with bucatini, a long, hollow, tube-like noodle with a pleasingly resilient texture, and Locatelli, one of the finest brands of Pecorino Romano cheese. The combination of ingredients added up to a superb rendition of this classic Roman dish — robust and complex, yet balanced among sweet, salty, savory and bright, tomatoey notes.
Jason was sorely tempted by another pasta, carrot gnocchi cacciatore, with rabbit, tomatoes, peppers, onions and mushrooms, but others must have felt the same way, since it was out before we could order. He defaulted to pork loin gorgonzola. The meat was a gorgeous hunk from the shoulder end of the loin, meaning it was marbled and rectangular, rather than circular, with a luscious fat cap atop. It was well seared and served in slices over a red-pea risotto. This contained no rice, just tiny red peas in a sauce made slightly creamy by the gorgonzola; it served beautifully as both side and sauce for the pork. In fact, the ends of the loin had been seared a touch too aggressively, but the rich meat remained moist, and the luscious sauce pretty well hid any imperfection.
Our previous meal at Burgh'ers had given us high hopes for Della Terra, which exceeded them at every turn. In fact, Della Terra is among our favorite Italian restaurants in and around Pittsburgh, and in a region with as much Italian food as ours, that is high praise indeed.