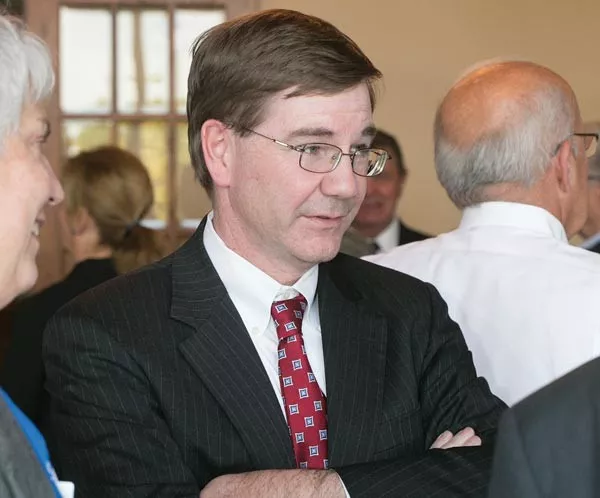 Editor's Note: The original topic of this column was Donald Trump's war on the media. That column will appear in the future, but has been bumped for the recent spate of stupidity practiced by arrogant Congressional Republicans
This morning I read an op-ed piece written by U.S. Rep. Keith Rothfus (R-Sewickley) in the
Johnstown Tribune-Democrat
under the headline: "Restoring control of nation to the people."
Give it a quick read, I'll wait.
So, after reading it I'm sure you've come to the same conclusion as me: Keith Rothfus is a clueless, arrogant sycophant. But, two points in his defense:
1. He's always been that way and voters keep putting back in office and;
2. He's not the only one in the GOP's current Congressional ranks.
On Tue., Feb. 22, Rothfus skipped a town-hall meeting in Beaver where more than 100 constituents turned out to talk to him about the dumpster fire that our government has turned into. It was the second time in three days that he dodged the people who put him in office. On Sun. Feb. 20, Rothfus stood up about 30 constituents at a town-hall meeting in Sewickley, his hometown.
Now, I'm not surprised by this. Rothfus, a dedicated supporter of President Trump, doesn't show up for a lot of things, and when he does he's adverse to answering tough questions (
remember when he ran from one of our reporters in 2014 after ducking his calls for weeks?
). He's fond of having his "coffee with Keith" community meetings in the middle of the afternoon when most people are working. And, if I'm being honest, it doesn't surprise me that Rothfus wrote the piece in the
T-D
. But I still can't help but fume when I see Rothfus telling people, "The founders established a limited government where sovereignty — the ultimate authority of the government — rests with the people. That is exactly what House Republicans are working to restore to our nation."
House Republicans have no desire to return the power of government to the people, at least not to all of the people. Wealthy white men, Wall Street bankers and environmental despoilers are going to be fine in Trump's America; a vision that guys like Rothfus fawn over like a stereotypical 13-year-old girl over a pop idol. Rothfus was elected because he claimed to be an outsider who wanted to cut through government's "same-old, same-old." The problem is he's starting his third term in office and has done nothing during the first two. He's part of the problem whether he wants to admit it or not. Donald Trump has "drained the swamp" and refilled it with different bankers and corporation-first businessmen.
If Keith Rothfus really wants to stand up against the "Washington bureaucrats and elite" like he wrote, then he needs to truly stand up for the people who voted for him and have decency to meet with them and listen to their concerns, even if he doesn't like to hear it. He's acting like the same bureaucrat he claims he's fighting. If he thinks the American people are OK with the first month of the Trump presidency, he needs to Google "Trump approval ratings."
His level of arrogance, ambivalence and self-righteousness is truly staggering. But, of course, he's not alone. Legislators from around the country have been dodging town-hall meetings. Earlier Tuesday,
U.S. Rep. Tim Murphy
canceled a planned visit to Duquesne University when he got wind of some constituents showing up. He tried to claim the university wouldn't have proper security, but that was
disputed by the university
. And last week, U.S. Sen.
Pat Toomey
, who also has been dodging town-hall meetings, held a
telephone town-hall meeting
announced just 90 minutes before the actual event.
You'd think Republicans, especially Rothfus and Toomey, would know better than to go pissing off voters. The pair were among the wave of elected GOP officials who rode into office in 2010. Are they really that arrogant to think that it can't happen to them? Americans aren't happy with the present state of, well, America. And if these representatives don't want to listen to their constituents, their constituents will find someone who will.