Every year, I find myself drinking the same things at holiday gatherings: beer, wine, and mugs of uninspired eggnog. Craft cocktails fade into the distance as calendars descend into chaos, replaced by bowls of too-spirited punch and vodka on ice.
This year, we're leaving dull drinks behind and turning to three painless holiday cocktails that require minimal equipment and no shaking. They're some of the most uncomplicated — and most delicious — seasonal drinks. Enjoy!
Hot Buttered Rum
This drink requires a bit of advance preparation, but the end product is more than worth it. The drink tastes like a warm and spicy alcoholic cookie. It's cozy enough to curl up on the couch with and perfect for a marathon of bad holiday movies.
Ingredients:
⅔ cup packed dark sugar
½ cup unsalted butter
¼ cup honey
½ teaspoon ground cinnamon
¼ teaspoon ground nutmeg
⅛ teaspoon ground cloves
Salt
Spiced rum
Boiling water
In a mixer, beat together sugar, butter, honey, a pinch of salt, and spices. Set aside (this keeps for a while in the fridge). Take one tablespoon of the butter mixture and melt with hot water in a mug, about three-quarters of the way from the top. Top with two ounces of spiced rum and a bit of ground nutmeg for garnish.
For a big-batch cocktail (serves four), combine the entire butter mixture with eight ounces of rum with two cups of water. To make non-alcoholic, mix with coffee or hot chocolate.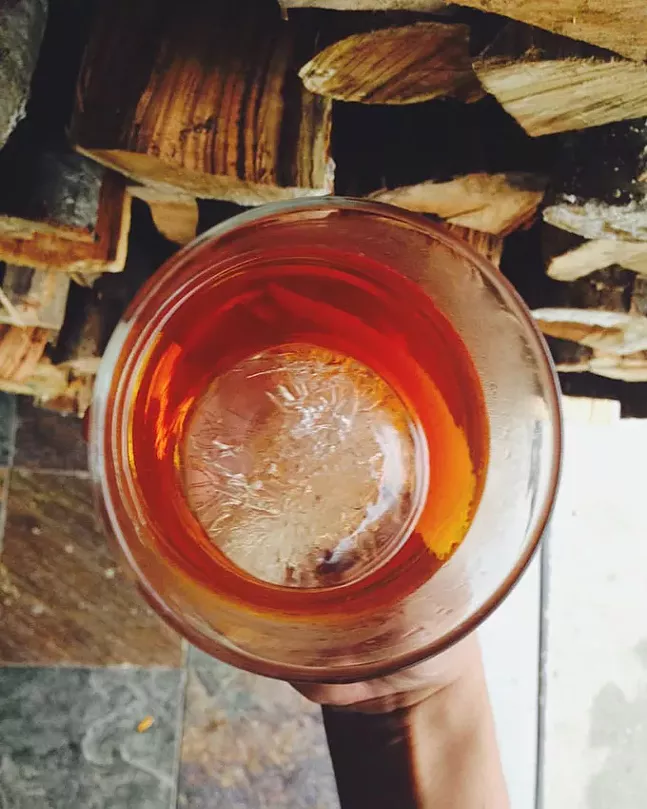 Old Fashioned
Does your family break out a puzzle at every gathering? Do you suffer through too many rounds of Monopoly or charades? Do you hate losing? Numb the pain with a strong, sturdy Old Fashioned.
Ingredients:
2 ounces whiskey
2 dashes angostura bitters
¼ ounces simple syrup
Orange peel, for garnish


Pour everything over ice in a rocks glass, give it a few swirls with a spoon, and you're good to go. For a holiday spin, swap the simple syrup for maple and add a few cranberries.
Coffee with Cream

This drink is similar to a White Russian, but better (a special thanks to the staff at Pennsylvania Libations for this recipe). It's simple: just pour a one-to-one ratio of Maggie's Farm Rum coffee liqueur and any cream bourbon over ice.
If you like to roll out of bed late after a long day of family, this drink is for you. A Maggie's Farm and bourbon boosted iced coffee — there's caffeine in the liqueur — will perk you up immediately. Switch to the local distillery's seasonal peppermint coffee for a taste of the holidays.