On Oct. 9, three days after Ben Stoviak was beaten outside a Lawrenceville gay bar, Zone 2 Police Commander Eric Holmes unexpectedly waded into a group of protesters.
"The criminal-justice system can be a slow system," Holmes told the crowd, but it "will bring to justice everyone who committed this crime."
The protesters demanded police treat the incident as a hate crime, which would mean harsher penalties for Stoviak's attacker. But as Holmes explained, Pennsylvania's hate-crime law doesn't cover sexual orientation or gender identity. The state is one of 20 that lack such protections for LGBT victims.
The crowd of about 100 gathered in response to an incident Stoviak wrote about on Facebook the day after he was beaten: "Last night, a group of men attacked me and my boyfriend on Butler Street in Lawrenceville. After yelling, from across the street, 'Faggot!' at us, I replied, 'yes, we're faggots!' Immediately after, the group of men ran across the street and began hitting, kicking, and stomping me."
Vincent Happ, 24, has been charged in the incident. He admits fighting with Stoviak, but he told police he was talking to his friends when he used the word "faggot." "We tried to tell them that we were speaking to each other," Happ told police according to a criminal complaint, but Stoviak "would have nothing of it and kept instigating a fight."
A photo Stoviak posted to Facebook of his own bloodied face had already been shared, attracting thousands of "likes" and earning coverage from the Huffington Post.
There are some discrepancies between that account and what is included in police reports: Stoviak, for example, claims he and his boyfriend were "in the hospital until almost 10 am," while police say Stoviak refused treatment at the scene.
And while questions remain about the incident, the outcry points to a larger conversation about hate-crime laws: Is the purpose to deter future crime, or to change social norms? How do police evaluate whether someone commits a crime out of bias?
Law-enforcement agencies already deal with hate crimes, since the state's Ethnic Intimidation Act asks officials to determine if there is "malicious intention" toward someone else's race, color, religion or national origin.
Holmes says he believes there should be protections for the LGBT community, because the penalty enhancements serve as a deterrent. But "we can only take the facts that are presented to us," he says. "We don't witness it — we're going off of what other people say."
The Stoviak incident had elements of a hate crime, Holmes says, and it was reported to the FBI by the department as a crime motivated by bias.
That means if Pennsylvania had hate-crime provisions for sexual orientation, Happ's second-degree misdemeanor could be bumped up to a first-degree charge, which would carry a maximum prison sentence of five years, instead of two.
Still, Holmes says, he's not seeing these cases all the time.
click to enlarge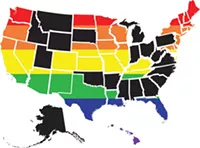 "There isn't a crisis out there with regard to hate crimes," Holmes stresses, adding that Pittsburgh police only report a handful of them each year.
At first glance, it seems as if hate crimes barely register in FBI crime data, which is reported by local law enforcement. In 2011, the most recent year available, there were only seven reports of sexual orientation-related hate crimes in Pennsylvania. In 2010, there were 10 reports. In 2009, there were only five.
Heidi Beirich is director of the Intelligence Project, a part of the Southern Poverty Law Center that tracks hate groups. She cautions against using the FBI data to gauge the prevalence of hate crimes: "Hate-crimes statistics are self-admittedly terrible," she says.
Between 6,000 and 7,000 hate crimes of all kinds are reported in the FBI data each year, Beirich says, but the actual number is likely in the hundreds of thousands.
That's according to a Bureau of Justice Statistics report that found that each year, about 260,000 people over age 12 in the U.S. are victims of nonfatal hate crimes — 37 times more than what gets reported by the FBI.
But, Bierich says, despite flaws in data collection, data can show useful trends. For example, according to an analysis of the FBI data, though race is a bigger hate-crime motivator in terms of the absolute number of crimes reported (including crimes like vandalism and theft), hate crimes against gays are likely to be more violent in nature. "If any minority deserves protection, we should start there," Bierich says.
"This is a group of people that haters know tend to be easy marks — they can get away with it," says Ann Van Dyke, a civil-rights investigator and trainer who worked for the Pennsylvania Human Relations Commission for 33 years until her retirement last year. That's because members of the LGBT community often fear "double-victimization" from police, she says.
"For members of the LGBT community — law enforcement hasn't always been looked upon as friendly," says Ted Martin, executive director of Equality PA. "This isn't history from 200 years ago; it's history from our lifetime. To build up trust takes time."
Building that sense of trust is what Ted Hoover is trying to do. He's the PERSAD Community Safe Zone coordinator and he spends lots of time thinking about how to promote "non-biased" policing in city and county law enforcement. He's "working on training the entire Pittsburgh police department," he says, but he acknowledges that "it's going to take a while."
"If you're going to police in the community, you need to know the community," says Hoover, who also writes play reviews for City Paper. "What's important that police do is ask the right questions in the beginning — to be looking for signs that this is possibly a hate-motivated crime" even if LGBT victims aren't specifically protected in the criminal code.
For Hoover, one important effect of hate-crime laws is the training that officers receive to be sensitive to the LGBT community. "It becomes something that the police become knowledgeable about because it's part of their job," he says.
Among city police, views are evolving, according to Holmes. "The demographics, the acceptance [of the police department] has changed," he says, noting greater tolerance of gay officers and attitudes toward policing in LGBT communities.
Stoviak praised the police response to the Oct. 6 incident, writing in an email that the officers he dealt with were "interested in fairness and justice for me and my partner." He added that if there were any deficiencies in how police responded, "it is a legislative deficiency, not theirs."
Pennsylvania hate-crime statutes did once include crimes directed at gays and lesbians. In 2002, the legislature passed an amendment to the Ethnic Intimidation Act that included sexual orientation, gender, gender identity, ancestry and mental or physical disability.
But it was struck down by the courts on a technicality in 2007. In the five years the law was in effect, there was an increase in the number of gay-related hate crimes. In 2003 and 2004, the state reported 25 hate crimes motivated by sexual orientation, a rate that hasn't been matched since.
In 2009, federal hate-crime protections were passed including sexual orientation, gender identity, race and disability in the Shepard-Byrd Hate Crime Prevention Act. To date, 44 people nationwide have been convicted under that law.
"We just don't know how much impact the law has on people who think about committing these crimes," Van Dyke acknowledges. Still, she adds, "The law is not just written to prevent or punish crime, [but also] to affirm who is valued in this country. [W]hen we know a group of people are regularly and seriously harmed and the law ignores that, it's a shameful statement."
State Sen. Jim Ferlo has repeatedly sought to reintroduce the scuttled 2002 legislation, with little success. Ferlo lays most of the blame on Republicans, but he says there isn't much pressure from advocacy organizations to get it passed either.
Marriage equality and non-discrimination in employment, housing and other public accommodations is where the action is, LGBT advocates say.
"We have to be realistic," Martin says. "What Equality PA is really looking to do is move forward with most basic protections, and that's non-discrimination."
And even though he acknowledges protections against violence are basic, he says, "We're just trying to move through things with larger [legislative] support."
Editor's note: This story was updated to clarify the provisions of the 2002 Ethnic Intimidation Act.