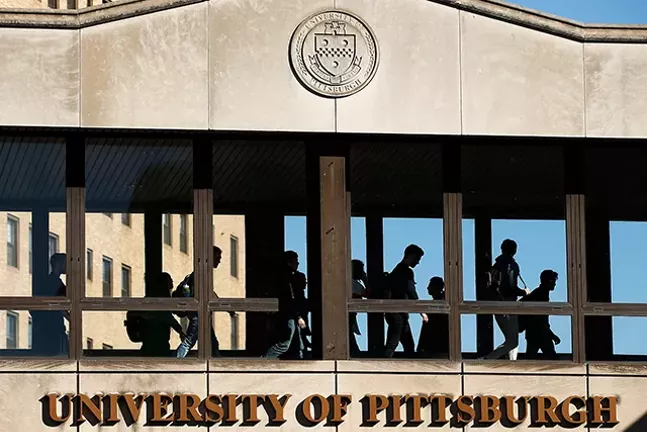 Since the nation's first graduate student union was formed in Wisconsin in 1969, a debate has raged over whether those unions are good for colleges.
Now, the debate has come to the University of Pittsburgh.
Pitt's Graduate Student Organizing Committee (GSOC), which formed in 2016, cites higher wages, more academic freedom, and other needs as motivation to unionize. These graduate students believe their paid teaching and research duties qualifies them as employees, which grants them the right to unionize.
In these cases, universities, including Pitt, often argue that grads are simply students, not employees, and that a union would have a negative impact on graduate education — including the student-faculty relationship.
But students and faculty at other universities say grad unions have had no effect on that relationship, and have even been beneficial. Studies show the same. Overall, there's little solid evidence that one of university administrators' most common arguments is true.
According to University of Rhode Island professor Sean Rogers, an author of a 2013 Rutgers University study on the subject, the argument that grad unions negatively affect mentoring relationships has no basis in fact.
"Ever since [the '70s], the board and courts have just regurgitated those doomsday predictions without any sort of evidence," he says. "When grads have a union, everything doesn't go to crap. In fact, in some cases it gets better."
Currently, the GSOC is awaiting a state labor board ruling on Pitt's case against them. Pitt administrators are challenging GSOC's petition to vote on whether or not to unionize. Hearings were held in October 2018; this spring, the board will decide if the grads are employees who can vote to unionize in the future.
Besides employee status, opponents of grad unions usually claim that the student-faculty relationship will suffer under unionization. Yale's president has written that a grad union would make the teacher-student relationship "less productive and rewarding." Northwestern University created a graphic for faculty detailing what unionization could lead to, including less flexibility with scheduling.
Former Pitt provost Patricia Beeson wrote in 2017 that the "unique relationship" grads have with faculty mentors is not suited to unionization. Pitt also puts an emphasis on the mentoring aspect of that relationship in an online FAQ.
"The mentoring, support, and advising provided to students engaged in [research and teaching] are critical for their success and are different than an employment relationship," the University says.
A 2000 University of Wisconsin-Madison study found 90 percent of faculty members at unionized universities didn't believe grad unions inhibited faculty's ability to teach students and 88 percent thought it didn't negatively affect mentoring relationships.
The 2013 Rutgers University study found that grads at unionized universities reported similar student-teacher relationships as in non-unionized environments. Though the differences were not significant, some positives, such as advisors viewing grads as competent professionals were found more at certain unionized universities.
"When grads have a union, everything doesn't go to crap. In fact, in some cases it gets better."

tweet this
Destinee George, the president of the Temple University Graduate Student Union, agrees — she sees her union's presence as helpful for both students and faculty, as it can prevent unnecessary issues.
"I see it as a positive relationship. Because when graduate students have issues with their mentors or department heads ... we can represent them or help them determine if something's even worth bringing up," she says.
Pitt officials did not respond to a request for comment for this story.
Janet Barnes-Farrell is a psychology professor at the University of Connecticut and an inactive member of UConn's faculty union. She says when UConn's grad union was established, many faculty members were afraid the mentoring environment would become too rule-oriented and combative.
But there haven't been any difficulties in her department since. Barnes-Farrell says the union has helped the faculty reflect on how they treat graduate students and decide to clearly outline the demands and expectations of research and teaching assistants.
"Going from a non-union environment into a union environment can be scary," she says. "But the relationship between union and faculty doesn't have to be adversarial to the extent that it's a collaborative environment."
Pitt's GSOC agrees that faculty should not worry about a grad union presence on campus, stating on its website that no graduate employee would support contract provisions that might harm the work of an advisor or principal investigator.
According to GSOC, "By giving graduate students real power and a direct channel to the administration, our union will allow advisors to focus on research and mentoring their graduate students rather than on dealing with employment issues like health care, timely payment, and parental leave."