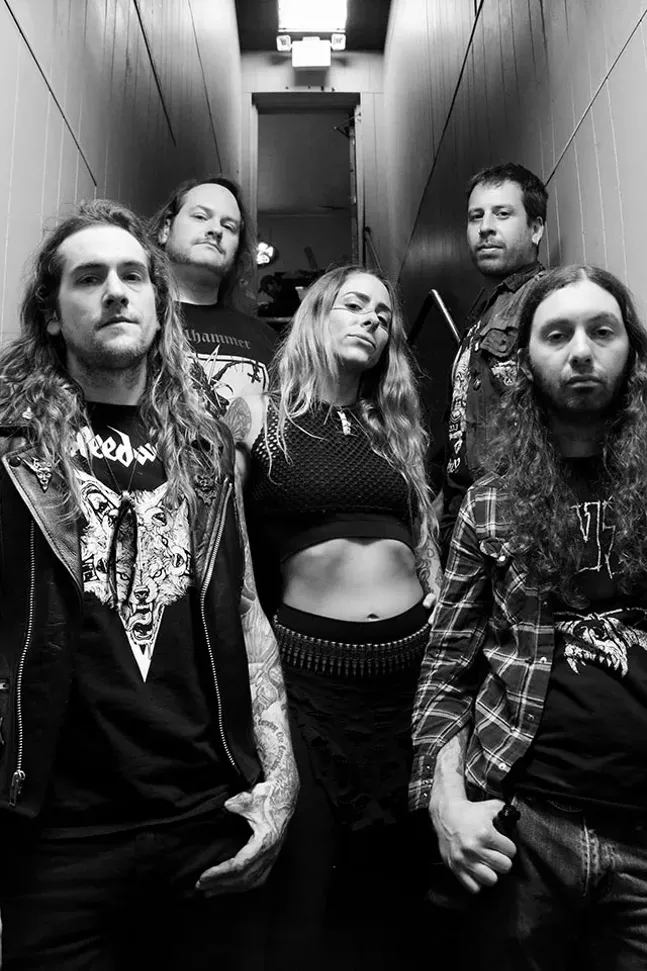 The idea for organizing a heavy metal festival in her hometown struck Deb Levine while she was performing with her band, Lady Beast, at California's Frost and Fire Festival last October. "We were sitting at this little bar at our Airbnb and we were just making jokes: 'What if we made our own little fest? How cool would that be?'"
Upon returning from the Golden State, Levine started pursuing the idea more seriously and wasted little time getting to work. "I just went right at it … there wasn't enough time to be lazy," she says.
Nine months later, Metal Immortal Festival is making its debut at Mr. Smalls in Millvale on Sat., June 29.
The festival features nine bands and is co-headlined by California's Night Demon and Canadian staple Razor. Bands will perform on the Funhouse stage and the main stage at Mr. Smalls, without any overlap between sets. Also featured on the bill are Kentucky's Savage Master, Ohio's Destructor and Outline, New York's Fatal Curse, West Virginia's Iron Flame, and Pittsburgh's Legendry. An after-festival show will be held at Cattivo in Lawrenceville.
Mike Campagnolo of Razor — who will be making its Pittsburgh debut — feels that festivals like this are perfect for their band because of the diverse crowds they bring. For Razor, this festival was an easy decision. "Deb seemed really genuine on what she's trying to do with this Metal Immortal Fest 2019, and hopefully it becomes a popular outlet for metal fans for years to come in Pittsburgh!"
For Savage Master, the return to Pittsburgh came from the confidence they had in the event and Levine herself after crossing paths with Lady Beast in the past. "It's really cool being on a fest that is put on by someone as trustworthy and all around fun as [Levine]," says Savage Master's Stacey Savage.
Metal Immortal will also feature local vendors as well as from up the east coast. Fans will be able to shop for memorabilia, albums, jewelry, and horror masks. A student filmmaker from the George A. Romero Filmmaking Program will also be documenting the event.
Saturday night also marks 10 years of Lady Beast, who kick off the evening on the main stage with a few surprises for longtime fans. Performing and running the festival has its own sets of challenges and stress, yet Levine wants this festival to be tied to Lady Beast, noting that the name of the festival comes from one of the band's releases.
As a first-time festival runner, Levine navigated a whole new side of metal shows, like raising money to support the acts, finding the equipment, and flying some of the bands into Pittsburgh. She personally reached out to the local heavy metal community for support with fundraising, collecting metal-themed memorabilia, and hosting auctions.
"I have a hard time asking for help in general, but I never like asking for money … I'm just working the hard way here," says Levine.
She also took up other jobs for extra money, notably teaching a dance class. "I taught a weekly Zumba class to raise money, which was cool. All of these punk and metal chicks were showing up, and we were dancing for an hour together," she says.
While Levine has learned a lot about planning a festival and become more confident for what the future of Metal Immortal could look like, she's realistic about what's in store. There's a lot more to learn and this is all still new to her.
"I'm in no hurry," says Levine. "I feel like at this point, you know, playing in bands after 12 years, I finally have an arsenal of contacts that are not just punks in a basement … I feel like I finally realize that I have what it takes to do it."