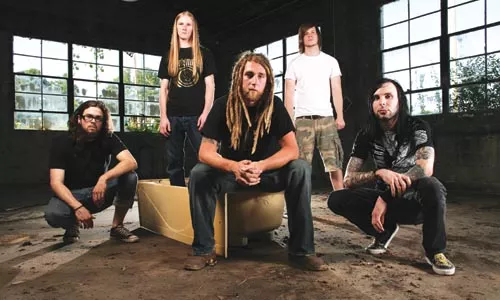 South Carolina metal band Graves of Valor has studied the masters. Opening for metal superstars like Behemoth and Dying Fetus on recent tours gave the five-piece group the opportunity to learn by example, and introduced them to fans of extreme music. With the debut full-length Salarian Gate (Relapse), the band has earned its place within the genre as up-and-coming contenders ready to don the bloody crown of death.
Punishingly brutal, horrifically bleak and relentlessly driving, the album is a worthy addition to any metal library. But it's not a revolutionary one: There are no earth-shaking surprises or jaw-dropping revelations as the band follows the trails blazed by the previously mentioned headliners, while throwing in the odd bit of thrash or grind.
Drummer Dayton Cantley provides automatic weapon blastbeats aplenty, while guitarists Jeff Springs and Richard Turbeville range from melodic virtuosity to swampy chugginess. The three musicians perfected their collective sound as the core of previous band Through the Eyes of the Dead; here, David Hasselbring's bass completes the crush of the music. Damon Walsh growls, roars and yelps, switching from one technique to another while singing lyrics weighted with references to tried-and-true genre standards like corpses, sulfur, suicide and -- a personal favorite -- "pussies wet with lions' blood."
The raging fury that blasts from home-stereo speakers enters new dimensions presented from a stage. When Graves of Valor play Charleroi's Club Octane Oct. 14, the band is sure to supply awesome death live.
Graves of Valor, And Hell Followed With and We Are The End. Wed., Oct. 14. Club Octane, 227/229 McKean Ave., Charleroi. 724-483-1609