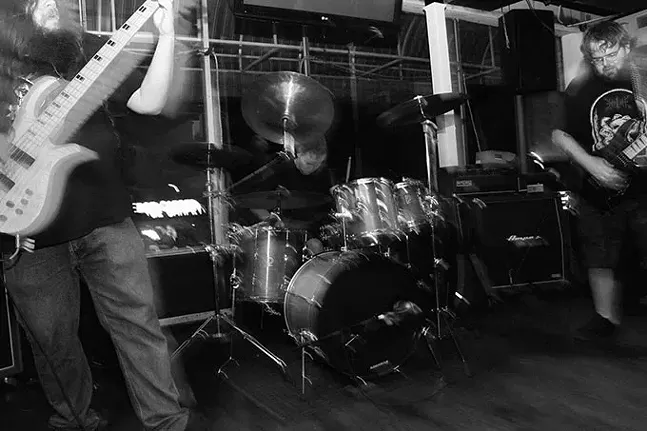 Whether or not you've been paying attention, death metal has been enjoying a resurgence in recent years. For one of Pittsburgh's standouts in the genre, look to Absysme.
For the "death metal power trio" of guitarist and vocalist Brad Heiple, bassist Mike Bolam, and drummer Timothy R. Williams, it's about time for a revival, since they've been doing it for more than a decade and have felt a "little underrated and overlooked." They've noticed an increase in attendance for extreme metal shows in the city for both touring and local artists alike.
Heiple says that fans are increasingly comfortable at extreme metal shows, as many promoters and bands themselves have worked toward making venues safe spaces for all who wish to attend.
But what's behind death metal's resurgence? Heiple feels that most of this is likely driven by fans "reinvigorated by the old stuff" — an era, notably the late '80s and early '90s, when death metal acts were releasing genre-defining albums and drawing large audiences.
Taking greater leaps away from the undecipherable, guttural vocal approaches, as well as incorporating more defined, groove-laden riffing, death metal's resurgence is likely happening because of its greater accessibility. The era Heiple refers to speaks of a time when death metal was honest, aggressive, and "confrontational." Yet today's death metal is a step away from confrontations and increasingly more intellectual, which makes sense for Abysme, considering Williams and Bolam are both full-time librarians.
Abysme has grown musically from the days when Pittsburgh City Paper referred to their music as "colossal riffing and fetid burp vocals." The ever-evolving trio, formed in 2006 — the members having previously played in Funerus and Crucial Unit — take on a sound marked by riff-centered sludge. Heiple says that the band's music is typically a reflection of where his "head is at the time."
Wherever Heiple's head takes them, Abysme is ready to show off their new tracks this December via a split EP with California's Ruin, which serves as the inaugural release of Memphis' Wise Grinds Records. Label founder Josh Szewski-Denering says he was pleasantly surprised by Abysme's "unadulterated, head crushing sound," and is excited to showcase the upcoming effort, which he calls "so raw you can smell the sewage dripping off of it."
Fittingly, Heiple talks about his desire to pick up where the seminal Pittsburgh act Rottrevore left off, who self-identified as "sewer metal."
"I'd like to think that we're helping carry the torch of the total sewer death."

Abysme, Obscene, Auto-Replicant. 7 p.m. Wed., Nov. 13. Black Forge Coffee House II, 701 Chartiers Ave., McKees Rocks. $8. abysme.bandcamp.com