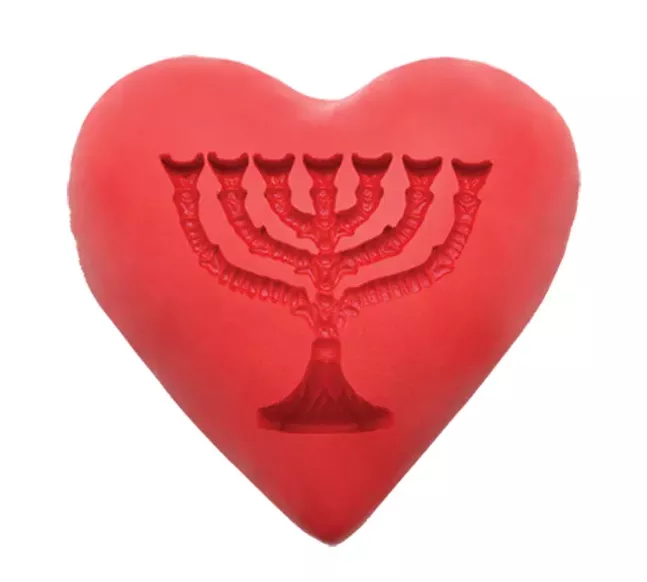 There are infinite Christmas movies currently available, and for those who don't celebrate the holiday, it can be a bummer. Not a big enough bummer to ruin a day or month, but still a medium-sized bummer. It would be nice to have one, completely nonsensical, corny Hallmark Hanukkah movie. So, here is my pitch for Love and Latkes.
As the holiday season rolls around, Rebecca (an Alison Brie-type) finds herself single, with no one to accompany her to the Hanukkah ball, which stings all the more since she's the one running it. One night, she starts a small oil fire while testing a latke recipe. Firefighter David (a Max Greenfield-type) arrives and gives her some safety tips, and a dashing smile.
At the Hanukkah ball, Rebecca is running around trying to make sure the whole thing is perfect because her PR company is very high-powered and she's up for a promotion and her boss is a withering crone. The chopped liver is running low, the music's not working, and one of the servers is drunk on Manischewitz — oy vey! To top it all off, Rebecca runs into her ex, Christopher (a blonde actor with thin lips). They haven't spoken since he dumped her, claiming he wanted to marry a nice Christian girl. But here he was with a beautiful Jewess (Gal Gadot) on his arm. In her shock, Rebecca stumbles, knocks over a lit menorah, starting another fire. When David shows up this time, sparks fly.
Things are going great with David until he invites her to meet his Bubbe, but she gets too caught up in work and stands them up. Desperate for his forgiveness, Rebecca races to the fire station. Barging in, she sees David and his fellow firefighters saying a prayer over candles. She forgot it was Shabbat. After joining in on the traditional firefighter Shabbat dinner, Rebecca and David talk it out. She agrees to work less and he agrees to not stifle her ambition and they live happily ever after.