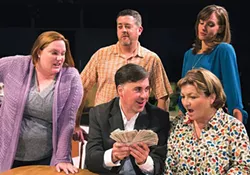 The tale of the prodigal son might be a familiar one, but Theresa Rebeck's Dead Accounts, now at Little Lake Theatre Co., transforms this well-worn premise into something unabashedly weird and modern.
When we meet Jack (Gregory Caridi), he's gorging on pint after pint of stolen Graeter's ice cream with no explanation for his homebody sister Lorna (Danette Marie Levers) as to why he's suddenly fled New York and turned up — in the middle of the night — in his hometown of Cincinnati. She asks, of course, but Jack is skilled at the art of distraction, his manic and foul-mouthed monologues talking around a problem rather than about it. Ironic, considering he prides himself on always telling the truth.
Lorna and their mother, Barbara (Marianne Shaffer), are naturally concerned, especially once Jack starts flashing his oodles of cash and insists on buying everything from dozens of pizzas and Skyline chili cheese dogs to better health care for his father — who's suffering from a debilitating case of kidney stones. Something's different about Jack, and as Lorna and Barbara try to unravel the truth, they soon realize that Jack's secret will change the landscape of their family forever. Meanwhile, Jack's blueblood wife, Jenny (Rebecca MacTaggart), tracks her estranged husband to Ohio, eager to hold him accountable for his mistakes.
At times, it's unclear where, if anywhere, playwright Rebeck's story is going, and Jenny's character is underdeveloped: Though MacTaggart has an impressive command of the stage, she's often given little to do besides stand around and glower. While Jenny's ice-queen demeanor eventually breaks down as she mourns the loss of her marriage, the earlier lack of character development feels like a missed opportunity.
Yet overall, director Art DeConciliis and his first-rate cast keep the unsteady elements afloat, and the show's finale delivers an irresistible combination of humor and melancholy. There are no straightforward answers here; for a play from 2012 so rooted in the struggles of middle America, anything else would be facile. This is a production that both celebrates and laments life's general complications, and to that end, Dead Accounts succeeds with aplomb.