"This is the school for me," says Jay Chapman, a student at Pittsburgh's Creative and Performing Arts (CAPA). He wasn't always a part of this arts education or majoring in musical theater. As a senior, Chapman had planned to attend Perry High School.
Then a CAPA flyer showed up on his doorstep. He was curious.
For those still curious …
Located in the Cultural District, CAPA is a seven-floor building dedicated to the arts. It is one of Pittsburgh's four schools to offer 6th through 12th grades, a merger between CAPA High School and Rodgers CAPA Middle School. Grades 6-8 are taught on the top floors, separated from high schoolers below.
CAPA's first building was in Homewood, opening its doors in fall 1979. In 2003, CAPA moved to its current location. The building is designed for an arts-centric curriculum. The space offers a 400-seat auditorium, black box theater, multiple art galleries, and more.
Though a public school, admission at CAPA is based on an application and audition process. Once accepted, students choose a major. The majors cover dance, instrumental music, literary arts, piano, production technology, theatre, visual arts, and vocal music.
Each year, CAPA puts on student-generated performances that encourage interdisciplinary collaboration. The first 2018 show is Sister Act.
High schoolers begin their days with typical subjects (physics, second-level algebra, and literature) and finish with music theory, wind ensemble, or ceramics. Arts classes are taught by professional and working artists.
Each floor is dedicated and designed for a specific major. The sixth-floor houses visual arts, and incorporates workspaces dedicated to ceramics, textiles, conceptual work, and more. Dance students gather a floor below, where barre-lined studios boarder the hallway. Dressing rooms are embedded into the school, one for men, women, and non-binary students.
Theatre exists in two parts: musical theatre and drama. Education goes beyond ensembles; students are taught musical entrepreneurship and theory. Music and musical theatre majors receive one-on-one lessons with faculty.
Windows from the music floor open on the literary arts level, a floor cushioned with fluffy armchairs — perfect for writing. One floor down and under the stage, production theater majors learn the techniques behind carpentry, scenic painting, and early theatrical design.
With their majors, students build towards performances, exhibitions, and recitals. With homework doubling the normal workload, longer days, and extracurriculars, a CAPA student stays extremely busy.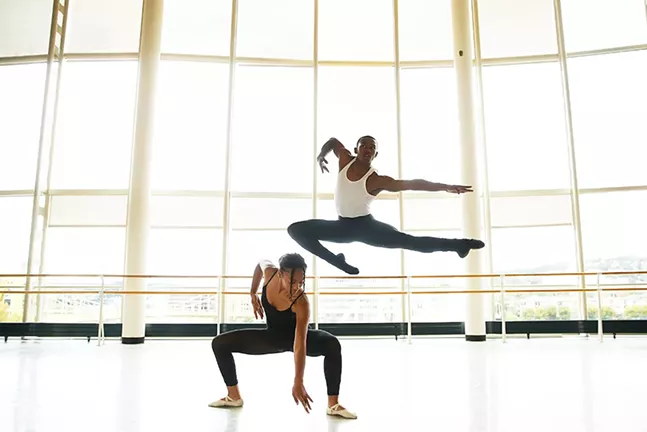 Senior dance major Lexis Wright says success is about maintaining balance. CAPA teaches students how to balance a double workload, jobs, clubs, and socialization before they leave high school. Instilled in these students is a drive to one day look back upon high school and say "I did that," says Mikeiya Bennett, a junior musical theater major.
Up to 973 students (CAPA's maximum occupancy) aim to speak similarly. They learn to "share their voices," and how to "maneuver through their environment" and side-by-side with practical academics.
As sophomore Lila English puts it: "CAPA nurtures us to be individuals. We're embraced as human. It makes us who we are."
Follow staff writer Maggie Weaver on Twitter @magweav.