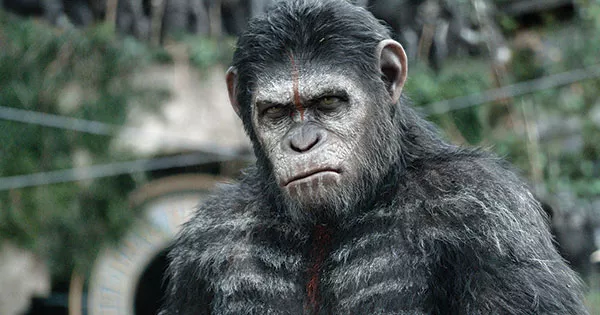 The second installment in the rebooted Planet of the Apes franchise is a bleak science-fiction tale. Dawn of the Planet of the Apes begins 10 years after 2011's Rise of the Planet of the Apes. While the human race has been nearly wiped out, the apes who escaped into Muir Woods are living in relative harmony.
The remaining humans struggle to get by in San Francisco. Led by Dreyfus (Gary Oldman), they're in search of a power source, and send a small party to investigate a nearby hydroelectric dam. The problem: The dam is located in the apes' territory. Caesar (Andy Serkis), who led the ape rebellion in the first film, gives the explorers and their leader, Malcolm (Jason Clarke), three days to restore the dam. But the temporary truce is constantly tested as the opposing camps struggle to trust one another.
Viewers likely know what's coming, either because of the Planet of the Apes films of the 1960s and '70s, or because of the human race's propensity for war. Despite their attempts at peace, it seems like Caesar and Malcolm are simply delaying the inevitable. But such grim foreknowledge doesn't stop Dawn from being a tense, and enjoyable, film. Director Matt Reeves forces viewers to invest in the fate of both parties, showing there are two sides to every war.