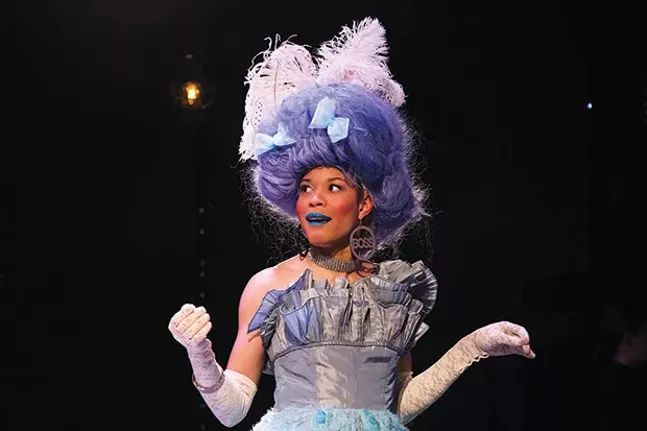 If you're headed to the University of Pittsburgh to catch its production of David
Adjmi's Marie Antoinette, I'd suggest you spend a little time beforehand brushing up on the main character, the French Revolution, and the literature and philosophy of 18th-century France.
Such information could help in navigating your way through Adjmi's unyielding script, which offers a new look at Marie, a cautionary figure whose popular perception has been that of a spoiled aristo brought down by vanity and greed. I'm not sure what Adjmi wants us to think of his Marie, written as a very self-actualized 21st-century woman, yet curiously uncurious and intellectually torpid.
He doesn't seem to like her much, but he doesn't seem to like any of the characters he's written — not the royal family, the court nor the revolutionaries … and that's his right, certainly. It's just that he's really given us nothing to get through the evening. Marie remains a cipher, and the events and historical figures swirling around her pass with no import or weight.
Pitt director Le'Mil Eiland attempts to patch up some of the dramaturgical holes with an incredibly detailed production. There is a lot of direction happening on stage, and it would seem that, with only one exception, not a single choice in movement, style, costume, lights or props has occurred without Eiland's intense focus.
Unfortunately, that one exception nearly sinks the production — pace. For reasons that are anybody's guess, this show is dragged out for an extra 20 minutes, and there's not a second you're unaware of it. Stately performances, interminable cue pick-ups and pointlessly convoluted scene changes bring the production, again and again, to a screeching dramatic halt. I was thinking that Eiland wanted to make sure we didn't miss the point; trust me, Le'Mil, we got it already.
Happily, however, in the middle of all this is Alexis Primus playing Marie with unbreakable force and conviction. Her laser-sharp performance is all the more remarkable considering what a muddied, confused character the playwright has provided. Adam Nie's King Louis is a goofy, spoiled buffoon and KJ Gilmer has a great deal of fun with the eye-popping costumes.