Agnes and Mikhail Khalil opened the first Khalil's in 1972. Five years later, the couple purchased a building on Baum Boulevard and called it Khalil's II; a few years later, Khalil's III was born.
Forty-seven years after the first restaurant was opened, only location No. 2 is still in operation, but judging from the state of its food, the focus has fared the family well. The legacy left behind by Agnes, who passed away in 2003, and Mikhail, who passed in September of 2018, is carried on by their two daughters, Leila and Dalel.
The menu has changed little in the restaurant's decades-long legacy. Leila, who runs the kitchen, stays true to her father's menu — all recipes brought to Pittsburgh from Syria and passed down through generations.
Dishes offer a variety of Mediterranean cuisines. There's Greek spanakopita, dolmas (stuffed grape leaves), falafel, and Lebanese lubia (slow-cooked beans), along with a few Khalil's-only specialties, such as kibbie nayee, a Lebanese delicacy crafted from raw lamb ground to order.
Mezzas, a Mediterranean family-style way to share a meal, stood out on the menu. Khalil's traditional mezza — a rainbow of hummus, baba ganoush, medumas (a delicious walnut dip with pomegranate), and muhammara (hot pepper dip) — delivered smoke, spice, salt, and a touch of sweetness. It was stunning in both look and taste.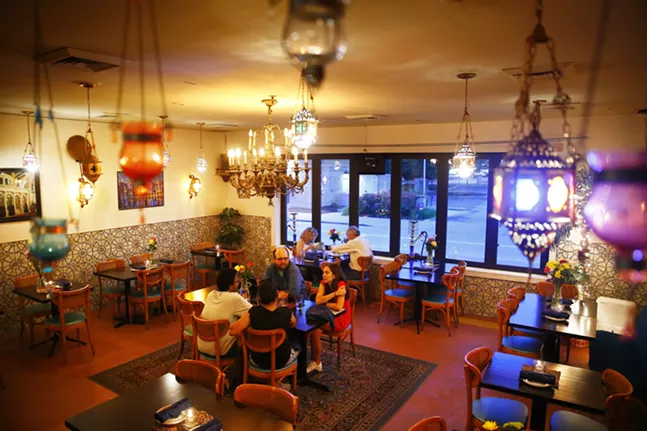 Lamb shish kabob, a house specialty served over mild rice pilaf, was spiced with skill, just enough to complement the meat without overpowering it. There was nothing fancy about the dish, just simple, comforting, and ridiculously tasty.
It was the same for Khalil's dinner salad, which used Leila's handcrafted Mediterranean dressing. The uncomplicated mix of lettuce, feta, red onion, olives, and pickled turnip tasted too good to be such a simple salad. Add on Khalil's chicken shawarma and it's a perfect entree.
The baklawa (baklava) was flaky, floral, and doused in syrup, paired with a slow-steeping, strong Arabic coffee, which made for a lovely, sweet finish.
Khalil's has always been a welcoming, homey place to eat. Agnes and Mikhail were an important part of the city's immigrant community, providing new arrivals with jobs, support, and connections. People knew to visit Khalil's because it was known that Mikhail would take care of them.
To this day, eating at Khalil's II is like eating with family. Inside, the dining room feels inviting in the way that a grandmother's house does, warm and intimate, made even warmer by Dalel and Leila's hospitality.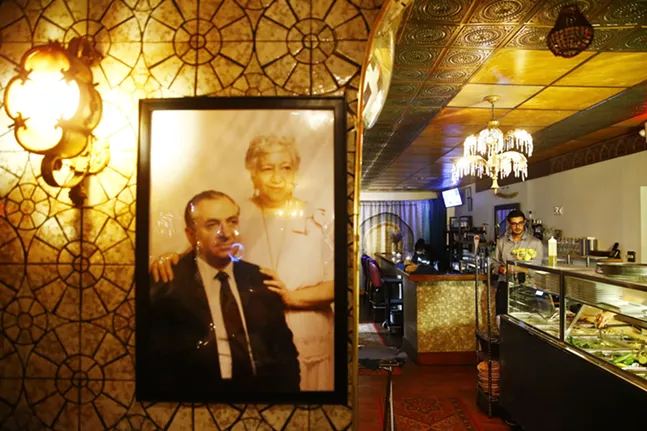 "You can go anywhere and eat food. You can go anywhere and eat good food," says Dalel. "We feed the soul and the body."
In the coming months, Dalel is hoping to expand the restaurant's offerings, adding in cultural classes and a comprehensive Lebanese wine program. But even as Khalil's evolves, the nature of the restaurant will never change. Khalil's will always be more than a place to just eat great food.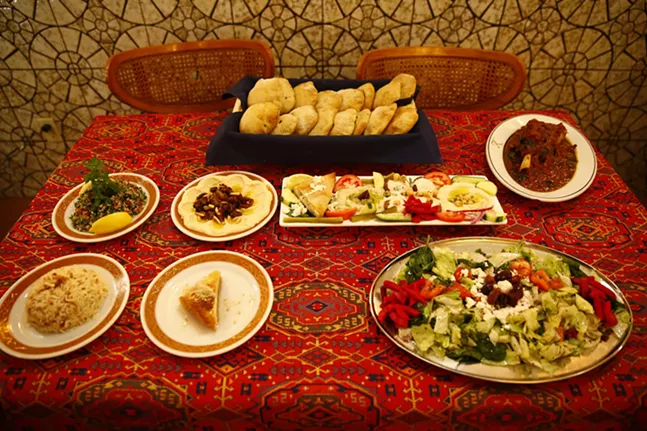 Favorite Features

1. Windows
On his bed in the ICU, Mikhail told his family to add windows to the old restaurant, which Dalel described as "a cave." During the restaurant's four-year break, six windows were put in the front of the restaurant. On a dark night, Khalil's ornate, massive chandelier shines through the window and the restaurant seems to glow.

2. Sito's Mediterranean Dressing
Leila's famous salad dressing can be bought by the bottle. Look for it at Whole Foods, East End Co-op, and more.

3. Syrian Bread
Dalel and Leila's brother makes traditional Syrian bread, which is passed out along with pita. It's warm, fluffy, and all-around delicious.